Traveling with babies can be very challenging, even more so when you travel by yourself. This mama right here has been on nine different airplanes (several being overseas and by myself) with baby this year so far.
Here are 5 tips that I learned during our travels.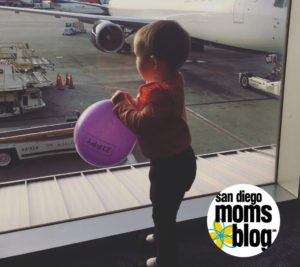 Save on a seat: For the first 2 years of age you don't need to pay for a full priced ticket for your bay. Lap riding children under 2 ride free within the US. You pay 10% of an adult ticket if you travel overseas (let's travel before they turn 2!).
Reserve a seat: You can call days before your travel to change or reserve the best seats. I always ask for an aisle seat so I can walk around with baby more easily. If your baby weighs less than 20 pounds you can reserve a bassinet.
The end of the line: You can board the airplane last if you want. I never want to spend more time on the airplane with a walking baby than necessary (even less if it's a 9 hour flight). I learned that it's better to walk around the gate while everyone is getting seated. (This, of course, only applies to flights with assigned seating.)
Check your gear with your luggage: In case you check the stroller at the gate, be aware that the airline crew can damage it, (that happened to me twice) and the airlines or airport don't pay for it. If you check the stroller with your luggage and they damage it, they will pay for it. When I fly overseas I take an umbrella stroller (cheaper and lighter) because you really need it while you are waiting during a layover. You can check your car seat and stroller with no extra cost.
Baby friendly is the best: Most of the major airports in the States have a baby lounge area or changing stations around the airport. You can even find play areas while you are waiting for your next flight. You can always check the airport website to find these areas on the map.
Every company has different policies about traveling with babies; it's always good to know them.
I hope you learned something new!
Stay tuned for "What to pack in your carry on for baby" !!
Enjoy your flights mamas!
And if you need more info on road tripping with baby, check out this post!