It's very rare you'll catch me without my diaper bag, basically because it's very rare to catch me without my kids. Since transitioning from one child to two, and having a toddler and a newborn, I've really had to do some diaper bag editing. I am starting to realize with children that old saying "less is more" really applies. There is just no reason to carry around extra stuff for "just in case". This life is more about being practical and minimal. Here's a peek into how I've downsized what I carry around every day.
Let's start with the bag itself. I said goodbye to my ever -ab Gucci diaper bag I got before I had my son, Bryson. I took the switch-out hard—I felt like having that made me a status symbol. (Note to self: Erin, your Brooklyn is showing.) Also, having it be designer kind of attached me to my old NYC fashionista, pre-kids life. But with my two boys, it is just not practical. I switched to a backpack instead that has hooks you hang from your stroller and insulated pouches to keep a bottle (milk or wine) cold. It has tons of compartments and just makes life easier in general and I am here for that! It's also a chic blush color. I maintain I can be grounded and glamorous at the same time in my post-Gucci diaper bag life. You can shop my diaper bag here.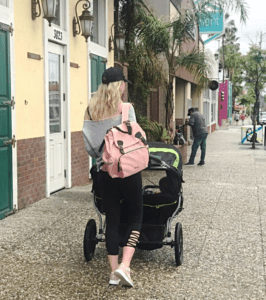 My reusable straw is also always in my diaper bag. I have these fun mermaid color ones, a little nod to my company The Urban Mermaid. I enjoy taking my daily morning stroll with the kids to my favorite local coffee shop in North Park before it gets too busy and get me a cold brew and use my straw. Also, if you know me or if you have followed me for a while, you know my son Bryson has a plastic straw obsession and now I think he's passed that along to his little brother! Using the metal straw myself hopefully offsets all the straws they go through. Check out our mermaid one, I love that the brand supports so many environmental causes.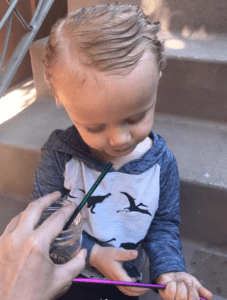 It has happened more than once that I get a photo opp and need some makeup to touch up or throw on quickly. *NEW FAVE BRAND ALERT* If you haven't already heard about MiniFix Makeup, I am here to school you! This adorable mini makeup comes in a small case with a mirror that fits perfectly in your diaper bag, purse or dare I say a clutch for date night? They have preselected kits with the basics concealer, mascara, lip gloss, bronzer and eyeliner or you can customize one to your needs on their website. Extra points for being vegan, cruelty-free, and Leaping Bunny certified. Talk about a little genius hack.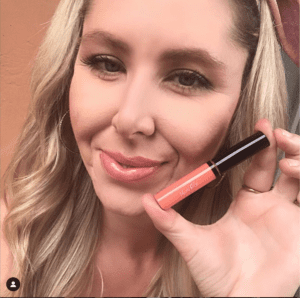 Living in sunny San Diego, every mom knows the importance of sunscreen. It gets hot and bright so fast out here and all the fun activities tend to be outdoors. But, if you have kept up with recent studies, many sunscreens are actually the cancer causers and are loaded with toxic ingredients. Or, you have brands that are "green washed", which their clever marketing fools you into thinking you are buying a cleaner product than you are. I love my all natural mineral sunscreen made with essential oils and zinc oxide. And since we use sunscreen almost daily, I feel good about putting this on my littles.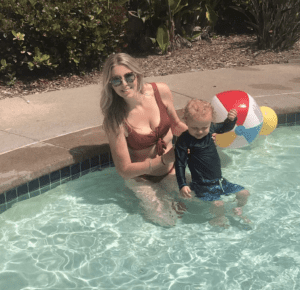 Finally, snacks. SNACKS ARE LIFE. I am here to say, I am not above bribing my toddler with snacks or giving him an apple to work on when I need him to behave for a longer period of time. This isn't for the diaper bag, but it's a stroller and car seat life saver, My Travel Tray. It's a convenient tray with a cup holder that you can take on the go that fits just the right amount of snacks and a drink!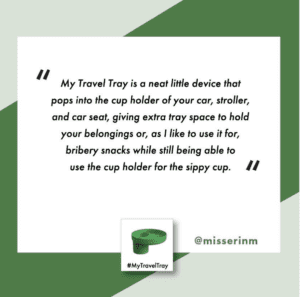 Photo courtesy of @mytraveltray