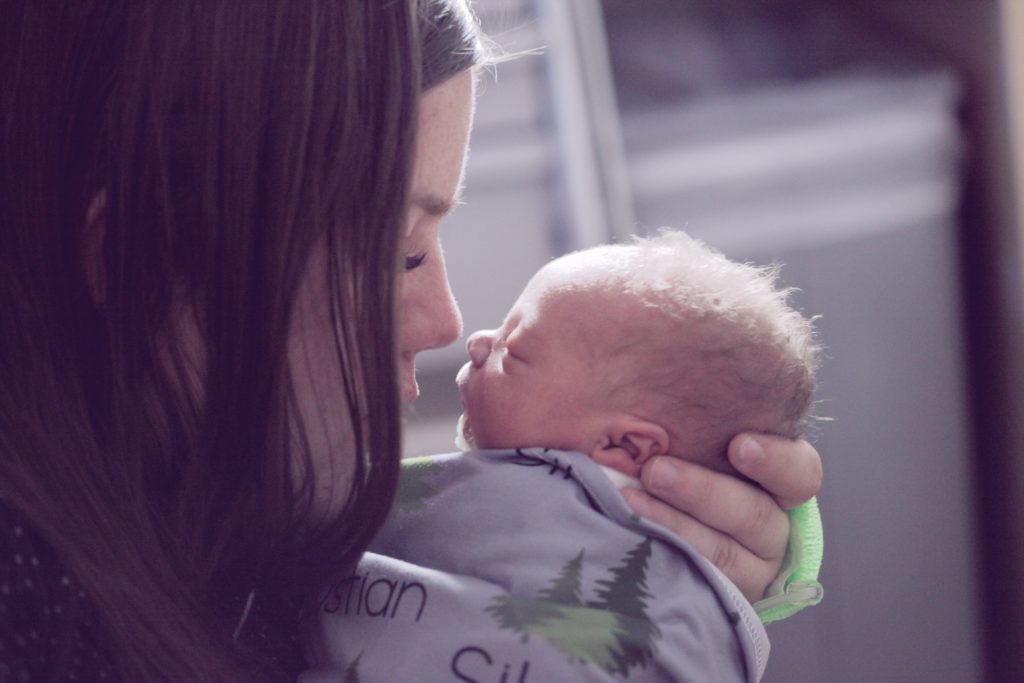 Today women have more options than ever to select where, or how, they will give birth. From hospitals to home births, or the in-between option of a birthing center, the information out there can get overwhelming. Recently we have seen a big upswing in the number of women who chose the birthing center option. It provides a relaxing and comfortable environment with the combination of medical licensing and quality care. Below is our top five reasons why women are making the switch!
1. Home Like Environment
One of the top reasons people choose to have their baby in birth centers over hospitals is that they provide personalized care and a home-like environment. Because a birth center is a smaller, more intimate setting, they are able to offer a continuity of care that a hospital setting simply isn't able to meet.
Rather than being confined to a bed with continuous monitoring, a laboring woman is encouraged to move freely and have more control over her body while regularly listening to the baby's heartbeat. Best Start Birth Center has comfortably decorated private birth suites with private attached bathrooms. They feature oversized tubs for labor and water births, birthing balls, birthing stools, and many other items that allow the laboring woman to find positions that are most suitable for her during her labor and delivery. All of these elements combine to create a loving, supportive, and inviting atmosphere for birth without a large degree of medical intervention, and create beautiful outcomes that honor mom, baby, and their loved ones.
2. Continuity of Care
Continuity of care is one of the leading reasons birth center popularity is on the rise. During prenatal care at Best Start, the woman and family get to know all of the midwives and staff. Clients are not assigned to a specific midwife, so when labor begins, they just call the midwife who is on-call and discuss when it is time to come to the birth center. When it is time, the midwife meets the client there and remains with her throughout labor.
About two hours after giving birth, if all is normal, the midwife signs out and the licensed birth assistant stays with the mom and baby for the rest of the recovery. It's that simple! In addition to prenatal and postpartum care, Best Start also provides well-woman care, and preconception, family planning and contraception counseling for our clients.
3. Childbirth Education, Breastfeeding, and Postpartum Support
It is strongly encouraged that expecting parents take some form of childbirth class. Any method is fine, but classes geared towards natural birth are obviously preferred. Best Start Birth Center offers childbirth education at their center for all Best Start clients. They also offer free lactation support/ postpartum support classes, (open to the public).
4. Your Birth, Your Way
Women may labor and birth in any position they choose: Side-lying, standing, squatting, hands and knees, or in the water. Also, with the assistance of the midwife, her partner may deliver the baby, or she may deliver the baby herself.
In any event, at Best Start Birth Center, the midwife will be there to provide assistance and guidance. Immediately after birth, the baby goes into the mother's arms and to the breast, (birth centers encourage breastfeeding, and the best way to ensure a healthy bond between mom and baby is to establish breastfeeding as soon as possible after birth). Usually, Dad or a family member cuts the umbilical cord once it has stopped pulsating. Then, the midwife attends to delivery of the placenta and checks for any repairs.
Best Start encourages eating and drinking while in labor.
They use IVs if needed but do not use them routinely.
Personal items to promote comfort are encouraged. Popular items include music, favorite clothing, foods and beverages.
They do not have an epidural service, but use natural methods of pain relief and relaxation stemming from complimentary therapies, such as massage, healing touch therapy, acupressure, and essential oils. Coping with pain and discomfort is easier in a low-tech, homelike environment.
Laboring in warm water and birthing in a tub is also an option.
5. Certification
Best Start is the first nationally accredited and licensed birth center in the State of California. They have contracts and agreements with Medi-Cal, TriCare, and many private insurance companies.
All of their midwives are licensed and board certified by the Board of Nursing or Board of Medicine. Nurse midwives are registered as nurses first, continued their education into advanced practice, and have been licensed by the State of California to practice midwifery and certified by the American College of Nurse-Midwives.
*Since the 1980s, all Nurse-Midwife education programs provide a Master's degree in Nursing and Midwifery. They have witnessed normal, natural childbirth being "revalued" as consumers and payers alike realize the importance of physiologic birth.
In summary, the advantages of childbirth in a birth center is that the mother and her family can make their own decisions, and experience the richness of emotion and immense personal empowerment of the miracle of normal childbirth. While the goal of good outcomes for mothers and babies is always the objective, Best Start Birth Center thinks the process of getting to that goal is eminently important. This means including the loved ones of the laboring mom and creating a meaningful birth experience, "your birth your way".
For more information, or to book your free tour or pregnancy test, visit us at https://beststartbirthcenter.com/ or call us at 619-299-0840 today!
Photo by Sharon McCutcheon on Unsplash