Breastfeeding for the first year, sleep training (and of course no co-sleeping), never missing an event because of your little ones "nap schedule" and well making organic fresh baby food from my home, were just a few of the things I told myself I would do as a new mother.
Did any of those things happen? Heck no!
But what did happen is that I found alternatives that made more sense for both me and my baby. We would all love to prepare homemade baby food for our little ones, but if there is one thing moms don't have a lot of—that is TIME.
This is why I was so excited to try a new line of organic baby food from Smart & Final!
Introducing Sun Harvest! Straight from the farm to your baby's highchair, this organic baby food is packed with nature's wholesome, delicious taste.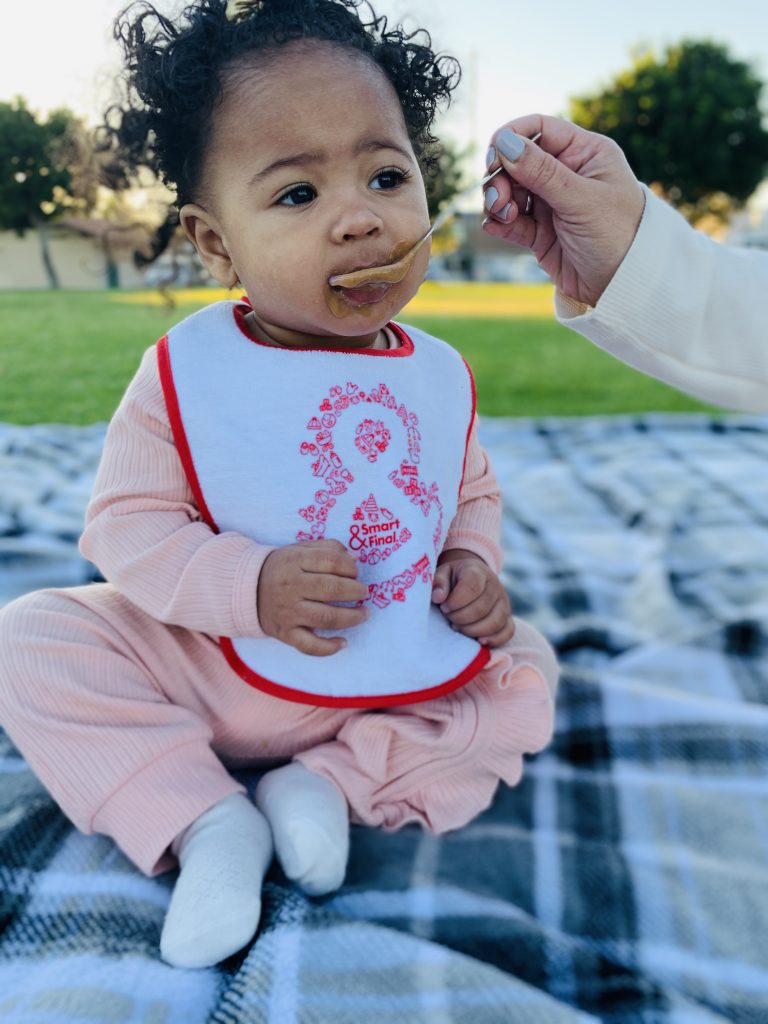 Another thing mamas typically don't have a lot of (and maybe I am speaking for myself) is MONEY.
I have shopped at Smart & Final for some time and have continually been impressed with the quality of products and the overall variety and selection they offer. Especially during these difficult times, saving is even more imperative for our family.
Here is what I LOVE about Smart & Final's all-natural, organic and earth-friendly new brand Sun Harvest:
You can still have all of the good stuff and also not be worried about making a mess. Just grab and go!
It is hand-picked at the peak of freshness with no fillers, salt, or sugar.
They offer 10 flavors which include Pear, Squash, Mixed vegetables, Apple, Pear & Banana, Sweet potato, Banana, Carrot, Apple, Banana & Strawberry, Apple Mango, and Applesauce. (Destiny's favorite – Banana & Strawberry)
99¢ per serving (YES you read that right!!)
As mothers, we will always have to make tough decisions. But thanks to Smart & Final's Sun Harvest Organic Baby Food, we don't have to make tough decisions like sacrificing quality because we can't afford it.
Head to your nearest Smart & Final today to shop and save. They also now deliver, making our lives even easier.