.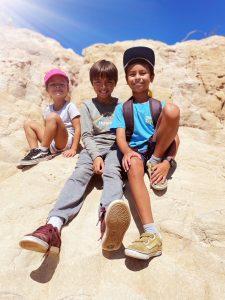 Living in America's finest city has its perks. Where else can you have mini outdoor adventures with your family all year-round? Lately, I've been obsessed with planning (and calendaring—yes, I'm that type of mom) budget-friendly outdoor excursions for my family on the weekends. This ensures that we spend quality time without our devices and get to enjoy the great outdoors on foot or on bikes. When I say family-friendly adventures, I mean easy on the budget, flexible timing (1-3 hours), and relatively minimal whining from the kids. Best of all, these places are easy on the wallet and high on the rating scale of kid-approved adventure! I've narrowed down the top 5 family-friendly hiking and biking trails that are easily attainable before a well-deserved nap time.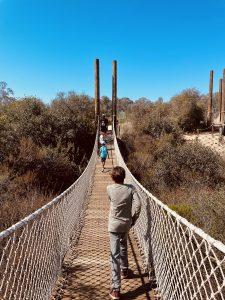 This gem of a park boasts five miles of hiking trails, complete with colorful playgrounds, suspension bridges, and man-made duck ponds. The park is dotted with secluded picnic benches set up perfectly for impromptu packed lunch picnics. You can find free parking on the outside of the park gates or pay an affordable $3 dollars to get closer to the different parts of the property. My kids (ages 12, 9, and 7) love to play on the main playground at the top of the hill. Then venture out to Hawk's Nest where they can listen to the native sounds of the surrounding animals and run wildly on the suspension bridges down below.
Tips and Tricks: Pack light snacks, plenty of water, sunscreen, hats, and appropriate sun-protection clothes. Hike levels are easy to moderate for the little ones. Map out your hikes so you can take plenty of water breaks. Restrooms are available on site.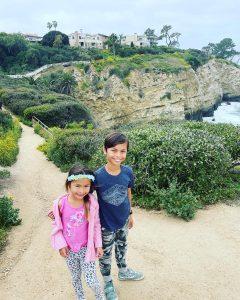 Situated above the coastal bluffs of La Jolla Cove, the La Jolla Coast trail is a .6-mile relatively easy trail that boasts panoramic breathtaking views of the La Jolla Coastline. There are plenty of benches located around the trail. So you can sit and enjoy the view of seals bathing along the rocks while kayakers paddle inside the rock caves. Make sure to stop at the infamous Cave Store to venture to the underground Sunny Jim's Sea Cave. Admission for adults is 10 dollars and 6 dollars for kids.
Tips and Tricks: Wear durable shoes, bring sunscreen, and water. Park along the residential side streets like Coast Walk to start at the top of the trail and get a glimpse of the two secret swings hidden below.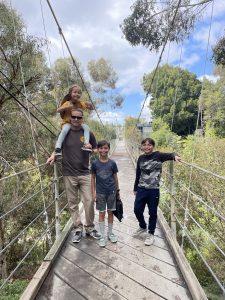 Trying to find a more urban footpath to showcase San Diego's quaint neighborhoods, coffee shops, and museums? Try the 7 Bridges Hike which stretches from the Park Boulevard Bridge and ends at the Georgia Street Bridge. The 7 Bridges include: 1)Park Boulevard Bridge 2)Cabrillo Bridge (located in Balboa Park), 3)First Avenue Bridge 4) Quince Street Bridge 5) Spruce Street Suspension Bridge (located Downtown) 6)Vermont Street 7)Georgia Street Bridge (located in Hillcrest). We started out on the Spruce Street Suspension Bridge and headed to the closest wooden bridge on Quince Street. Full disclosure: once our kids all started whining all at once about how long the hike was, we made an executive decision to drive to the other locations near Balboa Park, crossed those bridges, had a snack, and drove down to the Vermont street bridge. For us, the 7 Bridges hike was like a family-friendly scavenger hunt. Where we got to literally smell the roses at the Balboa Park Bridges and enjoy reading the inspirational signs posted on Vermont Street Bridge.
Tips and Tricks: Low on time? Go to West Spruce Street Suspension Bridge. The kids will love venturing across this picturesque canyon on a wobbly old-school suspension bridge. Pack plenty of water, light snacks, and some extra spending money for stops at local ice-cream shops and museum visits at Balboa Park. Bathrooms are only available in neighboring shops and at Balboa Park.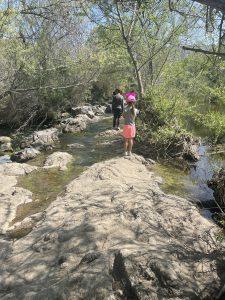 For a longer day adventure, consider hiking the Junipero Serra trails at Mission Trails Regional Park in the morning and then hop in the car to arrive at Lake Murray to bike along the 3.2-mile walking path. My kids loved hiking along the Mission Trails creek beds and making rock sculptures along the Mission Trails rest areas. There is also a Visitor's Center you can hike up to peruse the history behind the Mission Trails Regional Park. After a quick lunch, we headed to Lake Murray and biked alongside views of kayakers and fishermen enjoying the lake. Definitely a full day of fun!
Tips and Tricks: Bring plenty of water, waterproof hiking shoes (kids may want to cross the creek!), bikes, and a cooler in the car. Having a nice lunch break will make the kids ready to venture on their last leg of easy bike riding on a well-paved bike route. Bathrooms are available on both sites.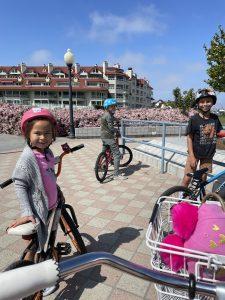 Last but not least, an amazing adventure can be found at Coronado Ferry Landing Park. Stepping into Coronado is like experiencing a little taste of Americana with its idyllic location and storybook coastal charm. Just a quick drive across the famous Coronado Bridge, Ferry Landing Park offers the family views of beautiful sand beaches, a picturesque flat bike path, and plenty of delicious eateries along the way. The kids loved biking along the golf course, under the bridge, straight past the beach to arrive at the waterfront shops and restaurants at Ferry Landing. There are playgrounds, baseball fields, beaches, and plenty of opportunities to get an iced coffee (must-have for tired mamas!) or ice cream (must-have for tired children!) at the local shops.
Tips and Tricks: Bring swimsuits, towels, and beach gear in the car (if the weather permits) so you can enjoy the quiet beaches after your bike ride. Plenty of restrooms along the way and parking was plentiful and easy to find.
Do you have more recommendations for family-friendly hiking in San Diego? If so, we would love to hear them!