At the time of this posting, there will be approximately one month remaining to check out Beyond Van Gogh. This exhibit, held at Wyland Center at Del Mar Fairgrounds, is such a uniquely immersive experience. Its aesthetics left me having all of the feels for weeks after attendance. Therefore, it would be a disservice if I did not share the reasons that you too should put this on your to-do list. Beyond Van Gogh is a must-see immersive art experience.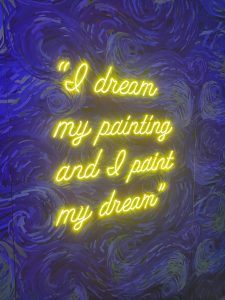 Yoga + Art Come Together
Local yoga studios are hosting classes right in the exhibit. Sessions are at 7:30 AM on select Saturdays, so be prepared to rise early to partake in this unique experience. The remaining dates are hosted by Modo Yoga and 4 Moons Yoga. Get your yoga on and experience a sound bath while surrounded by live art!
Bring the Kids
Have kids that love art? Or perhaps a desire to spark their interest in it? Children are welcome. Best of all, those under age 4 get in for free! Strollers are permitted. With ticketed entry starting as early as 9:00 AM, it's easy to schedule a visit accomodating to their daily routine.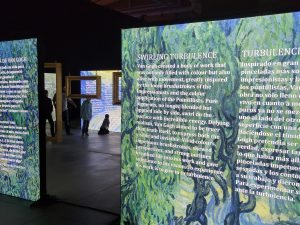 Go Solo!
This exhibit is also perfect for getting in some you-time. There are over 300 of Van Gogh's art pieces to view. Also, the main exhibit room is spacious, with plenty of standing and walking clearance to take in the 360 views of moving art. The soundtrack curated to this exhibit is playing on speakers throughout. However, to get introspective, you can also pop in your earbuds and stream the music on Spotify.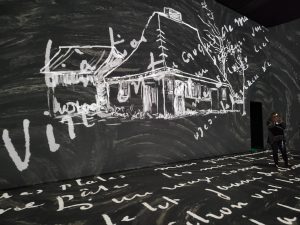 Make a Date of It!
Whether you attend with a new mate or long-standing partner, the art, music, and readings are sure-fire conversation starters. Stand in tranquility as Van Gogh's work projects across the walls, ceilings, and floors in time to artists like Miles Davis and composer Paul Haslinger. Then, talk about it all over coffee, drinks, or a meal after!
Embrace Art with Your Besties
I went this route and we had an amazing time. There's nothing like sharing an experience with your tribe – those who just get your tastes – and making new memories. Also, there are plenty of fantastic photo opportunities to lock in the memory from the moment of entry. Furthermore, photos are encouraged! We made an afternoon of it and grabbed lunch at Nectarine Grove afterward to talk about it all.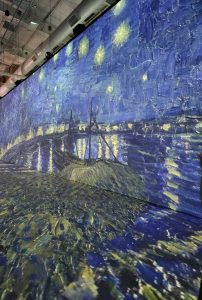 Know Before You Go
Advanced ticket purchase is required. The exhibit ends on April 24, 2022. The parking fee is paid at entry, runs $10, and is cashless. While the exhibit is in an enclosed space, it is spacious. The reserved entry times help prevent overcrowding. Seating is limited, but standing space is ample. No food or drinks are allowed inside. A small drink/food cart is set up outside. There is a gift shop at the end of the exhibit.
Beyond Van Gogh is a Must-See Immersive Art Experience! Have you been already? Let us know what you loved about it! Additionally, if you're looking to make a day of it in North County, check out our new post on the Carlsbad Flower Fields as well!