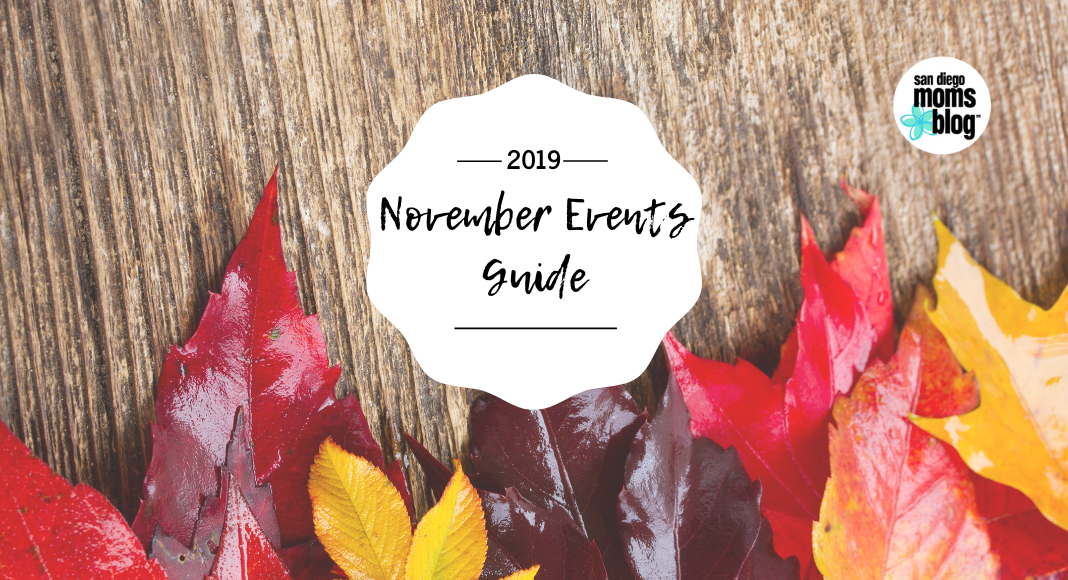 The holiday season is upon us with so many fun events to kick off this joyous season. Take a trip to one of the many holiday markets, or take your family to see the Mother Goose Thanksgiving Parade. Don't forget to tag #SDMomBlogs for a chance to be featured on our Instagram.
We hope you enjoy our November events guide!
We also have exciting news: If you are a business owner and host events, we are now offering four monthly featured events. These events will remain on the top of the events guide page, plus many other perks. If you would like more info please email [email protected]
Featured SDMB Partner Events!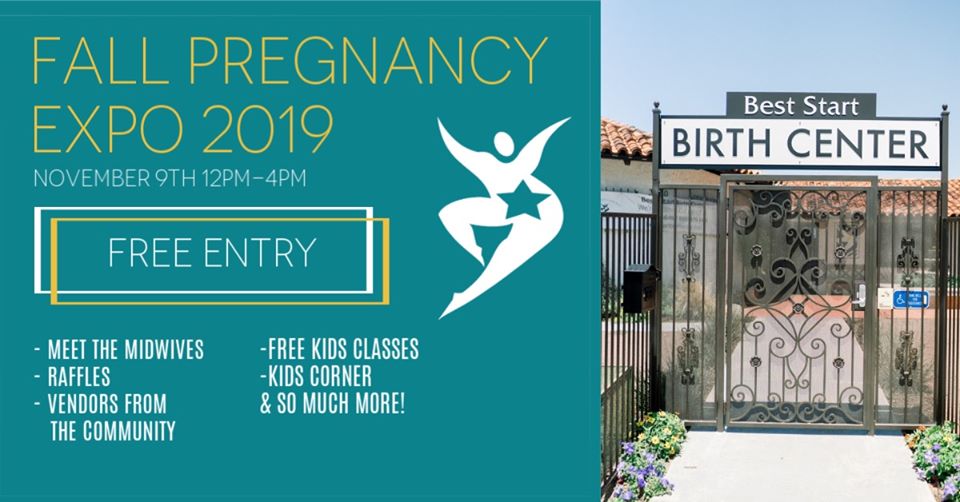 Fall Pregnancy Expo
Date: Saturday, November 9th
Time: 12-4pm
Where: Best Start Birth Center – 3630 Enterprise St., San Diego, California 92110
2019 Pregnancy Expo at Best Start Birth Center! This FREE event will include awesome vendors, food + drinks, kids classes, meet the midwife, tours of the facility, FREE PARKING and much more! November 9th from 12PM – 4PM…. You don't have to be pregnant to attend the event, it's open to the entire community!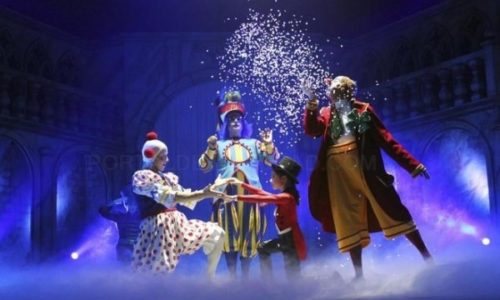 Natale-La Fiesta Shows
When: November 14th – December 1st
See Website for Showtimes
Where: Liberty Station -2850 Womble Road Suite 100-312 San Diego, CA 92106
Come check out this family friendly show! It's Christmas Eve and Natale's family and friends have come together for a feast. They will share season greetings with loved ones and enjoy a cornucopia of sweets on such a wondrous occasion.
Finally, a cascade of bells ushers in the arrival of Christmas. Everyone's excited as the family prepares to distribute the gifts… However, they soon discover that not everyonehas received their present. Natale, the youngest of the family, is empty-handed and very sad. Fortunately, Natale has faith and remains hopeful.
She believes that she was a good girl all year and figured that there must have beensome kind of mistake.Surely she deserves to receive the toy she has always dreamed of. So, the young protagonist devises a plan. She will wait for everyone to fall asleep and then sneak out to embark upon a journey to the North Pole, home to the Greatest Toy Factory in the world. Natalie is certain that there she will find that very special present that didn't reach its rightful destination.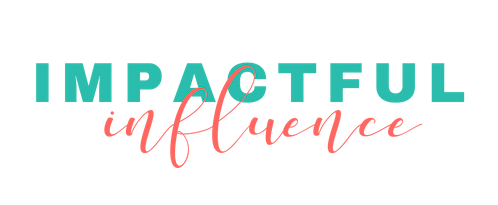 Impactful Influence Mastermind Lunch Series
When: Thursday, November 21st
Time: 11am-12:30pm
Where: Pigment – Liberty Station
Stay Tuned for More Details!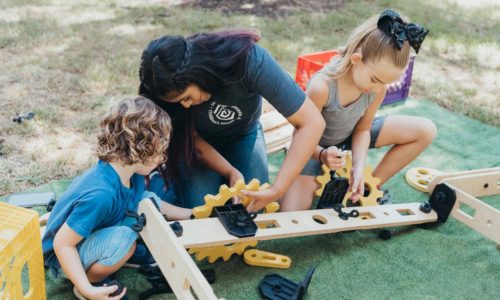 Fall Camp: Little Engineers
When: November 25, 26, 27, 29
Time: Half day and full day camp options
Where: San Diego Children's Discovery Museum – 320 N. Broadway, Escondido, CA 92025
Join other curious engineers to design buildings, write your own codes, program robots, experiment with gravity, build circuits, and make new friends. Campers can choose from single day and half day camp options, or register for a full week of problem solving. Recommended for ages K through Grade 3.
Studio by the Bay Family Days is a FREE kid-friendly workshop. Alongside real artists, kids can create, experiment and discover with themed arts-and-crafts projects! October's installation featured spooky Halloween crafting with glow-in-the dark paint!
The next workshop will be hosted this Saturday, November 2 from 10 a.m. to 2 p.m., and will celebrate Dia de los Muertos (Day of the Dead) with colorful crafts including sugar skulls and paper flowers!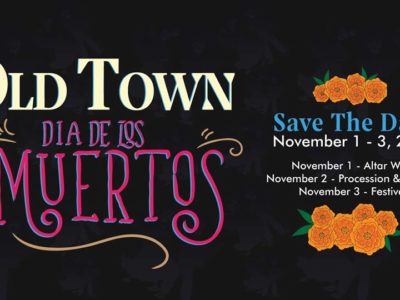 Old Town Dia De Los Muertos
Date: Saturday, November 2nd and 3rd
Time: 11am
Where: Old Town 4002 Wallace St, San Diego, CA 92110-2743
2019 Dia de los Muertos in Old Town San Diego honors the celebration of life ‑ a free culture event for the whole family, in Old Town's San Diego State Historic Park. Get your face painted, enjoy music, entertainment, shopping, dining.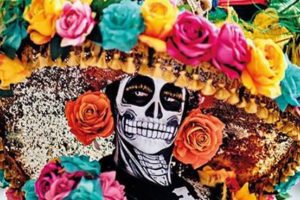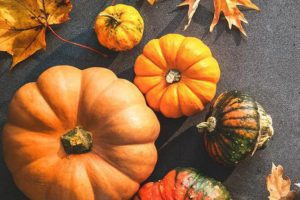 Thanksgiving Day Buffet
Date: Thursday, November 28th
Where: Safari Park
Time: 11:30am-5pm
Celebrate Thanksgiving Day at the San Diego Zoo Safari Park's Hunte Nairobi Pavilion, where you can enjoy a lavish buffet with Thanksgiving favorites and chef's specialties. Two seatings are available, at 11:30 a.m. and 3 p.m. Guests will be seated at their own reserved table, set according to their guest count.
The cost is $49.95 per person for adults, $19.95 per person for children ages 3 to 11, plus tax and parking. Admission is required for nonmembers.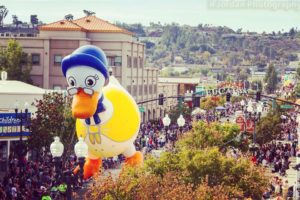 Mother Goose Parade
Date: Sunday November 24th
Where: Downtown El Cajon
Time: 1pm-3pm
The 73rd Annual Mother Goose Parade is operated by the Mother Goose Foundation, a local El Cajon non-profit. The parade itself is run by the foundation. It is a long standing family friendly tradition in El Cajon. Please visit http://www.mothergooseparade.org for more information.
Family Friendly Events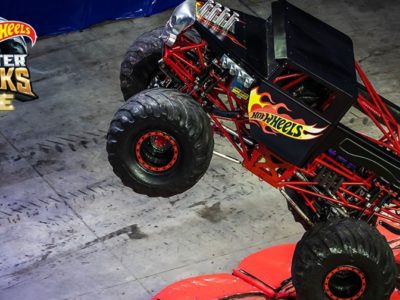 Hot Wheels Monster Trucks Live
Date: Saturday, Sunday November 9th and 10th
Time: 12:30 and 7:30pm
Where: Pechanga Arena 3500 Sports Arena Blvd, San Diego, California 92110
Hot Wheels™ Monster Trucks Live will visit Pechanga Arena on November 9th and 10th for 3 action-packed performances. The inaugural tour launched in January, brings the famous Hot Wheels™ Monster Trucks to life in a full-size, kid-focused, immersive Hot Wheels® experience for the first time ever!
Tickets are available at www.AXS.com and prices are $30-$40 and kids tickets are $8. Tickets are subject to convenience and facility fees. Show times are as follows: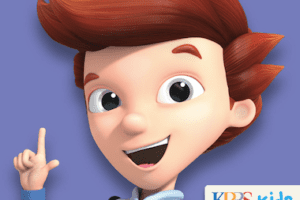 KPBS Ready Jet Go | San Diego Children's Discovery Museum
When: Saturday, November 09, 2019
Time: 10am-12pm
Where: 320 North Broadway, Escondido, CA 92025
Each month, join KPBS Kids and San Diego Children's Discovery Museum for a costume character meet-and-greet and hands-on workshops.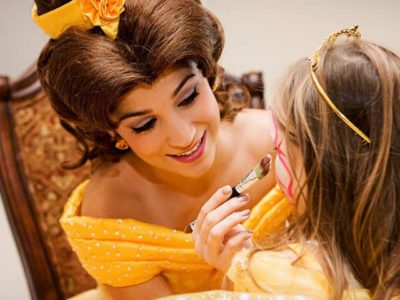 Enchanted Toddler Time
Date: Sunday, November 10th
Time: 9am-11am
Where: Sky Zone
Enjoy an Enchanted Toddler Time And Meet Your Favorite Princess! Your little one will love story time and face painting with princess Belle from Beauty And The Beast.
Just for Parents!! (Children not recommended)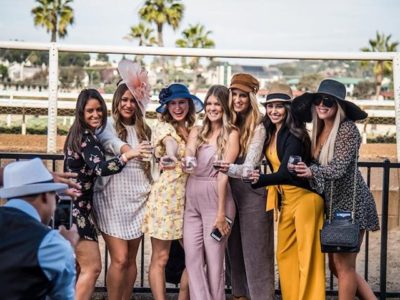 Uncorked: Derby Days Wine Festival
Date: Saturday, November 9th
Time: 12pm -4pm
Where: Del Mar Fairgrounds – 2260 Jimmy Durante Boulevard, Del Mar, California 92014
Ladies grab your hats; Gents get out your bow ties… Uncorked: Derby Days is back!
Join us November 9th and enjoy over 150 wines and champagnes from across the globe, live music, best Dapper Dan/ Derby Dame contest and gourmet food trucks all while enjoying the races trackside. Then keep the festivities going with free admission to the Russell Dickerson concert immediately following the event.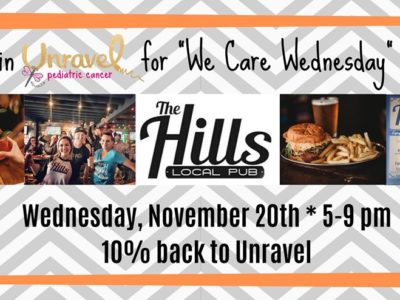 We Care Wednesday
Date: Wednesday, November 20, 2019
Time: 5pm-9pm
Where: The Hills Local Pub
Grab your friends and join the Unravel San Diego team at their November event – "We Care Wednesday" at The Hills! This insanely popular local bar and restaurant is donating 10% of all sales back to Unravel Pediatric Cancer for one night only! Come hang out, try some of their REALLY good bar food with equally-impressive beer offerings and cocktails!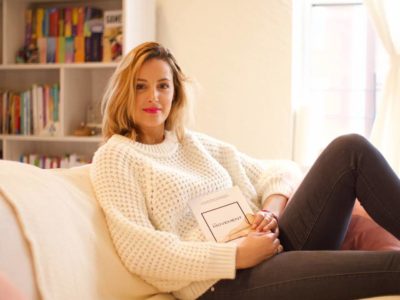 Family Constellations Workshop: Healing From Family Wounds
Date: Friday, November 15th-17th
Time: 7pm
Where: Sojourn Healing Collective
A life-changing workshop that will assist you in creating positive and lasting shifts in your life.
When you learn to understand where you came from and what it means, you learn to understand yourself. Your foundation re-builds, and you are finally able to write your own story.
Reoccurring Events You Don't Want to Miss!
DAILY EVENTS
Food Truck Tuesday at Civita Park
Curbside Bites has launched "Food Truck Tuesdays at Civita Park near the large flagpole. Find San Diego's best food trucks every Tuesday from 5:30pm – 8:30pm at Civita Park! The Go Go Truck, Scugnizzi Pizzi, Good Save the Cuisine, R&R Beach City Bistro, Scott Rothman and Jake Mutscheller. A rotating variety of food trucks will participate. The schedule of vendors is available at www.curbsidebites.com.
WHAMMOCK! at the New Children's Museum
WHAMMOCK! is the newest commissioned art installation is an interactive, three-dimensional textile environment of colorful crocheted hexagons, open pockets and hanging pendulums. Children are able to move upwards through one pocket after another until they reach a colorful expanse where they can run, slide, bounce and rest. The rhythmic motion evokes the sensation of floating in a swelling sea, stimulating the deepest part of the brain and engaging the child's sight, touch, movement and balance.
WEEKDAY'S
Dr. Seuss's How the Grinch Stole Christmas 7pm
Dr. Seuss's How the Grinch Stole Christmas! is a wonderful, whimsical musical based on the classic Dr. Seuss book.Your all time Favs!
Every Tuesday Vegan Playground Nights at 4pm
VPG Summer Nights is the go-to weekly night market of San Diego uniting lovers of food, music, and good vibes. This event series will take place every Tuesday night beginning July 23rd and ending September 17th. Join us and 20 rotating vendors each week in celebrating all things vegan! Free admission!
Every Wednesday – Parent Movie Morning at Mission Valley Cinemas at Hazard Center – 10:30am
Bring your infants to the movies! Crying, Feeding & Diaper Changing Expected! Parent Movie Morning Special features include: Valet stroller parking, Dimmed lights, Reduced volume, and changing facilities in the auditorium! Parent Movie Morning is a unique opportunity for new moms and dads to get out and see a movie that they want to see… Not an animated or children's film… without having to leave their baby at home or worry about their little one disturbing other guests.
Every Thursday at 10am – Hullabaloo at the Del Mar Highlands Town Center
Bring your kids out for a FREE, fun sing along, morning jam session with the kids group Hullabaloo at the Del Mar Highlands Town Center pop jet fountain (located in the heart of the center on the main floor), every third Thursday at 10am!
Fall Jazz Weekly Series Tuesday Nights
Every ??????? through December! Eat the eats and sip the sips while Dr. John Reynolds entertains with different ensembles throughout Southern California. Dinner reservations can be made through our website www.madisononpark.com. Space is limited so do not wait!
Weekends
Beachside Fall Festival Park
Every Weekend in November.Beachside Fall Fest is BACK for guests of all ages in November. The magic of the season will transform our seaside park into a festive fall experience with FREE activities like live entertainment, themed rides & attractions, pie eating contests and more.
SATURDAY'S
Every Saturday Little Italy's Farmers Market
Come stroll through the Little Italy Mercato Farmers' Market every Saturday from 8:00 a.m. to 2:00 p.m., where over 200 tents line W. Date Street from Kettner Boulevard to Front Street. The options are endless—you can enjoy an incredible selection of farm fresh produce, pastured eggs and poultry, meat, fish, flowers, local artisan food and more! Find food purveyors with sauces and relish, oysters, coffee beans, spices and more, and plants including orchids, fresh flowers, and bedding plants. Dine on crepes, paninis, green smoothies, lemonade and local chefs' specialties best enjoyed with our live music. Visitors come from all over the world to indulge in our farmers' market, whether it's to get a taste of the just-caught sea urchin or to simply soak in the beautiful atmosphere.
PopUp Play Saturdays – My Yard Live
Join My Yard Live for a PopUp PlayDate. They will be hosting FREE Sensory Play, Crafting, & Rotating A Sponsored Activity each WEEK! Please RSVP so that we can provide adequate supplies for the kiddos! Grab some food, drinks, and relax while the kids PLAY!
SUNDAY'S
Traveling Stories Tent 1pm-3pm
If you're new to Traveling Stories here's what you can expect:
After readers sign in on our iPad, they pair up with volunteers and receive book bucks for reading! With them, they can learn to save up and purchase prizes. The purpose of the StoryTent is to make reading fun, so we incorporate that into everything we do!
Lane Field Park Markets
Every Sunday From 10 AM to 4 PM
A beautiful street food & craft market located in Downtown San Diego opposite Broadway Pier. Enjoy delicious food from 20+ food vendors while relaxing on a soft picnic rug under umbrellas (provided by the venue), listening to live music, playing lawn games and enjoying the vibe. Food and drinks on offer include Thai burgers, wood fired pizza, Vietnamese bao, Indian, loaded fries, empanadas, tacos, boutique coffee, smoothies, and plenty of delicious desserts. Lane Field Park Markets are the perfect place to spend a relaxing Sunday with friends or family.
More San Diego Events
Saturday, November 2nd
Day of the Dead (Día de Muertos) is a Mexican holiday celebrated throughout Mexico and acknowledged around the world. It is a day to celebrate, remember, and honor those who have departed.
Stop by your local Walmart and join us for the Fisher-Price Let's Be Kids Pop UP! Take a break from adulting and ride a giant puppy, dance with a sloth, be Batman (through virtual reality) and have all the fun that's usually just for your kids!
---
Sunday, November 3rd

Beech- Nut's Million Meals at the Movies
FREE Event! Join us at the Fleet Science Center – Heikoff Dome Theater on Sunday, November 3rd from 7 p.m. to 8:45 p.m. for Beech-Nut's Million Meals at the Movies benefitting No Kid Hungry.
Join us for San Diego's sweetest fest at Iron Fist Brewing San Diego. Samples donuts, enjoy beer, coffee and more with a fun-filled tasty event! We need your help to name San Diego's Favorite Donut too.
---
Saturday, November 9th
November SD Content & Connection Meetup—DIY Denim Jackets
We're teaming up with AR Workshop San Diego for an incredible meetup that includes Jacket Painting, Instruction, Painting Supplies (Bring your own denim jacket), Snacks, Non-Alcoholic Drinks, Photo-Ops, a Brow Bar, Lip Bar & Braid Bar!
A place to discover and shop from talented emerging artisans and independent vendors showcasing one-of-a-kind, rare goods, attic treasures, art, clothing, jewelry, and a variety of new and used items.
---
Sunday, November 10th
Miramar Makers Market & Brewery Crawl!
Join us November 10th from 12:30 to 5:30pm for the Miramar Makers Market & Brewery Crawl! Shop 75 makers while exploring five local breweries!
5th ANNUAL CARNIVAL 4 CANINES & Friends
Dog friendly fundraising event for the whole family. Food, music, vendors, rescue groups,bouncy house, raffle, costume contest & more!!!
Are you ready to step into your goddess power and use your divinely feminine energy to manifest your dream life? Come gather and connect with other goddesses (STRENGTH in numbers!), as we journey together through a guided meditation.
---
Monday, November 11th
Birch Aquarium's Honoring Local Heroes:Veterans Day
On November 11 we are offering free admission to local heroes and $3 off admission for each person in your group, up to 6 people.
Out of gratitude for the military and their families, Friends of Balboa Park invites all veterans, active military, and their families to join us for one FREE ride on the Balboa Park Carousel on November 11.
---
Thursday, November 14
The San Diego Ramen Festival is the most exciting food event coming back this fall to San Diego for our FOURTH ramencredible year!
---
Saturday, November 16th
Prental and Postnatal WorkShop
Are you a certified yoga instructor, birth doula, midwife or mother trying to expand your knowledge about Prenatal Yoga or Postpartum recovery?
Join Robin Naughton and Jomally Fernandez to learn about appropriate and safe yoga accommodations for every stage of pregnancy and postpartum. Observe a Restore Your Core class with Senior Postpartum Specialist to obtain your certificate of completion. Cost $45
Family Space Night at the San Diego Children's Discovery Museum
5:00-7:30pm
Explore the Museum after hours and find your passion for Science, Technology, Reading, Engineering, Art and Math (STREAM)! Blast off into the universe and put you astronaut skills to the test with hands-on activities to learn about temperature mapping, galaxies, planet Earth and our solar system through NASA's Eyes Technology, coding, mars through virtual reality, and stargazing with NASA JPL ambassadors. Ticket prices start at $7 for members and $10 for non-members.
---
Friday, November 22nd
Nature Whisper's Parents Night Out
This evening we will explore techniques to help us ground, connect and set intentions for the holidays!
Come and enjoy this Friday evening full of community, yoga, CBD, massage, reiki and a caco ceremony. Refreshments and a grounding plant based meal will be served.
✨ Welcoming Circle,
✨ Setting Intentions for the Holidays
✨ Food and Drink
✨ CBD presentation
✨ Restorative Flow
✨ "Ground Down" Talk & Cacao Ceremony
✨ Closing Circle
Fun Animal Friday: San Diego Humane Society @ San Diego Children's Discovery Museum
11:00am-12:00pm
Meet and learn about the San Diego Humane Society's furry friends through a live presentation, meet & greet, special craft, and more! This month, all animals brought by the Humane Society will be available for adoption!
---
Saturday, November 23rd
Come say hello to us near Room&Board between 10am-7pm and pick up some super cute treats & merch, while supplies last! See you there!
---
Sunday, November 24th
Enjoy your day! with this street fair! With 450+ booths, plus dozens of unique downtown retailers, the Encinitas Holiday Street Fair is a perfect opportunity to get a head start on your holiday shopping.
---
Saturday , November 30th
Painting with a Twist |Stocking Time| Kids Age 8 and up
Come join us and have you and your little one paint a stocking just in time for the holidays. All supplies provided with purchase ticket. All kids 8 and up welcomed.
We will be having a cocktail party to kickoff Dressember this year.
Join a community of world-changers using fashion and creativity to fight human trafficking. Pledge to wear a dress or tie every day during the month of December as part of Dressember 2019.
Last year we raised over 4,000$ and we had 5 people
on our team!
---