Spring is here and travel just doesn't look the same right now, which means staycations are as popular as ever! If you've yet to try any of the following staycations in and around San Diego, I've listed my top "must-do's" below. Have fun!
In San Diego: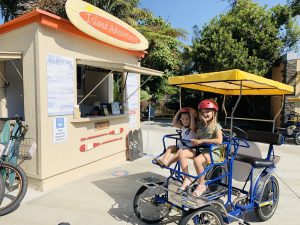 This island paradise is tucked away and truly feels like you're on your own private island in Hawaii. With 44 acres to roam, this private island destination is a perfect spot if you want to jump in the pool, ride surreys around the island, or roast s'mores while your toes are in the sand. Action Sport Rentals is also on the property, located just in front of the resort's waterfront restaurant, Barefoot Bar and Grill, so you can rent a boat for an hour or two (or paddleboards, anyone?!) and return to the Grill for drinks and a burger at sunset. Sound too good to be true? It really is not.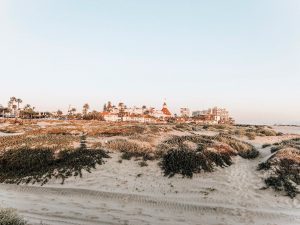 Located on the infamous beachfront on the pristine island (or shall I say peninsula) of Coronado is this iconic resort, with roots to Coronado's beginnings as the property was built in 1888. This upscale property is currently undergoing a multi-million dollar renovation and their newly opened waterfront rooms are pretty spectacular for a special occasion. The bonfire pit on your private patio is my favorite feature, and the views are one in a million. Wake up for breakfast and simply walk into town over to Parakeet Café for a healthy bite or grab a fresh donut from Clayton's Bakery – whichever is more your style. Personally, I'll take one of each.
Near San Diego:
Catalina Island – under-an-hour drive to Dana Point, where a ferry takes you across to Catalina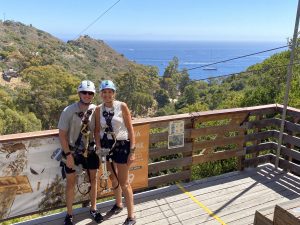 If you live in San Diego and you have never been to Catalina Island, make this year the year you finally do it. Even if you go for the day, it's worth the road trip (and the 1.5 hr ferry ride from Dana Point Harbor to the Island).
Though the island itself is quite small there really are so many options for adventures, whether you like to scuba dive or take an underwater submarine tour (popular with the kiddos) or you are more interested in on-land activities such as the off-road bison tour, golf cart tour of the island, or zip line adventure (pretty fun, if you ask me).
My must when I'm here: booking a chair or cabana at the Descanso Beach Club. Bring a mask (snorkel mask, that is) if you plan on jumping in, there are epic fish galore… mostly our state fish, the bright orange garibaldi. Another tip: book as far in advance as possible if you plan to stay overnight, the hotels book up quickly since there is only so much room! The island's population is not even 4,000 residents.
Palm Desert – approx. 2-hour drive from San Diego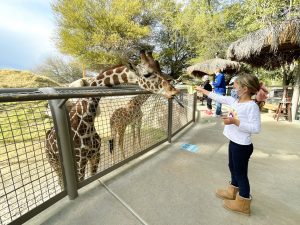 Another must-see destination if you've never been… Palm Springs/Palm Desert. What's the difference, you ask? The two hot spots are located within 30 minutes of each other but one is known for more family-friendly resorts and activities whereas one (Palm Springs) is known for its trendy boutique hotels and eateries. Both are great, but if you're staying here with kids I would likely lean the Palm Desert route (though you can simply drive to the other side, depending on where you stay). We recently stayed at the Rancho Las Palmas resort and had so much fun on their water slide and in their lazy river. Worth the trip just for that! A few musts when visiting here are: