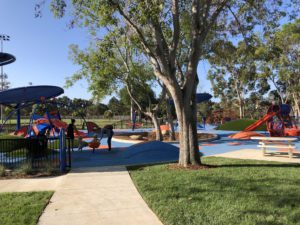 If you have a Blippi fan in your house (we have three) then this new playground in Carlsbad is a must-see! Blippi is the host of his own YouTube channel for kids and wears an infamous blue and orange costume. Blippi fans will love Carlsbad's newest playground at Poinsettia Community Park!
Poinsettia Park has been undergoing construction for over a year and this new playground is much larger than the previous one with amazing modern features and interactive equipment for kids of all ages. Located at 6600 Hidden Valley Rd. Carlsbad, CA 92011, Poinsettia Park is not far from Legoland, the Flower Fields and the Premium Outlets.
If you are driving a distance, try to make a day out of it by enjoying all the best in Carlsbad.
The Blippi playground, as I call it, has both rubber and turf hills that are so fun for kids to climb, walk and sit on. The modern swing is super fun and can hold a few kids at a time. The teacup style seat that spins is my youngest's favorite.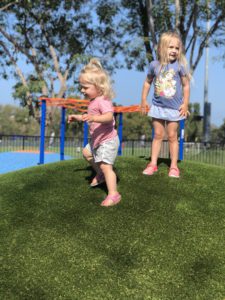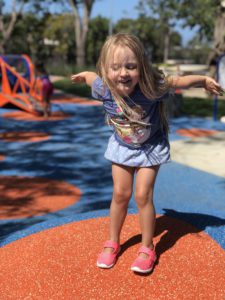 We were one of the firsts to enjoy Poinsettia Park's new playground and it has been a hit every day since. There are also a few different slides, perfect for toddlers and older kids alike. My daughter loves the big slide. You have to climb up the climbing wall to get there. They also have a teeter totter and fun climbing equipment.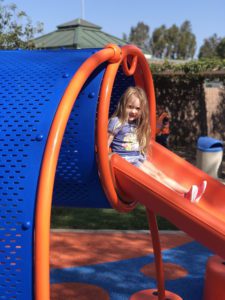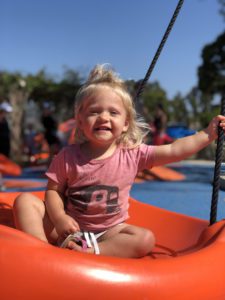 Poinsettia Park also has 42 acres of natural landscaping, beautiful tress and plenty of natural shade. They have tennis courts, three baseball fields and a multi-use turf field for soccer, football and more. They also have two basketball courts, picnic tables and grills, a brand new pickle ball court and a dog park will be opening soon.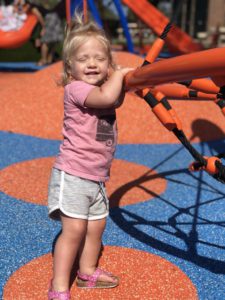 It's my littlest Blippi fan's birthday is coming up soon and I see a Blippi photoshoot here in our future. Blippi fans will for sure love the newest playground in Carlsbad!