My daughter and I recently ventured to Flinn Springs on a Saturday afternoon. Located 24 miles east of downtown San Diego, Flinn Springs offers outdoor spaces, unique shops, and tasty eateries. If you haven't yet been, it's time to work a visit into your weekend plans. Family fun awaits in Flinn Springs!
Hike and Explore Flinn Springs County Park
Start your visit to Flinn Springs at Flinn Springs County Park. This gorgeous park offers 2.5 miles of hiking trails, which is perfect for families. There are shaded groves, a year-round stream, play structures, ballfields, and picnic areas. This park is open 9:30 AM to sunset daily. There is a $3 parking fee.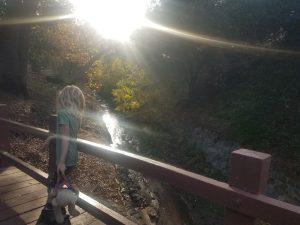 Wander Through Summers Past Farms
I may always be in awe of the ethereal surroundings I find myself in when visiting Summers Past Farms. It is a family-owned business open Thursday-Sunday year-round situated on 5 acres of land. Start your visit with a walk through the sunflower maze and look for butterflies landing on pollinators. Upon entering Summers Past Farms, you'll find an array of native plants and herbs for purchase. Next, pick up the perfect gift at the Barn Shoppe, filled with handmade soaps and uniquely crafted items. Enjoy a coffee or lavender lemonade and a pastry on their shaded patio. Additionally, feel free to bring a blanket to enjoy their sprawling lawn. Don't miss the French hens, resident cats, and abundant photo opportunities! Check out the upcoming events to plan your visit.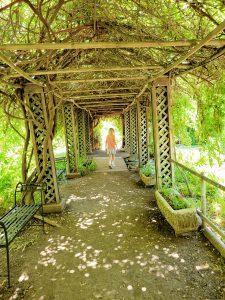 Pet Some Furry Felines at Friends of Cats
Did you know that Friends of Cats has offered shelter and sanctuary for homeless cats since 1929? This non-profit is located right across the street from Summers Past Farms on Old Highway 80. Open Tuesday-Sunday, visitors may come on-site to simply visit with the cats or look for their next family addition. Adoption rates are very reasonable. Importantly, Friends of Cats also offers lifetime care for cats that are not eligible for adoption.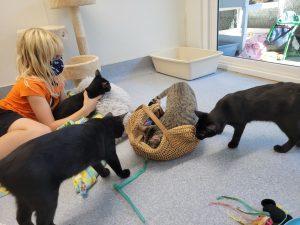 Grab a Bite at a Local Eatery
Naturally, after exploring you'll need a bite to eat and a refreshing beverage of choice to recharge. Luckily, there are some pretty fun options available! Grand Ole BBQ is right down the road from the first stops on this post. Grab some Texas BBQ and enjoy live tunes in their outdoor seating area. Alternatively, for a freshly baked pastry or quiche – or even just a beverage – try The Club Car. This unique space is situated in a train caboose. Not only for food, The Club Car also carries unique jewelry, clothing, body care items, and keepsakes. Spend time in their outdoor space. Check their upcoming events for live music, local artisan pop-ups, and food vendors. Other nearby options: Mary Etta's Cafe for classic diner fare and Bongiovanni's for a sit-down Italian experience.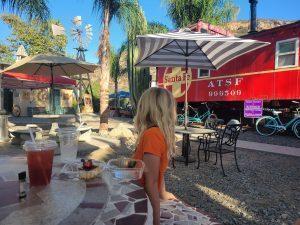 Browse the Plants at Flowers on the Moon
Lastly, stop by Flowers on the Moon, a recently opened flower shop. Seasonal floral arrangements, succulents, and assorted gift ideas adorn the open indoor space. The owner often hosts artistic succulent classes for all experience levels. We stumbled upon this shop by chance and left with a beautiful succulent project created by my daughter.