Monster Jam is coming back to San Diego and you do not want to miss this fun family event!
The most action-packed motorsports experience for families in the world returns to San Diego for two high-octane events featuring the ultimate mix of action and four-wheel excitement. It's coming to Petco Park on February 15, 2020.
PIT PARTY
Saturday February 15, 2:30 PM – 5:30 PM
At the Monster Jam Pit Party, you can see the massive trucks up close, meet your favorite drivers and crews, get autographs, take pictures and enjoy other family-friendly activities. It's an unforgettable part of the Monster Jam experience where special connections are made and lifelong fans are born. This. Is. Monster Jam. Add the Pit Party Pass OR the Pit Party Early Access Pass (enjoy an exclusive extra hour) at the end of your ticket order. If you've purchased tickets already but didn't purchase your Pit Party Early Access Passes OR your regular Pit Party Passes yet, you can still purchase them online in advance.
My little one had an amazing time checking out all the monster trucks up close this past Saturday. The Pit Party Pass takes place in the Lexus parking lot right outside Petco Park.
In addition to the monster truck display and meeting the drivers, there were awesome activities available to keep young children busy, including toddler-sized monster trucks, a sand pit, air bounce, face painting and more.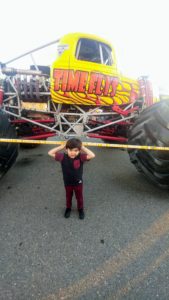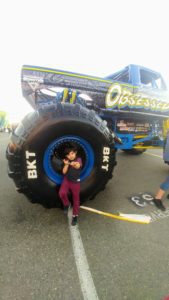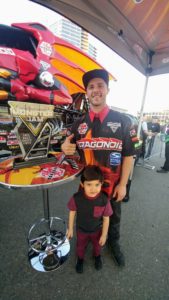 Monster Jam Showtime: 7PM
The show did not disappoint!!
Monster Jam drivers are trained, world-class male and female athletes who have mastered not only the physical strength and mental stamina needed to compete, but the vital dexterity neededto control 12,000-pound machines capable of doing back flips, vertical two-wheel skills and racing at speeds up to 70 miles per hour to produce jaw-dropping, live motor sports action seen around the world.
We saw Dragonoid almost go down, but the driver redeemed the trick and landed right back on his feet.
The show was exciting, but the best part was seeing my boy smiling from ear to ear.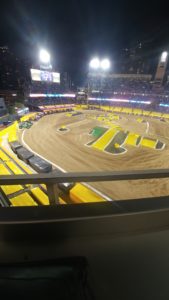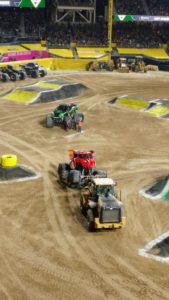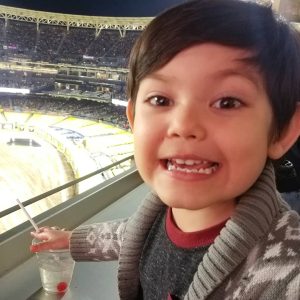 WHERE: PETCO Park– 100 Park Boulevard, San Diego, CA 92101
TICKETS: Ticket prices start at just $15!
Pit Passes available for $15 each; Pit Party Early Access Pass pricing starts at $35 each
Tickets and Pit Passes now available for purchase online at Ticketmaster.com or in-person at the Petco Park Box Office.
* each event requires a ticket
Additional Tips: All parking structures around the stadium are pricey, so take the trolley into downtown or park on the outskirts at a meter and walk in, meters are free after 6PM.
Petco Park does allow outside food and drinks as long as you adhere to the parks entry rules, found here.