As the state of California moves forward with its reopening, the San Diego Zoo Wildlife Alliance brings back some of its much-loved experiences. It's been well over a year since we've been able to enjoy some of our favorite things to do at the parks and their return is very welcome.

The Africa Tram
Personally, the Africa Tram is my favorite thing to do at the Safari Park. It makes me happy to know that guests can once again take a ride around the African open field exhibits at the park. You'll get to see a number of African animal species, co-existing together like they would on the African plains. Keep your eyes peeled for rhinos, giraffes, sable antelopes, and many more animal species. This time of year, there may even be some new little ones roaming around.
The Conservation Carousel
Another attraction that I'm happy to see make its return is the Conservation Carousel at the Safari Park. The carousel is six dollars for unlimited rides and all the money goes back into the park. Hop on the back of a tiger or red panda and enjoy a ride with your little ones.
Zoo Bus Tours
At the zoo, you can once again enjoy a bus tour. Ride along on a double decker bus and enjoy views of practically the entire zoo. I suggest the upper level, the views from up there can't be beat. The bus tour allows you to see all your favorite animals without all the walking. The Kangaroo Bus program is also making its comeback, so you can hop on and off the bus at different points around the park.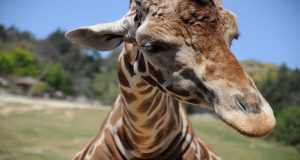 Hopefully you and your family are able to experience your favorite attraction on your next visit. Fully vaccinated guests are currently able to go mask less at the parks. Individuals who are not fully vaccinated and children between the ages of 2 and 12, who can't get vaccinated yet, are all still required to wear masks.
Explore our latest post on a must-have Zoo packing guide