My family enjoys putting a weekend getaway on the calendar. It gives us something to look forward to. We have an opportunity to reset and relax. Most importantly, it gives us quality time together without the distractions of home.
The criteria for our most recent getaway were fairly straightforward: $200 or under per night, preferably at a cabin, pet-friendly, on-site amenities, and within an hour's driving distance. While I love a good tent-camping trip, this time I wanted to sleep under a roof. Without a doubt, we wanted to avoid any VRBO or Airbnb fees. We discovered Thousand Trails, which fit the bill. They feature campgrounds with RV and tent sites as well as cabins. Better yet, they have 2 locations in San Diego County. With numerous activities and amenities on-site, it's easy to choose Thousand Trails for your next family adventure!
Reserving with Thousand Trails is Easy
Making a reservation with Thousand Trails is easy. Guests are welcome to reserve campsites or cabins directly on their website. Also, memberships can be purchased there and can save you money! This is a great option for families planning on multiple stays with Thousand Trails.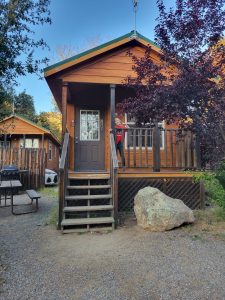 There are Two Locations Nearby
To stay close to home, choose Oakzanita Springs RV Campground in Descanso, CA like we did, or Pio Pico RV Resort and Campground in Jamul, CA. Thousand Trails has over 200 campgrounds across 25 states, so they are an equally suitable go-to for a stay that is further away! The proximate locations are a great reason to choose Thousand Trails for your next family adventure!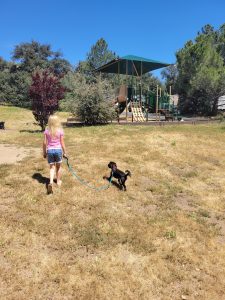 The Amenities and Activities are suitable for All Ages
At Oakzanita Springs, there was more than enough to entertain us during our 2-night stay. The pool and hot tub were the biggest hits for my daughter. I specifically loved that the deep end of the large pool was a modest 4 feet. This put me at ease as I have a young swimmer. For families with toddlers, the 1.5-foot-deep pool is a great feature. Also found here are a mini-golf course, volleyball, bocce ball, a playground, and hiking trails. Conveniently, there is an on-site store, which is convenient for restocking drinks, snacks, and even items for the grill. There is also a clubhouse with a lounge. Here you can find books, puzzles, satellite TV, a fireplace, air conditioning/heat, and wifi! There are activities scheduled daily, allowing campers to connect and share experiences together. Pio Pico offers comparable on-site perks as well.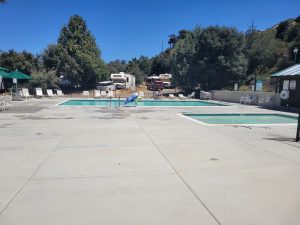 Enjoy a Safe, Affordable Weekend Getaway
Our expectations were exceeded when we arrived for our weekend at Oakzanita Springs. The Campground had secured entry and was well-maintained. The staff on-site were all very personable and happy to answer questions. Guests at the campground respected the property and fellow guests with regard to Quiet Hours. Even in renting a 4-person pet-friendly cabin for the weekend, we spent far less than renting a cabin in Big Bear or staying at a local hotel.
We can't wait for our next weekend with Thousand Trails. With so many great reasons to visit, why not choose Thousand Trails for your next family adventure?