There is nothing better than finding an activity that everyone can enjoy: families, friends, kids, and coworkers. Despite hearing how much fun escape rooms are, I had never been to one. So we set a date, invited some friends and tried to make our great escape!!!
Introducing Escapology San Diego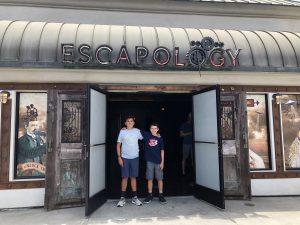 Escapology San Diego located in Belmont Park is a premier live-action escape room. From the second you see the sign and start walking to the front you will be transported into a world of fantasy.
Once inside there is a comfy waiting area, it's beautifully decorated and puzzles to get your brain going before the adventure starts.
The Options and Rules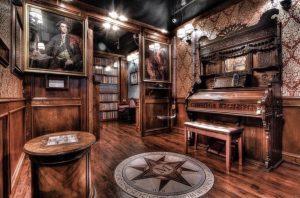 Before we talk about anything the first rule at Escapology is to have fun! YES! That I can get behind. There are three themes: Antidote, Budapest Express, and Mansion Murder.
Each theme has you locked in a room with puzzles and clues to open doors into the next room. Hopefully, before 60 minutes your team has cracked the case and is set free.
Mansion Murder
Our theme was Mansion Murder and our host took us to the room and explained that with each clue you are led to the next puzzle and that there were two other rooms within the Mansion Murder. My favorite part, there was a walkie talkie and if we got stuck that we are allowed to ask for a tip. You can only ask a couple of times, but this way you don't get stuck. However, you are not allowed to leave the room once the clock begins.
Let The Murder Mystery Begin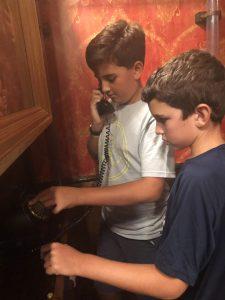 The Mansion Murder takes place in the Scottish Highlands. Hugh 'Monty' Montgomerie, the 9th Earl of Kildermorie, your grandfather is found dead in the library, during a party. You are the #1 suspect and locked into the drawing room. With only 60 minutes until the police arrive you need to discover who it was.
Our host left and the timer began. The drawing room feels like you are in a Scottish mansion and the decor is perfect. From there we began hunting for clues and solving puzzles, riddles, math problems, and unlocking locks. Although I wasn't sure what to expect, the clues proved to be a winning combination, allowing everyone to showcase their intellectual abilities.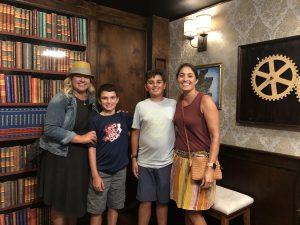 We were able to visit all three rooms within the Mansion. Room after room was more intriguing than the last, and as the mystery neared its end, it became more difficult
Here are a few tips that I can give about the room. Use the whiteboard to write down clues and puzzles. Pay attention to every detail and use those listening ears. Sometimes a clue is not used right away but it will come in handy along the way.
Did We Escape?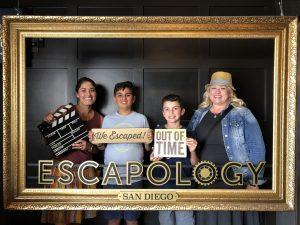 The number one question we got from everyone was, "Did you escape?". And the answer is yes, but only by the skin of our teeth. Phew!
At the end of the experience the staff will take a team picture, like the one showed here to the left.
As a mom, I appreciate the extra steps Escapology San Diego took to provide a fun and safe experience.
Each of the rooms we entered had cameras and an escape room team member is able to watch and track your progress. For example, there was a math clue and within the large equation, we had made a mistake. All of the sudden we heard a ding and then a screen within a picture frame told us to double-check our math. After the experience, I spoke with our amazing host and she said that yes they will step in when needed even when you don't ask. The reason being they want people to have the best chance to escape and to minimize potential disagreements within the group or despair.
We had best time and I highly recommend booking Escapology San Diego today!
When it comes to kids they recommend 8+ but of course, it depends on your child. The puzzles are definitely a little hard for younger kids. We are planning on going back and trying out a new theme. Truly it was so much more fun than any of us expected.
Good Luck and Remember Keep Calm and Escape! Use code SDMOMS for 10% OFF!
Escapology San Diego is located inside Belmont Park under the Giant Dipper roller coaster and is open seven days week. Head to their website to book your escape today!