San Diego PRIDE 2020 IS NOT Canceled!
Yes, I absolutely mean the title of this article. S.D. PRIDE is a little different, but there is still plenty you can do!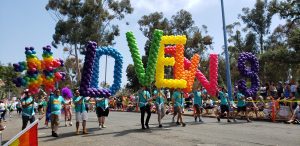 We acknowledge that coronavirus has forced the community and those celebrating to get a bit more creative. COVID-19 definitely won't let San Diego and all the LGBTQ+ community stop celebrating. PRIDE events in our city won't exactly be out and about, but that doesn't mean it isn't happening at all. Coronavirus can't dim these bright beautiful colors! It's just going to be filled with more Zoom Parties, Virtual Events, and Loving our Neighbors.
While you are still mostly stuck at home, have fun making some rainbow crafts! If you feel like getting extra creative and diving deeper into educating, do some art projects inspired by all the other LGBTQ+ flags as well.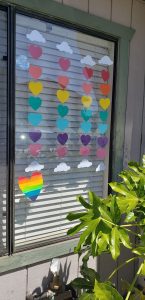 Personally, we have our window decked out in Rainbow Heart Decor by Paper + Paste Design Co along with my kiddo's rainbow art. I know plenty of other moms and families of the Free Mom Hugs "Mama Bears" doing the same along with those of the LGBTQ+ community. It also adds some colorful cheer to the neighborhood. My kiddo has even decided to make little cheer/care packages to our neighbors with flags, it's nice to spread love.
If you think your child is too young for the "talk" trust me, they aren't. This isn't about "talk" it's just a show of loving all. It's always great to be open, loving, and displaying acceptance. Build that open relationship with your littles starting now. Plus, there are plenty of books! San Diego Children's Discovery Museum even got in the PRIDE month spirit with a Live Story Time reading "Julian is a Mermaid". A few other books to look into: may I suggest checking out this little list by Penguin Books, and of course there's always "And Tango Makes Three".
My suggestion if you are looking out for community-style events, keep an eye out on San Diego Pride's Facebook page and The Center for Virtual Events, I've even seen Virtual Bingo for us adults.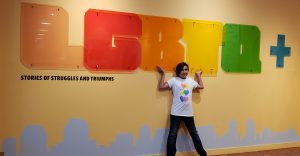 For those wondering or with kids a little older, here's a tiny history lesson:
 "Darling, I want my gay rights now!" – Marsha P. Johnson
The current political environment is just reminding the community a bit more of what PRIDE means. Feel free to read up about Stonewall, the events in Greenwich Village, now 51 years ago, and Marsha P. Johnson. The fight for rights and change that eventually became PRIDE. The anniversary timing and what is happening today are definitely highlighting a key moment in the LGBTQ+ and Black history. It even served as the theme for San Diego PRIDE's parade last year.
Also, if you are further interested in not just LGBTQ+ History, but that of our San Diego Community, I HIGHLY recommend seeing
LGBTQ+ SAN DIEGO: STORIES OF STRUGGLES AND TRIUMPHS exhibit at the San Diego History Museum. The museum is in Balboa Park (exhibit runs till Jan. 2021). The museum is donation only and family-friendly.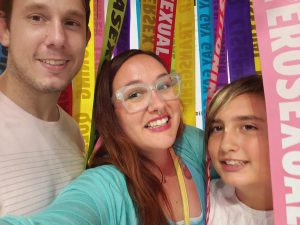 As I said, PRIDE is far from canceled! There are a lot of things to do and I hope this gets you in the right spirit. Happy Pride! Please share with us what PRIDE looks like for your family! We would love to hear and keep an eye on our Instagram, good odds there will be a colorful giveaway coming!