After months of sheltering-in-place and limiting our outings to "less crowded" places that we could get to within an hour's drive, the time arrived to finally venture out. We were excited to take a family trip and get a change of scenery. The only thing that stood between our home and our destination of Pismo Beach was a 288-mile commute… and all that goes with road-tripping as a family. With some planning ahead and research, as well as learning along the way, we compiled our tips for family road trip success during COVID-19!
Get familiar with your route and stick to it.
Heading to the Central Coast meant driving through L.A. would be the most efficient driving path. That said, we planned our commute around what traffic might look like passing through that area at various times of the day.
We settled on an evening commute on the way up, which afforded the perk of less traffic, but the drawback of fewer options as far as stops along the way for food and open restrooms.
Plan your stops for eating, bathroom breaks, and leg-stretching.
We quickly learned that many fast-food chains and gas stations have closed their restrooms to the public. Additionally, we only passed by 2 rest areas on our entire drive, and one was closed. Obviously, this was more of an issue for us given our late departure, but be sure to plan accordingly. Checking the
California Rest Areas Map
is a helpful way to plan out necessary stops.
When traveling back, we drove during the day and it was less challenging to find places to stop. Stopping to eat at a restaurant with outdoor seating, visiting a park with bathrooms, or going into a chain store like Home Depot or Target are good breaking points. Another perk of our daytime drive back was being able to see what we were driving past. This afforded us a little spontaneity. Have you ever been to
Loon Point Beach?
Neither had we nor had we planned on it until we saw the ocean from our passenger-side windows and just had to stop.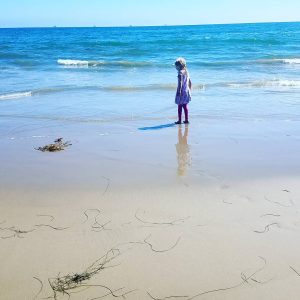 Pack activities to keep the kid(s) entertained.
I packed items to keep our daughter entertained on the long drive. I made sure she had her favorite stuffed bear, wipe-clean activity books, coloring items, and the tablet with downloaded shows. Also, I played interactive games with her during daylight hours, like I Spy, to take in our surroundings and facilitate discussion. I also packed pillows and throw blankets to stay comfy during periods of rest.

Pack snacking and hygienic essentials to avoid unnecessary stops.
We made sure to pack an array of drinks and snacking options for each commute. Doing so is a great way to lessen unnecessary stops, and save money by dodging overpriced gas station items. Healthier options are another perk of planning ahead!
Importantly, particularly during this pandemic, we packed an adequate supply of hand sanitizer and cleaning wipes. Recognizing that these items are sometimes hard to come by, making your own sanitizer and disinfecting wipes are options to consider. We also had an ample supply of clean masks on hand for each of us.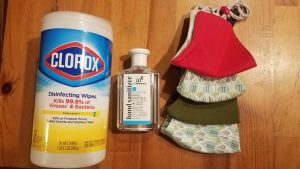 Though road trips aren't quite as carefree as in summers past, they are still a wonderful way to get back out into the "world." Hopefully, these tips for road trip success during COVID-19 will make your next adventure easier to navigate! Where will your road trip take you?