Families in San Diego are itching to hit the road and find a change of place and a change of perspective. But for anyone right now, traveling is a big decision and not one to be made lightly.
Coronavirus is out there. Everywhere, anywhere. And it's going to be lingering in our world for quite some time.
TO TRAVEL OR NOT TO TRAVEL
As the world faces the next season of traveling, moms everywhere are paying close attention to how hotels are handling the safety and sanitation protocols, and how their response compares to the sanitary protocol adherence in Air B&Bs.
AirBnB is reporting a huge surge in bookings for this summer, while hotels are still suffering for bookings. Brian Chesky, the CEO of Air BnB, recently wrote that families overall seem to be choosing to book vacation stays within 200 miles of their home. In other words, they are going where they can easily drive.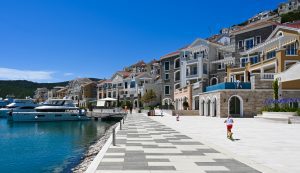 HOTELS VS AIRBnB
On one hand, I can see the logic of choosing an AirBnB type of setup this summer because you can cook your own food and limit exposure to other people. Alternatively, I like the idea of being in a hotel where there are super strict protocols in place to keep everyone safe. With a home share situation, you just never know who did what there and what is clean or not clean.
HOTEL TEST RUN
We moms are hyperaware of keeping our little ones safe as we travel. Before we take any chances of traveling again, I wanted to give the post-COVID-19 hotel situation a test run before we head off on our next adventure. (We are going to GREECE!) Our next trip includes both hotels and AirBnBs, and I'm feeling a little nervous about it.
I booked a hotel
for one night here in
Montenegro
, where
our family
has
weathered the pandemic
for the past four months. While at the hotel, I paid close attention to the entire hotel experience. This was my due diligence to see what governments are requiring of hotels as they face a "new normal" through this pandemic.
TWELVE WAYS HOTELS ARE MAKING THINGS SAFER
Here are 12 ways I saw the hotel striving to instill confidence in guests during
COVID-19
.
1. MASKS, MASKS, MASKS
The entire hotel staff was wearing masks, even though this is not required in the country right now. It's helpful to know that they keeping their staff and the guests safer in this way.
2. CARPETS STEAM CLEANED
It was delightful to find a list in my room telling me all the ways they are keeping the room clean. I was impressed they do a full steam cleaning of the carpets in between guest bookings.
3. COFFEE STATIONS REVAMPED
The wine glasses and coffee cups in the room were in plastic bags, which helped me to know that they were cleaned and or/new instead of the same ones there from the guest before.

4. TV REMOTES PROTECTED
The remotes for the TVs all and removable adhesive coverings over the buttons, which is replaced between each guest.
5. TOILET SEATS STICKERED
In the hotel room, the toilet cover had stickers securing the top to the seat, labeling it "sanitized."
6. THROW PILLOWS WRAPPED
The throw pillows on the beds were all in pillowcases, always with a "freshly clean" sign on them.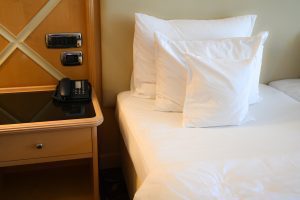 7. HAND-SANITIZED ELEVATORS
I was delighted to find hand sanitization units installed in every elevator, which is a
high touch surface
. It makes sense to push the button, get in, push the floor call button, and then disinfect your hands.
8. SPRAY-CLEANED POOL CHAIRS
At the hotel pool, the pool lounge chairs were spray disinfected every time someone got up and left the chairs for the day.
9. DISINFECTED TABLES
At every outdoor table, there were signs saying, "This table has been disinfected." At the tables inside, they removed the fabric tablecloth and replaced it with a fresh one between each guest.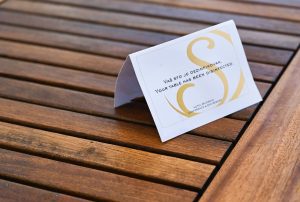 10. BREAKFAST BUFFET NO MORE
The breakfast was served from a large circle-shaped buffet, with the chefs were inside the circle. The food and dishes were all behind protective plexiglass. You simply tell a chef what you want from the buffet and they serve it up and hand it to you over the barricade.
11. TOUCHLESS MENUS
The restaurants and cafes had a touchless menu, accessible via scanning a QR code from a card on the table, and then looking at the menu on your mobile device. This kept people from handling physical menus, which can easily transfer germs from one person to another.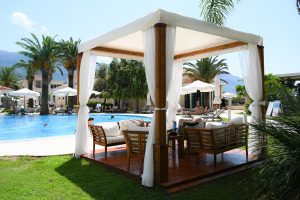 12. SOCIAL DISTANCED SUNBEDS
The lounge chairs and sunbeds were at least six feet apart, making space for social distancing.
WILL YOU TRAVEL?
Although nothing can fully protect us from coronavirus, all twelve of these changes went a long way in helping me feel more confident – and even excited – about
travels with kids
. It will be interesting to see how other hotels stack up to this experience.
Perhaps this list will help YOU feel a little more at ease as you consider your summer vacation plans with kids, inside or outside of San Diego. If you decide on a staycation instead, I'll leave you with some fun ideas to
keep the kids busy
during your summer vacay!