5 Tips for Travel During Coronavirus
Did you have a Summer vacation planned that you ended up cancelling? You are not alone! Thousands of others are doing the same. We canceled one of our trips, however, we opted to stick to our plans to fly to the East Coast because we felt comfortable doing so—but every family is different so do what works for yours! Here are some travel tips for the coronavirus era I hope you find helpful if you do decide to fly (or road trip) this year.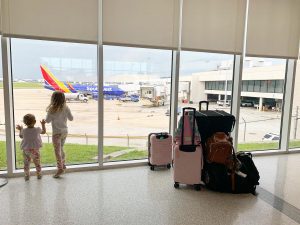 Research the laws of your intended destination
Before you head to your intended destination, make sure you are updated on current laws regarding mask use, quarantine, etc. Some states (or countries) have a mandatory 14 day quarantine period where you must stay in your hotel or lodging before you can begin your vacation. This can be costly, and might not be worth your time; so again, just make sure you are up to date on all regulations as they are constantly changing.
Bring your masks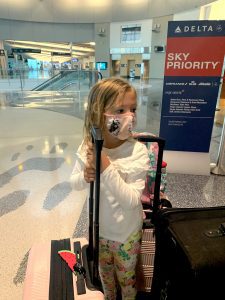 This might sound obvious at this point, but masks are required in most airports and on every airline so it is important to have one on hand. Some airlines even have disposable masks on hand, depending on the carrier. Keep in mind, children under age 2 are not required to wear a mask. If you are worried about your child leaving their mask on for the duration of the flight, all flight attendants that we experienced were understanding if our child took "mask breaks." If you are not comfortable with your child taking off their mask at any time, perhaps consider driving instead of flying.
Research your airline before travel
Every airline has different standards and some are more socially distanced than others. Are you comfortable sitting right next to someone else? Book American or Frontier. Or, are you wanting some more space, and boarding from back to front so as to offer less contact with other passengers? Book Alaskan, Delta, or Jet Blue. We personally opted for safer travel and flew via Delta and Southwest during our trip and felt comfortable on our flights, with the middle seat always empty of any passenger, giving us more space to spread out.
Pack your own food
Most airlines have limited food and beverage service currently so after you pass security, grab a water bottle of your own to avoid further touch points. Also, pack your own lunch! The airlines we experienced handed out bagged pretzel snacks however the more you can do yourself, the better. Traveling with kids? Then you know snacks are the most helpful tool to help you get through a long flight or a long road trip. One snack at a time, and suddenly you're there!
Activities for the kids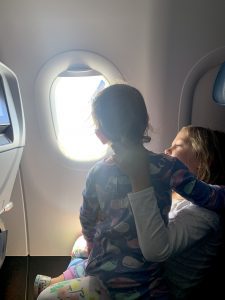 Besides snacks, some of the most time-consuming airplane and car activities are stickers. Not just normal stickers, but the reusable kind that they can play with continuously known as "Colorforms on the go"! I also love magna-doodle drawing boards, and "busy boards" for the really little ones. The older kiddos seem to love reusable watercolor pads like Melissa and Doug's "On the Go" collection; beside their own i-pad of course. Magnetic dress up kits are fun, but again; snacks are the ultimate winner when it comes to keeping kids busy on a plane. One cracker at a time, and before you know it… you're there. Have fun!
To read more helpful articles, head over to our website!