For several months I had gone back and forth thinking about whether or not to take a staycation. I kept wondering if now was really a good time. I looked into several San Diego hotels and still couldn't bring myself to click that shiny little "book" button.
After talking more with my husband, he convinced me that as long as I felt like we were doing it safely there was no reason not to take some time off and enjoy a staycation. At some point, I came across an ad for the Legoland Hotel. I looked through their current safety protocols and finally booked our staycation. We ended up originally booking two nights at the Legoland Hotel and closer to our stay we added on a third night at the Legoland Castle Hotel.

Check-in Process
Part of their current safety procedures is online check-in. The hotel sends you an email twenty-four hours before your stay and you can check in right from your computer. I will say, the only positive that seems to come from this is that once you're checked in you can make your pool reservations. Even if you check-in online you still have to wait in line to check-in at the front desk once you arrive. On Friday evening the line to check-in wrapped around to the back of the hotel, so be prepared for a bit of a wait if you're checking in for the weekend. They also check your temperature at the door when you check-in.

Legoland Hotel vs. Legoland Castle Hotel
Our first two nights we stayed in a pirate-themed room at the Legoland Hotel. And our last night was spent in a princess-themed room at the Legoland Castle Hotel. Both rooms were filled with all kinds of touches that tied them in perfectly to their themes. I will say though, I wasn't a fan of the LEGO spider on the ceiling in our pirate room. The kids even get their own sleeping area in every room, complete with bunk beds plus a trundle bed. The trundle bed was perfect for our toddler and I'm sure when she is older, she will love the bunk beds. While I enjoyed the theming at both hotels, I have to say I enjoyed the Legoland Castle Hotel more. It has a more cohesive feel to it and you can't beat the LEGO torches in the hallways that look like they're flickering.

Our Favorite Experience
During our staycation, we enjoyed time at Miniland USA, LEGO Sealife Aquarium, and at the hotel pools. While wonderful memories were made at all these places I can't rave enough about the pools. Both hotels feature zero-entry pools which were perfect for our toddler. She was thrilled to be able to stand in the pool as opposed to having to just float around in her life-jacket. It was wonderful to see her face light up while we were there. She didn't want to get out, even on our last night while she was shivering. The pool at the Legoland Castle also has some water play features that add a little something extra to the experience.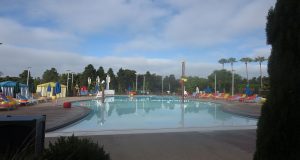 If I had to rate our experience, I would give it a 9/10. The employees were all extremely kind and helpful. The other guests were following all the safety rules, for the most part. Our family made wonderful new memories together and for just a little while we were able to escape our normal lives. If you're considering a staycation, I can't recommend the Legoland California hotels enough.