Across the country this week, school districts are gearing up for a new school year. Due to the current state of affairs, with concerns still heightened about the COVID-19 virus, many districts have decided to return virtually, and some have even already resumed classes. It's safe to agree that this is a completely reasonable decision and despite the hassle, it was also a welcome relief for most parents.
We cannot overlook, though, what this means for our moms. In this season of uncertainty, moms are being tasked with so much. However you may feel about the decision made by various schools to start this new semester virtually, we can all agree that it's a big ask. They have an incredibly challenging task ahead. Moms have to now figure out how to completely revamp their routines and their homes to facilitate a good home learning situation.
Despite this, there's one thing I know everyone can unanimously agree on.
Moms, everywhere, will get it done!
Moms aren't strangers to sacrifice. They know what it means to put comfort aside for the sake of their children. So, when told that they will have to homeschool their children, it's a big adjustment, but they will figure it out. Despite having jobs outside the home, despite having to work from home or despite having multiple children of varying ages. Even after they have whined and complained, shared countless memes and joke about how daunting the situation is. They will get up, put on their big girl pants, and make things happen for their children.
With that said, it starts with figuring out how they will "set up shop". It's been proven that having an organized space dedicated to virtual learning is able to boost children's mood and help with productivity. See how these 5 moms are preparing their respective spaces to get it done.
Tia H, in San Diego, CA, converted her tiny breakfast nook into a cozy homeschooling space for her two daughters — aged 8 and 3. Keeping all school supplies tucked away in a plastic storage container keeps the area organized. Posters from the Target dollar section makes for a great backdrop during zoom meetings.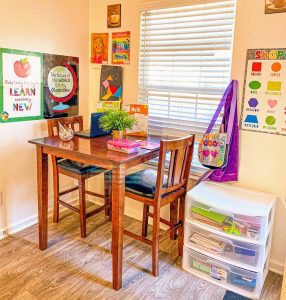 2. Sashanna L in Jacksonville, FL has a high school freshman, an elementary student, and a preschooler all participating in virtual learning. Getting things done for her means transforming a section of her home theater/home gym into a full-fledged classroom complete with whiteboard and office furniture.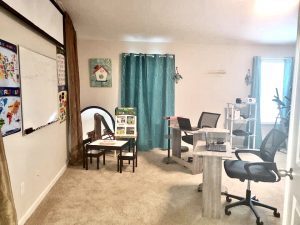 3. Getting it done for Bennisha J in San Diego, CA means converting a bonus room in her home into a mini classroom setup. With 4 little ones all participating in virtual preschool and elementary school, having a dedicated space with very minimal distractions is essential for keeping everyone on task and focused.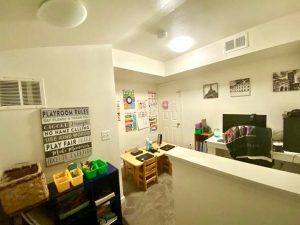 4. Meagan A in Lawrenceville, GA is the mom of a third-grader and is also a middle school math teacher. Getting it done means doing the unconventional. Meagan's setup has her 3rd grader occupying a section of her classroom while she participates in virtual school. At the same time, mom is teaching her own online lessons while monitoring her daughter. Talk about a super mom!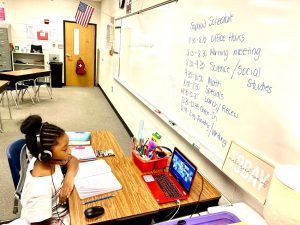 5. Last but not least, we have Emily T in Middleburg FL. With 2 elementary-aged kids and a preschooler, it made sense to create a calming space by converting a section of her kids' playroom into a home learning space. Tables and chairs facing the wall mean that every child can remain focused on their respective tasks without distraction.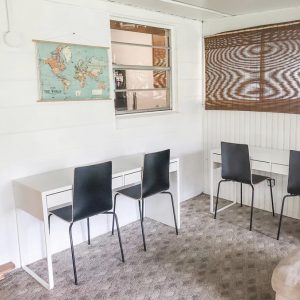 It's safe to conclude that facilitating home learning is challenging. But these moms are already ahead of the game. With the right approach and great organized spaces free of distractions, they are getting it done!