---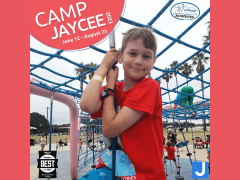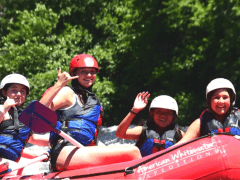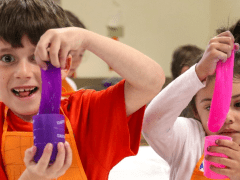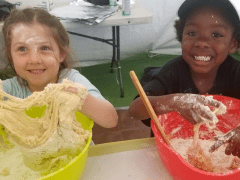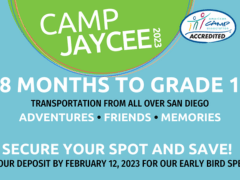 ---
Camp Jaycee at the Lawrence Family JCC is a place you can count on for a summer filled with adventure, friends, and memories! Their ACA-accredited camp features camp types covering a wide range of interests, including traditional, sports, theatre, and much more for toddlers to teenagers. Camp Jaycee's facility includes the Friedenberg Olympic-sized pool, the David & Dorothea Garfield Theatre, the state-of-the-art Nierman Preschool, the Gotthelf Dance Studio, the Edgar Berner Family Ball Fields, the Albert A. Hutler Tennis Center, and much more.
Additionally, Camp Jaycee has one of the best staff-to-camper ratios in San Diego with a highly qualified staff trained with a focus on child development, group dynamics, age-appropriate programming, first aid, and more. Hands-on attention is guaranteed. Camp Jaycee offers a full-day schedule. Camp Jaycee is from 9:00 am – 3:30 pm with additional hours available through their extended care program.
Summer camp kicks off June 12th and runs through August 25th for ages 18 months to grade 11.
---
Do you offer other camps or opportunities for parents / kids throughout the year?
Spring Break + Holiday Camps
Spring Camp at Lawrence Family JCC is sure to be filled with adventure and fun. They offer an exciting variety of activities for every interest in a supportive and enriching environment. All camps include sports, art, games and more, as well as swimming (weather permitting).
Week 1: Monday- Friday, March 27 – 31, 2023 | 9:00 am – 3:30 pm
Price: $570 | JCC Member $480
Week 2: Monday – Wednesday, April 3 – 5, 2023 (3 Days) | 9:00 am – 3:30 pm
Price: $342 | JCC Member $288
Week 3: Monday – Friday, April 10 – 14, 2023
Price: $570 | JCC Member $480
DROP OFF & PICK UP: Drop Off: 9:00 a.m. / Pick up: 3:30 p.m. (Unless otherwise noted)
---
---
Tuesday
9:00 am - 3:30 pm
Wednesday
9:00 am - 3:30 pm
Thursday
9:00 am - 3:30 pm
---
Regular Camp Hours: Monday – Friday, 9:00 a.m. – 3:30 p.m.
Half-Day Camp Hours: Monday – Friday, 9:00 a.m. – 1:00 p.m. (Camp Keshet only)
Extended hours before and after camp are available for an additional fee only at the JCC. Afternoon extended hours for preschool-aged campers are available only after 3:30 p.m.
Morning Care Hours: Monday – Friday, 7:30 a.m – 9:00 a.m.
After Care Hours: Monday – Thursday, 3:30 p.m – 5:30 p.m and Friday 3:30 p.m – 5 p.m.
We are taking steps to limit those individuals with whom your camper will be in contact. Therefore you must notify us in writing whether you will need either early morning or afternoon/evening care or both. Please email Campjaycee@lfjcc.org as soon as possible if you need these services so that we can confirm our groupings.
Fee per child, per hour:
$14.00/JCC Member; $14.50/Non-member
Fee for late pick-up is $1.00 per minute.
---