---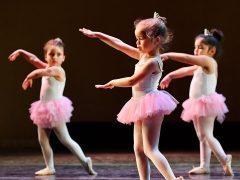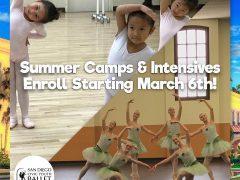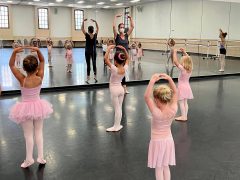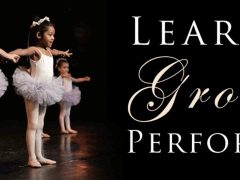 ---
Camps begin with a daily ballet class where students are introduced to ballet technique, as well as music and performance. Activities like arts & crafts, jazz classes, performance rehearsals, and field trips to other cultural institutions in Balboa Park make every day of camp an adventure.
Each week of camp ends with an in-studio performance for family and friends to see what the young dancers have learned at camp and celebrate their accomplishments. 5-DAY CAMP, COST: $180. CLICK HERE to download the brochure.
JULY 17 – 21, 2023
9am – 12pm (Ages 4 – 6
1pm – 4pm (Ages 7 – 10)
AUGUST 7 – 11, 2023
9am – 12pm (Ages 4 – 6)
1pm – 4pm (Ages 7 – 10)
AUGUST 14 – 18, 2023
---
THE SDCYB DIFFERENCE At San Diego Civic Youth Ballet, all camps have no more than 15 students and are taught by friendly, professional instructors with the assistance of an advanced-level student aide, allowing for individual attention and instruction. It is important to our faculty, staff, and organization that the needs and abilities of all participants are met, and that everyone has a rewarding and positive camp experience.Camp enrollment begins MARCH 6, 2023.
Enrollment is on a first-come, first-placed basis, and payment is required to enroll in a camp. All students must fill out our Online Registration Form and sign SDCYB's Parent Student Handbook before enrolling. Please call or stop by our office to enroll.
---
Do you offer other camps or opportunities for parents / kids throughout the year?
Spring Break
Winter Break
After School Programs
Weekend Programming
Camp Intensives
---
Casa del Prado building in Balboa Park
---
Monday
9:00 am - 12:00 pm, 1:00 pm - 4:00 pm
Tuesday
9:00 am - 12:00 pm, 1:00 pm - 4:00 pm
Wednesday
9:00 am - 12:00 pm, 1:00 pm - 4:00 pm
Thursday
9:00 am - 12:00 pm, 1:00 pm - 4:00 pm
Friday
9:00 am - 12:00 pm, 1:00 pm - 4:00 pm
---
---