With the news that Disneyland is reopening to the public on April 30th, 2021 (only for California residents and with significant restrictions) we thought it was time to share some info on nearby hotels with you! Be sure to check directly with these hotels for both availability and accommodations.
When planning that upcoming family vacation to the Disneyland Resort, you may discover that the Disney hotels are out of your price range. Don't worry, you're not alone. And luckily, the Anaheim area is home to plenty of hotel options. Most of which will cost you a fraction of what a Disney hotel will run. And contrary to popular belief, it's no less magical to stay at an off-property hotel. Let's countdown my top five non-Disney hotels to stay at on your next Disneyland vacation.
This hotel boasts a number of reasons to choose it over a Disney hotel. Although it is one of the farther hotels on this list, you can still walk to Disneyland from the Portofino Inn and Suites. If you want to skip the walk, an alternative option is to walk across the street to the Toy Story parking lot and hop a Disney bus to the parks. The hotel even offers stroller rentals right inside the hotel. Which will give you one less thing to worry about at the front gates of Disneyland. The Portofino Inn and Suites offers free parking to guests as an added perk. My favorite thing this hotel offers are its family suites, which will make things extra comfortable for your family vacation.
This hotel is located right across the street from the Disneyland resort and offers many perks. In addition to the regular pool area, there is a splash zone for your kiddos to enjoy. Since the hotel is right across the street, walking to the parks is a breeze. A big perk of this hotel is The Fifth rooftop bar and restaurant. It's a convenient place to grab a meal and you can even catch the Disneyland fireworks from there as well.
If you're looking got great views, this hotel has them for sure. The Sheraton Park Hotel boasts views of the sprawling city of Anaheim as well as of the Disneyland Resort. If you get lucky, you may even be able to enjoy the fireworks from the comfort of your own hotel room. The walk to Disneyland from the Sheraton is on the longer side but still doable. It's also a short walk to the Toy Story lot from the Sheraton. The Sheraton Park Hotel is equipped with a nice relaxing pool area for both you and your kids to enjoy. Make sure to check out the pool bar while you're there.
As the hotel name suggests, this hotel has one of the best pool areas at a non-Disney hotel. Your kiddos will love splashing the day away at Castaway Cove. This area is complete with two water slides and a drench bucket. The Howard Johnson is just an eight-minute walk away from Disneyland and offers free parking to its guests. While there you can also check out the hotel's newly renovated rooms.
My number one go-to non-Disney hotel is the Candy Cane Inn. Not only is this hotel just a short nine-minute walk from Disneyland, but they also offer a shuttle at no extra charge. This is another hotel that offers free guest parking. A huge perk for me is the free continental breakfast. It makes enjoying breakfast before hitting the parks quick and easy. Their pool area isn't the most elaborate but it is a nice relaxing oasis in the middle of the hotel.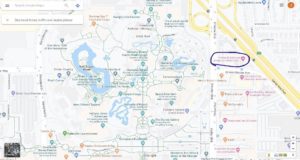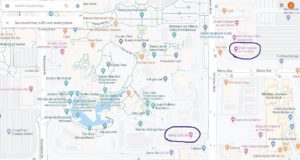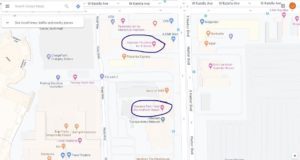 Hopefully when planning your next Disney vacation, you will find these hotels to be more within your budget. Booking at these hotels might even leave you with some extra spending money—and we all know that's a hot commodity at Disney.
Photo by pan xiaozhen on Unsplash