The San Diego Moms Blog is the premier online resource and lifestyle blog for families all over San Diego County, but what really sets us apart are the connections and the community we create in person. Come make lifelong friendships, and learn about local family-run businesses and resources at one of our signature events or monthly meetups.
We want you in our Mom tribe. #SDMomsBlog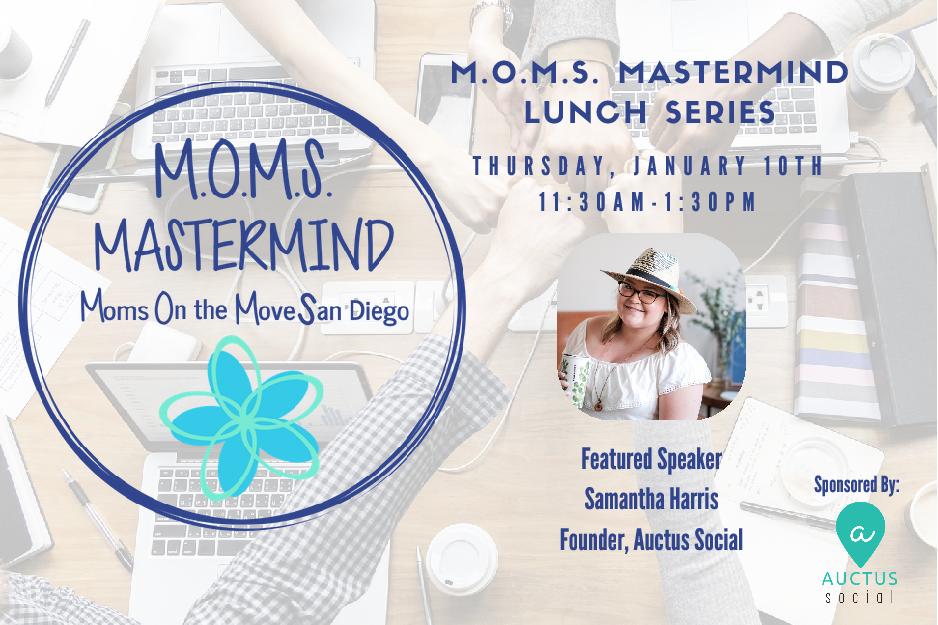 M.O.M.S. (Moms On the Move San Diego) Mastermind Lunch Series sponsored by Auctus Social is an exciting new educational series just for moms who are looking to take their careers, businesses or influence to the next level.
Our January guest speaker is Samantha Harris, founder of Auctus Social and the San Diego Moms Blog Marketing Strategist. Her focus is on mentoring mamas to make an impact, build influence & connect authentically online.
Presentation Topic
Monetizing Your Social Media Influence
– How to use Instagram to network and create cash flow.
Tickets are $15 through 1/4 and $20 after (space is limited). Lunch and light refreshments will be provided.
BUY TICKETS
Schedule:
11:30AM-12PM – Lunch / Networking
12-1PM – Samantha's Presentation
1-1:30PM – BONUS Hot Seat Session
If you are interested in being selected for the Hot Seat email [email protected] and tell us why you would like 15 minutes of one-on-one troubleshooting and advice with our featured speaker. Only 2 spots are available.
---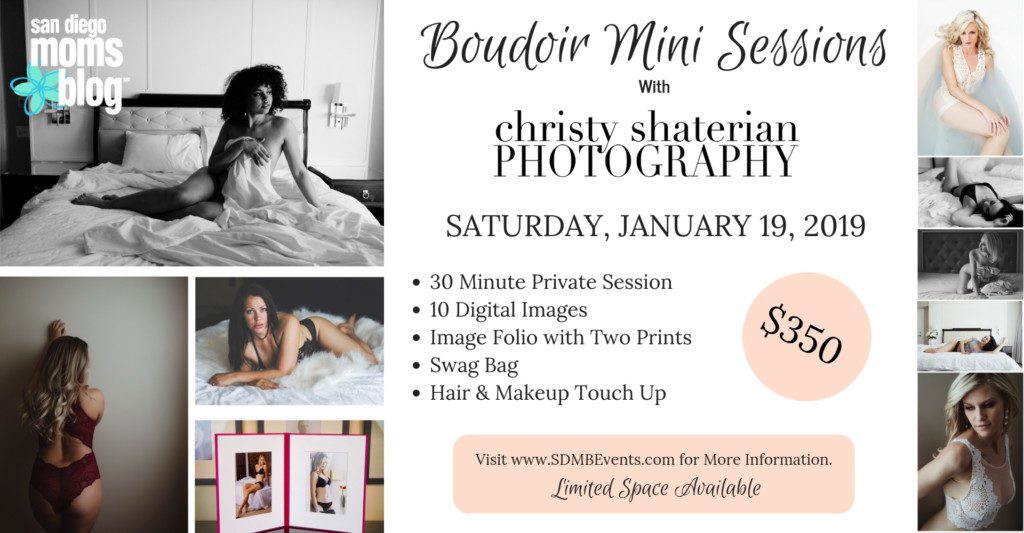 This event is for all women, moms, sisters, wives, friends …. Boudoir portraits are perfect gifts for anniversaries, your upcoming wedding day, Valentine's Day, a "just because" for your partner or, better yet, just for yourself!
At this event we will pamper you with complimentary champagne, hors d'oeuvres, mini massages (after your shoot), a VIP Swag Bag and complimentary hair / makeup touchups. (please come photo-ready!)
Sessions are $350 before 12/25 and $400 after. Space is extremely limited. Please complete the inquiry form on the link below if you are interested and Christy will reach out to answer any questions you may have and take payment. Tickets are non-refundable, but may be transferred to another person in the case of an emergency.
Fill out the inquiry form here to confirm your reservation – http://bit.ly/2qMlkNo
Christy Shaterian Photography is a Nashville-based dance and portrait photographer who specializes in Boudoir Photography.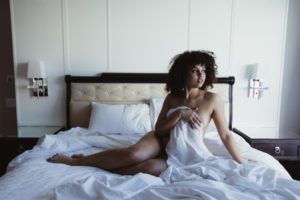 Below is a Q&A with Amber Cross, Mother of three from Las Vegas (photographed top left) about her Boudoir Photo Shoot with Christy.
"Don't be shy. I'm here to make this session the most fun and carefree time and provide you with images that you will treasure forever!"
Apprehensions to doing the shoot? If any . .
— The most obvious apprehension was how comfortable am I going to be in various states of undress and my chosen wardrobe.
Tell us about your experience during the shoot . . .
— You definitely warm up to it.
What was it like working with Christy specifically?
— Christy is hilarious and gracious. She puts you at ease with her humor and her objective appreciation of every woman's beauty and the artistry of a good photo.
As a mother our body changes so seeing the photos how did you feel?
— There were lots of shots I immediately loved, and then there were the shots I had to grow to love because the image of me didn't quite match up with the idealistic image of myself many moons ago and pre-kids that still exists in my mind's eye. But revisiting those over time, I came to appreciate those just as much.
Why would you encourage another mom to do the shoot?
— I encourage all women, moms especially, to do the shoot. The experience itself is enough, having beautiful images is icing. Also, I love seeing images of my mom and grandmothers young and stylish; I like imagining my grandchildren stumbling upon images of their wrinkled granny back when she was young and beautifully daring.