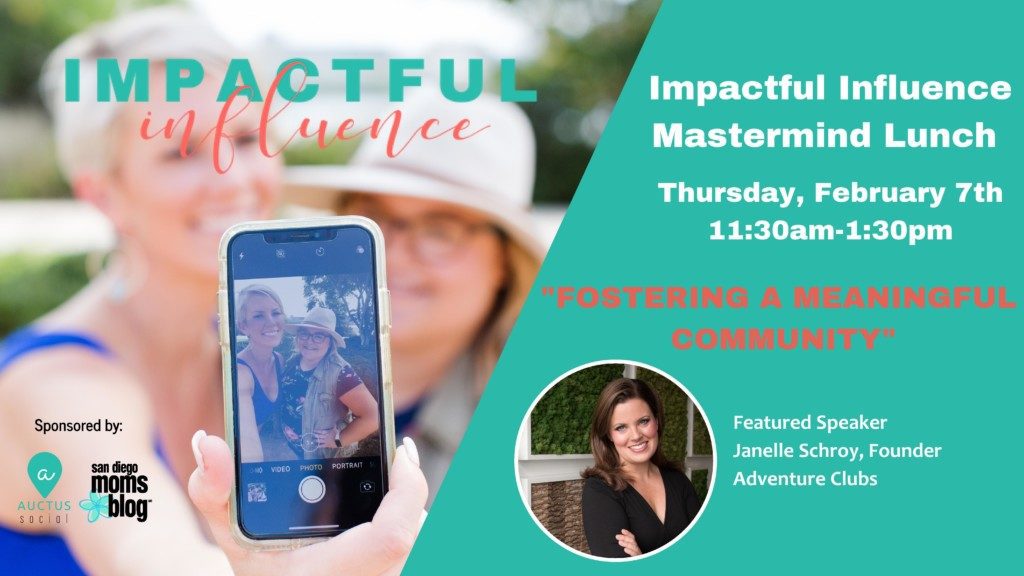 We are thrilled to announce the launch of Impactful Influence a new series of events, an online and in-person community and weekly Podcast that will be launching in February of 2019. Our highly popular M.O.M.S. (Moms On the Move San Diego) Mastermind Lunch Series will now be included under this new initiative.
Our February mastermind guest speaker is Janelle Schroy, Founder of Adventure Clubs, a tech start up and experience design company. Janelle is an education expert with IDEO's Early Childhood Education network, a contributing expert for the Barna Group, and the author of the book Designing Childhood: 50 Group Experiences to Share with Your Child.
We are so excited to announce we will be offering on-site child care at the next three Impactful Influence Mastermind Luncheons. Special thanks to our new partner College Nannies + Sitters + Tutors (CNS+T). Please email [email protected] with your child(ren) name and age (IN ADDITION TO ADDING THE TICKET FOR CHILD CARE ON THE SITE – Space is extremely limited).
Early Bird Tickets $25 (Through 2/3) $30 After
Includes Lunch and Light Refreshments
Buy Tickets – http://bit.ly/2Mc5dmg

Presentation Topic: Fostering a Meaningful Community
What you will learn
– Provide a couple case studies about well known businesses who have intentionally fostered a community around a shared interest––and made a lot of money doing it.
– Explore five super practical, easy-to-implement tools you can use to build to build a community of loyal followers around your business.
– Give you a strategic planning guide for the next three months of how to drive community forward, resulting both in creating a positive community impact, but also––more profit for you!
– Facilitate a short round-table discussion on this topic.

More about Janelle
In the past 15 years, Janelle has founded and led four different ventures, including a highly successful non-profit organization which has scaled to 95 locations in 13 countries. In that time, also been a two time Business Fellow and guest speaker with Praxis Labs out of New York City.
At the core of each venture has been Janelle's driving passion for fostering meaningful community. And in business, where you can create a tribal-like following with meaningful connections between not just between customers and business, but between the entire community surrounding the business, that's where you really start to build a successful company.

About College Nannies + Sitters + Tutors (CNS+T) is the nation's most respected, complete and professional resource helping busy families raise smart, confident, well-adjusted kids. Since 2001 we've built local professional teams across the country who've helped hundreds of busy parents carve out time for themselves with a sitter, have help on hand with a part-time or full-time nanny, or get their college bound student the tutoring they need to succeed.
Our Venue – The Point Mission Bay
Their Mission: We are dedicated to changing the way people meet by providing a place to productively get your group together while still being active and connected to nature.