We have three little girls with very thick, long and curly hair. When we had our first daughter seven years ago I realized I needed to learn how to braid hair–and fast. Our oldest girl was around 18 months old when I started sitting her in the bathroom sink and practicing braided styles on her. I'll admit the first two years of braiding were serious trial and error and having a squirming toddler doesn't help, but I was determined to master the skill so I kept working at it. Fast forward to seven years and (almost) four daughters later, and I am now a pro at braiding and styling hair–thank God!
Over the course of the last four years, I have had to come up with quick, easy and creative hairstyles for the girls to wear for school, church, and other events. With the new school year now in full swing, I thought I would share some simple yet fabulous back to school hairstyles for those of you with little girls. Please keep in mind that if you're new to braiding or still getting the hang of it, be patient with yourself and remember practice makes perfect so take this one step at a time. Here are a few of our favorites:
Crown Braid:
This is one of our favorites. It's beautiful, elegant, and can be worn with casual outfits or dressed up for formal events or photos. If your child has very long hair you can either tuck or pin the excess braid or pin the excess length of hair into a rosette like in the photo below. You can easily add a bow, pear or crystal hair pins, small flowers or–if you're feeling super ambitious–try braiding some ribbon into the hair for more of a renaissance or rustic look. For easy steps check out instructions here.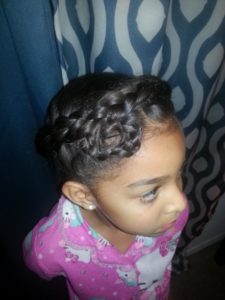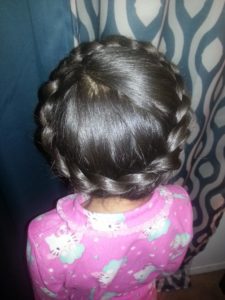 Dutch Side Braid:
This is a great everyday look and super easy to achieve. Another variation of this style is to take the braid, wrap it into a cute side bun and pin in place using hair pins. The style is then transformed from a simple side braid into more of a dressy look. Follow one of my favorite hair tutorials for this style here.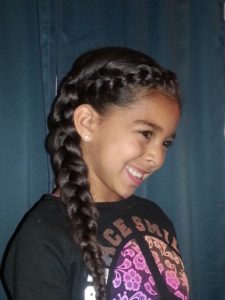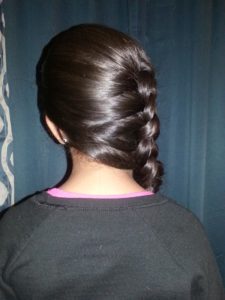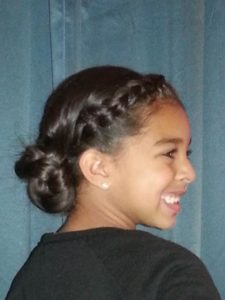 Upside Down Braid:
The trick to this style is that instead of braiding a typical french braid down the back of the head, you're just braiding going in the opposite direction. You can braid as far up as you want to go, and once securing the hair in a ponytail using a hair tie at the top of head, anything goes. You can leave the hair in a high ponytail, braid into multiple braids, or pin the hair into a messy bun. In this photo my daughter wanted a bow bun, so voila, I constructed her hair into a bow! Follow this beautiful tutorial for easy steps.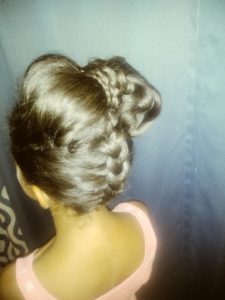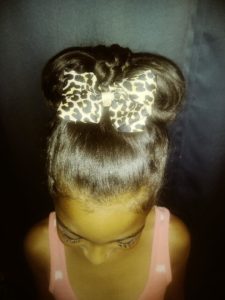 Braiding and styling hair is less about perfection and all about creativity. You can go as simple or creative as you choose, just have fun with it and don't forget the accessories. Happy Braiding!