It's officially the holiday season, and that means a calendar booked full of office parties, school Christmas programs, soirees with friends, and family gatherings.
Sure, a little black dress is always an easy go-to for holiday parties, but who says you can't change it up every once in a while and rock a fabulous yet budget-friendly ensemble without breaking the bank.
The 2018 holiday season is all about color, and you will see a great combination of jewel-toned colors and fabrics such as fringe, sequined separates, velvet, satin, silk, lave and some fur. Now, before you run out and purchase anything pricey, check through what you already own in your closet, shop a best friend's closet or even have a few girlfriends over and do a holiday clothing swap. Holiday glam doesn't have to come with a designer price tag, and the looks featured below were all put together from my very own closet which consists of pieces found at clothing swaps, affordable shops, thrift stores and even girlfriends' closets.
Here are 8 easy outfit ideas for your next holiday shindig:
1. Cozy Yet Festive
Cable sweaters are big right now. Pair it with a short skirt, tall boots, festive bow earrings and a sequined clutch and you are set to go.
2. Bold and Sassy
If you're aiming for a bit more casual with a hint of sexiness, grab a pair of super skinny jeans and a sheer blouse. Add a choker necklace and crystal fringe earrings and voila!
3. Timeless Elegance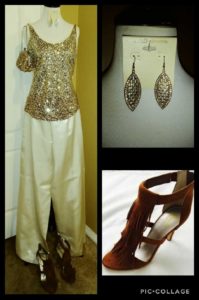 For a more formal event, you can't go wrong with a satin evening pant and sequined top.
4. Sexy Chic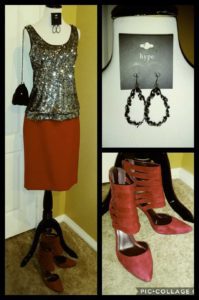 Think of sequins as your go-to look for this season. Pair a sequined top with a pencil skirt and a statement shoe, and you are sure to turn some heads.
5. Vintage Glam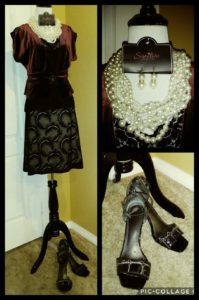 One of my favorite looks; combine velvet and lace such as this burgundy velvet top with a lace pencil skirt to create a vintage inspired look. Add some pearls which never go out of style and an ankle strap or t-strap heel.
6. From Day to Night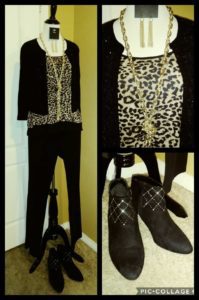 If attending an office party or going straight from work to an event, this look is perfect. You can never go wrong with a tailored black pant which can be worn with just about anything. For flair and fun, pair it with an animal print top and embellished sweater or jacket.
7. Lady In Red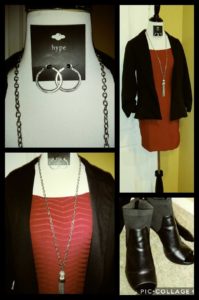 A red dress is always a stand-out, and an elegant option for a holiday party. You can add a fur shrug, a wrap, or a chic 3/4 sleeve jacket and diamond hoop earrings to complete your look.
8. T-Shirt Dress Two Ways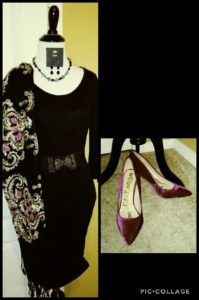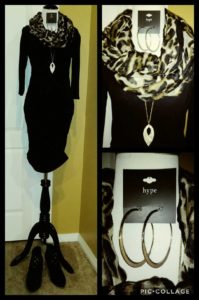 For inspiration in jazzing up your LBD or basic t-shirt dress for a holiday evening out, here are two ways in which a basic black dress can be accessorized.
No matter what you wear, your outfits should always reflect your style and personality. Use the season to have fun with your outfits and don't be afraid to be bold, merry and bright when you step out for that special holiday event. Be safe, be fabulous, be you—xoxo.
Merry Christmas and Happy New Year Everyone!