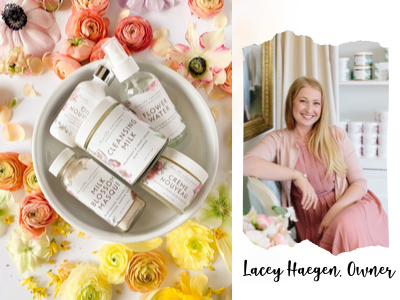 I was recently introduce to Beaute Nouveau, a locally owned botanically based beauty line that includes a vast lineup of products for all skin types for the face and body. I was so lucky have just moved in right next door to owner, Lacey Haegan, who has over 25 years of experience as a skin care specialist. I am not sharing this review just because as I have come to find out that she is an extraordinary woman and business owner, but also because after a year of struggling with rosacea, oily (and yet very dry skin) and acne – I feel like I have finally found a product that I can believe in and actually see results.
I have been using the Cleansing Milk in Rosewood & Palmarosa, followed by the Flower Water in Rosehip & Rose Geranium spritzer (which I use all throughout the day!) and the Crème Phyllise – Botanical Crème for Sensitized Skin at night. I have seen tremendous improvement in the areas of dryness and oil especially, which also helps subside some of the breakouts I was having. We all know rosacea is driven by diet and giving up spicy food and wine is just not in my cards yet, but even still yet, the redness has dramatically decreased from using this lineup of Beaute Nouveau products.

Finding products that work for you can be such a huge decision and a risk most of the time. The risk paid off for me and after learning more about how the products are made and the level of intention and thought that goes into each product, I am confident you will find one that works for you! ~Niki
FLASH SALE!!!




15% off of the retail price




Code SDMB through 10/27/19



Price of products?
$8-$98 with the price for most products at $28.
Who is the product best for?
Anyone! They make a range of products that all focus on nourishing skin as an organ. They have a complete line of body products that are mainly designed to maximize self-care time while IN the shower, and they are available in a variety of scents for any preference. Their facial products are grouped by skin types: Blossoming, Blooming, Full Bloom, Sensitized, and Suffering – for simple selection based on needs of the skin.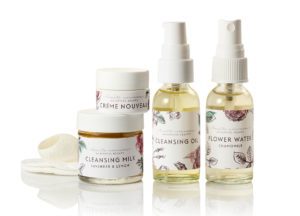 Any tips or recommendations for people who purchase the product or service?
If you are overwhelmed as to where to start, their Facial Starter Set is a great way to try the top 5 most popular facial products all at the same time. It comes with a step-by-step guide as to how to use everything. Also, do yourself a favor and try one of their famous Butter Balms – they are a game changer! It is body cream for IN the shower!
Anything else you would like us to know?
Beaute Nouveau is all about value and creating products that maximize the time you already have for self-care. As moms, we don't have much time so I love that they have us in mind!

On a Scale of 1-10 (1 being worst / 10 being best) what would you rate this product?
10
About Beaute Nouveau:
They are a botanical beauty brand of face and body products made only from natural ingredients. They serve women who want to take the best care of themselves, but have limited time to indulge themselves.
Product Reviewed by:
Niki Jones, Owner, San Diego Moms Blog
Is there a product you'd like to submit to become #SDMBApproved? Click here!