A few months ago, I made a conscious decision to make better, healthier choices in my life.
I changed up my diet and started exercising more. I also became more mindful of the products that I used for my son and in our home. Then I realized that there was one aspect of my life that I still haven't changed, and that was my beauty products.
I'm a HUGE beauty product junkie, so making the decision to switch to cleaner beauty products was a little nerve-wracking at first. I cringed at the thought of getting rid of my "ride or die" beauty products. Also, having to buy all new products wasn't really ideal for my family's single-income budget.
So instead of diving right into the clean beauty pool, I decided to take a little dip… for now.
Realistically, I knew I couldn't switch out my products all at once so I thought of the products that I use on a daily basis. These were the ones that I constantly go through and replenish over and over again. I did a little research and with the help of the THINK DIRTY app (I promise it's not what it seems like!) and Credo Beauty, I was able to find cleaner alternatives.
Now just a disclaimer, I'm no expert but after using these products for a while, I'm pretty happy knowing that these products make me feel and look great and are also less harmful to my health and overall well-being. So here they are…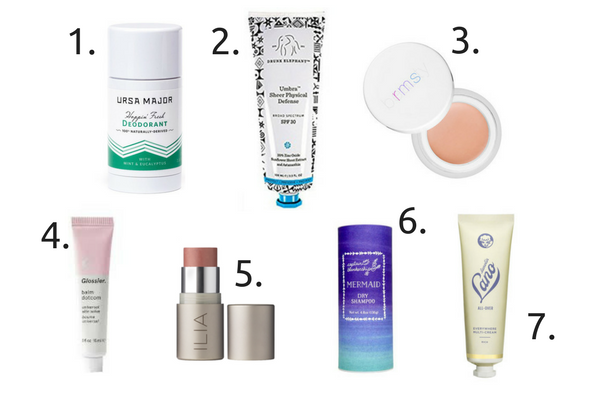 Making the switch to clean beauty products can definitely be intimidating. You don't necessarily have to clean out your entire beauty stash all at once. You can start off with the products that you use the most or the ones you feel are more toxic than others. Just take it one step at a time or in this case, one beauty product at a time!
For those that have already made the switch to cleaner beauty options, what are your favorites? There are so many different brands and products out there that I'm sure our readers would love to hear about. Leave your favorites in the comments below!