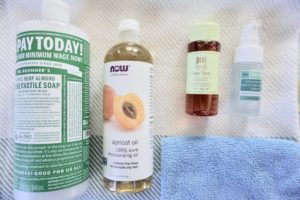 Plastic Free July might be over, but there's always room to reduce the waste we produce. Using less plastic can feel like an overwhelming goal, especially when nearly EVERYTHING comes packaged in layer upon layer of cellophane, plastic, cardboard and bubble wrap. I'm on a longterm plan of reducing my family's waste in general but it's hard to feel like I'm making a big dent overall. One area where I know I can reduce my waste is in my own beauty products. Here's how I'm whittling down my beauty product regime for a more minimalist and waste-conscious approach:
–Apricot Kernel Oil: Coconut oil might be the big name in moisturizing oils these days, but apricot kernel oil is seriously overlooked. Because coconut oil is comedogenic (is likely to clog pores) it's not ideal for most people to use on their face. My skin is very reactive to a number of mainstream beauty products, so when coconut oil gained popularity I tried it on my face. I found out pretty quickly just how comedogenic it is! Apricot kernel oil isn't sticky and sinks into the skin quickly. Most importantly, it's a really powerful moisturizer. If used during the day a little goes a very long way. I slather on the apricot kernel oil before bed so it can soak in overnight. A 16-ounce bottle lasts me 4-6 months with use as a facial and body moisturizer.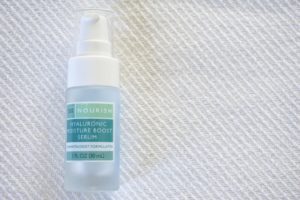 –Hyaluronic Moisture Boost Serum from Trader Joe's: This year I turned thirty and got a lovely wakeup call in the form of a huge crack between my eyes. I blame my perpetually skeptical resting face and a lot of squinting. While the hyaluronic acid serum doesn't completely fill in my crevasse, it does do a fine job of blurring it out. Two more bonus points are awarded to this serum based on the low price ($8.99), and the glass bottle that can be easily repurposed after it runs out.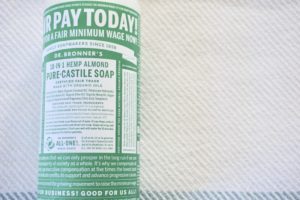 –Dr. Bronner's Castille Soap Concentrate: A local favorite, Dr. Bronner's concentrated Castille soap will clean almost anything. I've used our gallon jug for over a year and still have enough to last a few more months. If you don't dilute the concentrate far enough, it will dry your skin out, so pay close attention to how your skin feels after washing and dilute farther if necessary. I especially like the Tea Tree as a body wash because of its antibacterial qualities. I love the scent of the Hemp Almond, too.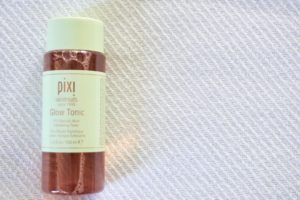 –Pixi Glow Tonic: My combination skin tends to flake at certain points throughout the month so I need help dissolving the dead skin without creating a larger patch of dry skin. The 5% glycolic solution in this exfoliating toner is the perfect solution to my problem. While the Glow Tonic is gentle enough for everyday use as a toner, the 5% glycolic acid solution exfoliates the dead skin cells right off your face. You can find a 250 ml bottle occasionally at Target or on the Pixie Beauty website.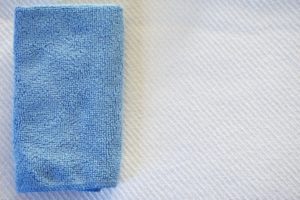 –Microfiber Face Cloth: There are quite a few name brands you can look out for but you can also just grab a microfiber cloth and get to scrubbing! Microfiber cloths made specifically for the face tend to be a little more plush than generic versions but the function is the same: you can use the cloth in place of makeup wipes, cotton pads, and exfoliating scrubs when the need strikes.
Buying items in bulk or without any packaging at all would be another great way to reduce your impact through your choice of beauty products. Keep an eye out for Zero Waste stores, co-ops, or stores that sell items in bulk such as Sprouts.
What are you doing to reduce your family's waste?
Do you know of any Zero Waste stores in Temecula or San Diego?
Let us know in the comments!