H-oily Moly! There are a ton of essential oils on the market and a million more ways to use each and every one. As someone who uses them just to enhance or alter my mood, I was excited when Jennifer Flood, a San Marcos mother of three, reached out to me on social media asking if I'd be interested in testing a variety of Young Living products. Sign me up!
I tested a variety of oils, including using citrus drops in my dishwasher for fewer water spots, and cleaning with Thieves. I really liked the cinnamon smell of Thieves. I didn't get much more creative beyond using the rest for aromatherapy, but here are the ways Jennifer uses the oils:
Thieves – we diffuse daily for immune support and I'll rub into the bottoms of our feet if we are fighting something.
Lavender – rub a drop or two between our hands and dust on bed sheets. Good for skin support of all kinds and applied behind the ears, back of the neck, and across the bridge of the nose is great for sniffles.
Lemon – removes sticky substances and can be great on stains. Also great in water and helps detoxify.
Peppermint – I drop under my tongue for any digestive issues or when I need a pick-me-up.
Copaiba – I drop under my tongue for the amazing health benefits. This is also amazing for teething babies when rubbed on the gums.
Raven – great for respiratory stuff.
Citrus Fresh – cleans out odors so great on a cotton ball in trash cans and also on wool dryer balls in place of dryer sheets.
Stress Away – I use on the insides of my wrists and back of my neck to relieve stress.
Digize – this is a stinky one, but if peppermint doesn't work for stomach issues, this one will, so I'll either put it on the bottom of my feet and cover with socks or add a few drops to an empty capsule and take it internally.
Frankincense – I use on my face daily and is another great one for general health benefits so I'll drop under my tongue or add to a capsule when I think about it.
Panaway – apply to any kind of pain!! It has an icy hot effect to it.
Ningxia Red – we all drink at least two ounces daily for the amazing antioxidant and health benefits.
I had no idea essential oils could do all this! Jennifer is a wealth of knowledge on toxic-free living, click here to visit her website and connect with her.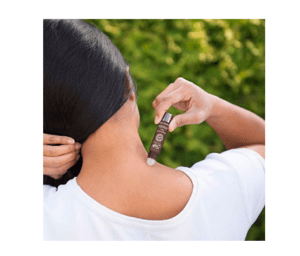 I also tested Saje Natural Wellness Peppermint Halo and Brainstorm essential oil rollers. Peppermint Halo is their number one seller and I can see why. Applied to the head and neck, I instantly felt more relaxed. It has a cooling, almost tingling effect. Lifting a 20-pound baby up and down all day seems to have done a number on my shoulders and neck. This felt like I was getting the benefits of a 10-minute head and neck massage. Plus it smells so good! Whenever I wear it people always want to know what I'm wearing.
Brainstorm is my other favorite by Saje. It's energizing and invigorating and meant to help you, well, brainstorm. I've been using this before I record podcast episodes and I swear I think clearer. It also smells amazing.
Lastly, for my reviews of oils, I got to try one more after meeting Suzanne Lockyer Lawriw at a San Diego Coffee Moms event where she was giving out samples of her roller oils that have crystals in them! I picked "Calm" and love using it before bed and if I'm feeling overwhelmed. Suzanne hosts essential oil workshops and has all kinds of fun DIY ideas on her website. Check it out!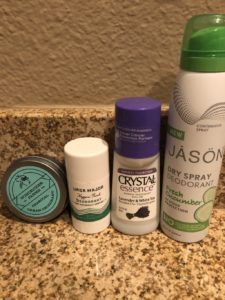 Since I was on a kick with oils, I decided to continue my sniff test and review a slew of natural deodorants. I've been using natural deodorants for years, but I feel like I always end up trying different ones because nothing works as great as I hoped. Some work well for a while before losing their effectiveness. Maybe it's just me. I think I perspire more than most. I have to be really careful in a gray shirt because I will totally get dark sweat stains.
The natural deodorants in this photo all worked well but two are my favorites. In second place, I suggest trying Crystal Essence Lavender and White Tea. And in first place….drumroll, please….Ursa Major Hoppin' Fresh Deodorant.
You may be thinking, "I have never heard of Ursa Major deodorant." I hadn't either. It came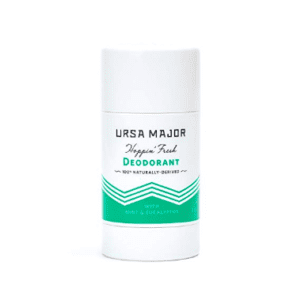 in a swag bag I got from a conference and now I can't imagine my life without it. The mint and eucalyptus smells great and is 100% naturally-derived and non-toxic. It says on their sales page it is a deodorant, not an antiperspirant. "We don't believe that blocking your body's sweat glands with aluminum is a safe option; instead, our deodorant works with your body to control bacteria and odor in a natural way." Interestingly enough, I feel like it works better than most antiperspirants I've ever used.
Hope you enjoyed my mom product testing. Of course, these are great products for those who aren't moms as well, but let's be honest, what mom doesn't need to keep an arsenal of calming, energizing or just good smelling products with her at all times?