"This is a fantastic event to come to with a group of friends or family! All-you-can-eat great food, dancing, sandy beach party, beautiful setting—the best way to celebrate summer!" – Karina, San Diego Moms Blog Writer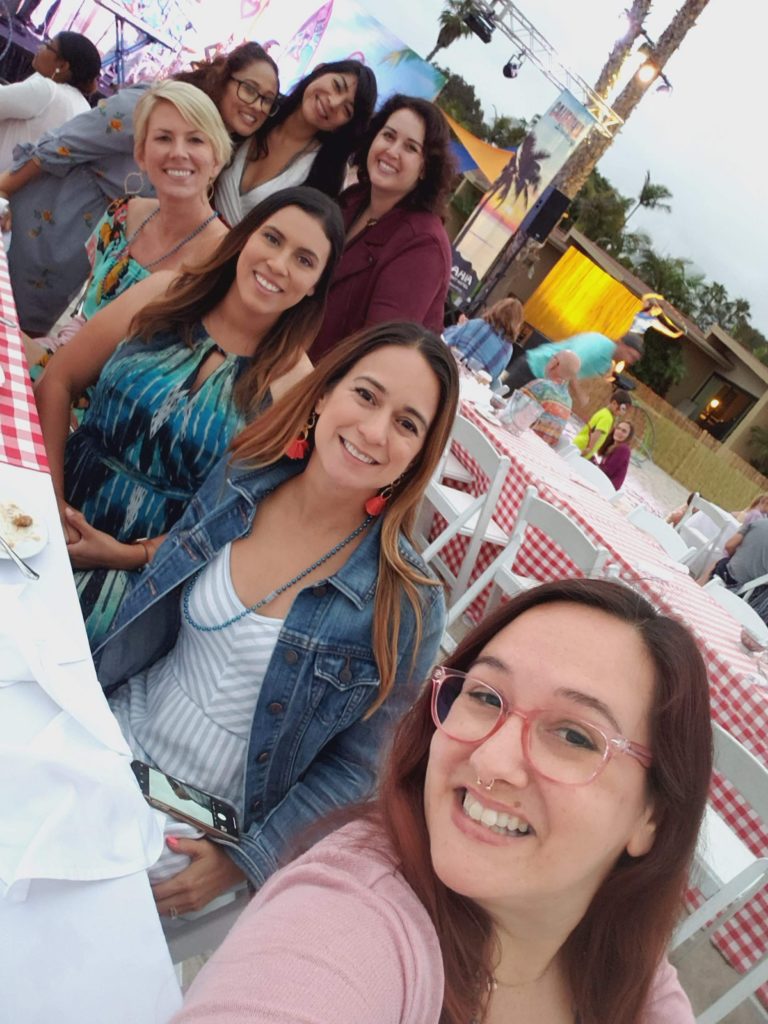 Last week, about 20 of our San Diego Moms Blog writers and executive team members attended the Bahia Resort Hotel's California Dreaming Beach Party and the general consensus is that it is #SDMBApproved!
As mamas, we don't get many nights out – so when we do, I'd like to think our standards for a night out are a bit higher than most. From the moment we walked up to check-in we were greeted by friendly staff, great music and a Mango Pineapple Mai Tai.
The setup on the beach was spectacular. To have your feet in the sand while dining 15 feet from Mission Bay—it was truly a California Dream. A few of the moms brought their children and boy oh boy did they have fun. The Mar Dels band was super engaging, they had a hoola-hoop and limbo contest and were playing all the hits! They were extremely talented and it was hard not to get up and dance!
"We loved kicking off our summer at the Bahia California Dreaming Beach Party. The food was delicious paired with great drinks and a live band. This event is definitely summer bucket list worthy!" ~Xochitl, Director of Events – San Diego Moms Blog

Bahia Serves Up Beach Party Feast
The clam bake and bbq-inspired buffet deserves its own paragraph. I have to be honest, when I think of a buffet, 'exquisite dining' isn't the first thing that comes to my mind. But I went up for THIRDS, yes THIRDS and that didn't include my dessert run at the end, I was so impressed on every level. Everything was so fresh, the meats were tender and the clam bake, well it was spectacular. All of the moms raved about the food and the pineapple-infused Mai Tai's were incredible as well.
The Bahia Resort Hotel truly rolled out the red carpet for us, but in reality, it was for every person in attendance at the event. The California Dreaming Beach Party happens every Thursday now through the end of August, so you have plenty of time to get this on your calendar! Tickets are $56 for adults and $28 for kids 5-12 years old, Kids 4 and under are FREE.
Use code Calimoms receive 15% OFF your ticket prices ALL summer long!
"The Bahia Beach Party is the perfect event get a jump start into the weekend this summer. I can't think of a better venue to enjoy my feet in the sand, drink in my hand, and a tasty array of fresh seafood while listening to live music and brushing up on hula hooping and limbo skills!" Nicolette – San Diego Moms Blog Writer
Have you checked out our Summer Camp Guide yet? Click here!