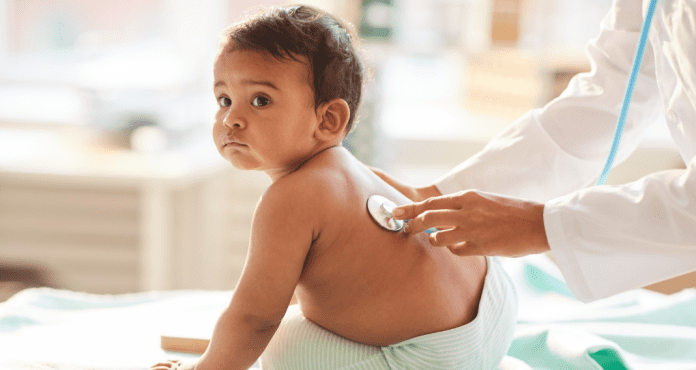 From the moment you touch their tiny toes to the day they graduate high school, you want the very best for your child. That's why more than 200,000 families have turned to Children's

Primary Care Medical Group

(CPCMG) to find the best pediatricians in San Diego.
---
Check out what some of their parents have to say:
"We started going there with my first kid, now 5, and continued with my second, now 3. The schedule is flexible, the doctors and nurses kind and knowledgeable, and the office staff efficient. They also offer tele-health and multiple urgent care/weekend locations. Couldn't be happier." – La Jolla Mom

"I knew it was important to keep up with my daughter's care but I was a bit worried about going to our CPCMG pediatrician during the pandemic. Once we got to the office, the waiting room was spread out, our appointment time was scheduled with only other well kids allowed, and everything was just so clean. In these uncertain times it was the reassurance I needed. Love your staff and you all have always gone above and beyond, so thank you again." – San Diego Mom

"So thankful for all the doctors and staff here. We are blessed to have knowledgeable and friendly doctors who have guided our family in raising our two boys." – San Diego Mom
---
Why Moms Will Love CPCMG:
Convenient locations
They have 20 offices in San Diego County, from Chula Vista to Oceanside. Visit cpcmg.net to find the office that's in your neighborhood!
Convenient appointments
CPCMG offers numerous appointment options for busy families:
You can schedule a routine office visit with your pediatrician for annual well child exams, management of ongoing conditions and more.
CPCMG families can also schedule after-hours appointments at select regional offices.
Don't want to leave home? Schedule a Video Visit with a CPCMG pediatrician.
Last but not least, the nurse triage line is staffed by pediatric nurse practitioners and registered nurses to answer your questions and provide advice.
Even if you can't get in to see your regular CPCMG pediatrician, results of their appointment will be shared in their electronic medical records. Your CPCMG pediatrician will be notified of their visit – this means they'll be up-to-date on your child's care!
Expert pediatric health care
CPCMG offers a wide range of pediatric primary care services:
Prenatal Visits (complimentary – meet your doctor before your baby arrives!)
Newborn Care
Well Child Exams
Evening & Weekend Hours*
Video Visits (for select symptoms)
Access to your child's medical records, 24/7
Telephone medical advice, 24/7
School, Camp & Sports Physicals
Adolescent Healthcare
Sick Care & Minor Injuries
Asthma Management
Immunizations
Hearing & Vision Screenings
Learning/Development Screenings
ADHD/ADD Evaluation & Treatment*
Mental & Behavioral Health Evaluations*
Lactation Consultations*
Weight & Nutrition Clinics*
Circumcisions*
Tongue Tie (Frenotomy) Procedure*
Ingrown Toenail Procedure*
Ear Piercings*
Laceration Repair* *This service is provided at select CPCMG sites with select providers.
Diverse provider team
---
For the past 25 years, CPCMG has been the region's only health network focused solely on children, their health and well-being. That's our mission – to help San Diego's children thrive!
CPCMG accepts most HMO, PPO, EPO, indemnity, fee-for-service and Medi-Cal health plans. You only pay your copay or co-insurance. That means no sudden large out of pocket expenses.
How to find the best CPCMG pediatrician for your family
Please call the CPCMG Welcome Center at 858-502-1177, Monday through Friday between 8am and 5pm. They can schedule a free meet and greet with a pediatrician in your neighborhood before your baby arrives. We look forward to meeting you!