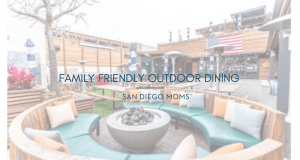 San Diego is the perfect place to sit outside for breakfast, lunch or dinner. Pretty much year-round, aren't we lucky? Due to new dining restrictions that took effect due to COVID-19, only restaurants with outdoor dining will be allowed to open. So we thought this would be a great time to share some of our San Diego Moms teams' favorite places to dine with outdoor seating. Below is our list of the top family-friendly outdoor dining options in San Diego.
Please double-check with the restaurant to confirm whether or not they have been allowed to open. We compiled this list purely based on family-friendly outdoor seating that we have given our San Diego Moms stamp of approval. #SDMApproved
Here Are a Few of Our Favorite Family-Friendly Outdoor Dining Restaurants Across San Diego County: 
---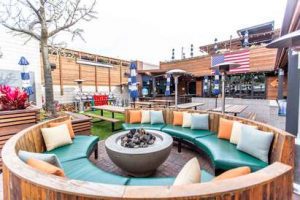 Park 101
3040 Carlsbad Blvd, Carlsbad, CA
An 8000 sq ft venue encompasses two bars, a fast-casual food line, and a grab-and-go market.
"It's like eating at a big open, family-friendly park that doubles as a drive-in theater – and the food is delicious for the adults, and the kids!" ~Colleen Warwick, SDM Contributor
---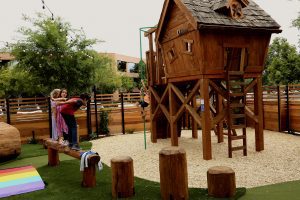 My Yard Live
288 Rancheros Drive, 
San Marcos, CA
My Yard Live seeks to create a sustainable family-friendly refuge with activities for all ages, live entertainment, quality food, and libations as well as unique leisure games with a focus on building a stronger community.
"My Yard Live is an SDM favorite across the board. If you haven't been there, you should get in your car and head out now! ~Niki Jones, Owner SDM
---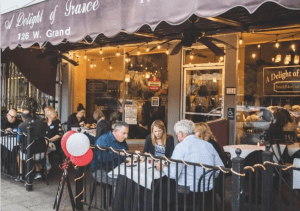 A Delight of France Bistro
126 W. Grand Ave, Escondido, CA
With daily preparations of fresh-baked pastries, food, and desserts. It is no wonder customers love this bistro. They offer a full Bakery, Bistro, Cafe, Wholesale & Catering PLUS Breakfast, lunch, and Friday dinners.
---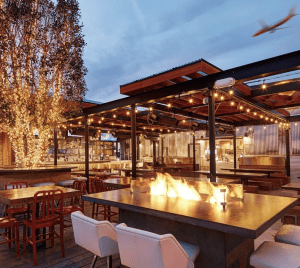 The Crack Shack Encinitas and Little Italy
Little Italy – 2266 Kettner Blvd San Diego, CA | Encinitas – 407 Encinitas Blvd, Encinitas, CA
Out of the brave culinary Coop comes everybody's favorite animal that crossed the road, reimagined — Southern California fried chicken and egg fare in the sunny So-Cal spirit of inspired cuisine, spacious ambiance, lawn games and craft drinks for any occasion.
"I absolutely love both San Diego locations. The kids can have fun playing, there is a relaxed feel with walk-up service and bar service. And well some really good fried chicken!" ~Niki Jones, Owner of San Diego Moms
---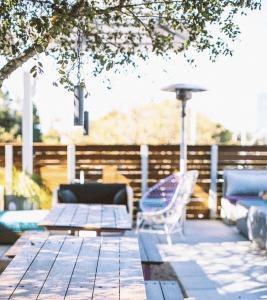 Gravity Heights
9920 Pacific Heights Blvd., San Diego, CA 92121
Tucked away in Sorrento mesa, their 12,000 square foot brewpub includes a full-service restaurant, an event space, an expansive and lush outdoor beer garden, and a pretty stellar team to make sure you always have good food in your mouth and a solid beer in your hand.
"Great food, great service, and super kid-friendly." ~Niki Jones, Owner, SDM
---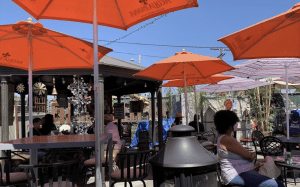 Bowlegged BBQ
4255 Market St, San Diego, CA
Great Texas BBQ with southern vibes.
"The friendly staff that offers you drinks and tells stories, great food, and great music! It's not just a dining experience, it's like going to visit family." ~Victoria White, SDM Contributor
---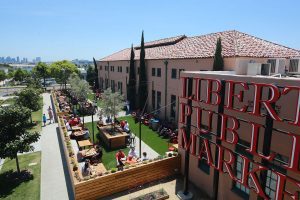 Liberty Station Public Market
2820 Historic Decatur Rd, Suite 140, San Diego, CA
Showcasing a rustic environment with prepared foods, beer, wine, specialty cocktails, produce, fish, desserts and pastries, pastas, arts and crafts, a test kitchen, pop up dinners, and educational driven events.
---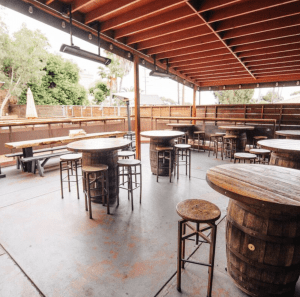 Home & Away – Old Town
2222 San Diego Ave, San Diego, CA
A pub with a small but mighty kitchen. Cold drinks and smoked meats are what they serve. Dedicated to our locals, but love meeting new friends. Inside at the bar, or outside on the patio, every foot of this place feels like home.
"Absolutely love this place! From Sunday Football, to happy hour and super kid-friendly outside and inside with game" ~Niki Jones, Owner SDM
---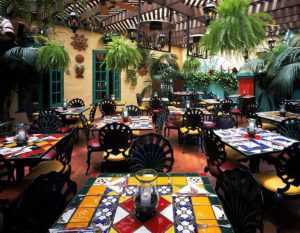 Casa Guadalajara
4105 Taylor Street, San Diego, CA 92110
A vibrant and colorful welcome to Old Town San Diego, has long been popular for its festive décor, trumpeting Mariachis, lush patios, "Birdbath Margaritas" and authentic Mexican cuisine.
"This is my happy place!!! My family has been going here since I was a kid. Super fun – nice – music so pretty outside. I also love Old Town!!" ~Tracie Rosales, SDM Contributor
---

Anthony's Fish Grotto
9530 Murray Drive, La Mesa, CA
"Ocean to table, long before it was hip" is their motto. This iconic seafood chain features daily catches in a vintage main room or on a lakeside patio.
"This place holds a special place for our family. We were staying at the hotel next door when my husband interviewed at his job. My daughter and I met him out on the patio for drinks and appetizers to tell us he got the job and we'd be moving down to SoCal. The outdoor seating is dog friendly, you can feed the ducks there, and you sit near a waterfall that fills the grotto. There is also a bocci ball area that you can reserve for private events." ~ Maria Tavares, SDM Contributor
---

Mitch's Seafood
1403 Scott St, San Diego, CA
They are located on San Diego's working waterfront with a view of the fishing fleet, and they focus on simply prepared, California style seafood and craft beer & wine from San Diego and California.
---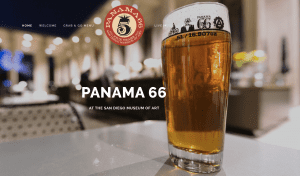 Panama 66
Located at The San Diego Museum of Art 1450 El Prado, San Diego, CA
Grab & Go open for lunch Wednesday-Sunday. Food, beer, wine & cocktails to go.
"This is strictly outdoor dining in Balboa Park, though I think they are under modified operations right now. I have been coming here w/ Izzie since she was still in a stroller. Waygu burger for the win, generally speaking. They have some decent looking grab-n-go items presently as well on their menu." ~Nicolette Liebermann, SDM Contributor
---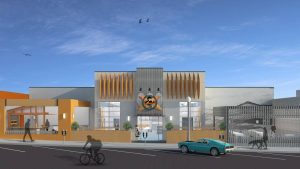 Surf Rider Pizza Co. (La Mesa)
8381 La Mesa Blvd, La Mesa, CA
Go for just a slice, or a whole 18 inches of pure pizza goodness. Choose any of 15 Specialty Pies, including our Signature Surf Rider Pizza, featuring white sauce topped with roasted garlic, gorgonzola, Roma tomatoes, and fresh basil.
---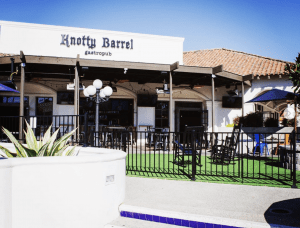 Knotty Barrel (Rancho Penasquitos)
13211 Black Mountain Rd, San Diego, CA
Enjoy our locally-sourced "pub grub" with a twist, a wide array of domestic, imported and local craft beers as well as a full bar. Featuring daily specials, weekend brunch, and a kids menu – Knotty Barrel is the perfect spot for any occasion.
"We love the large patio here, complete with fire pits, outdoor games, and turf. ~Nicolette Liebermann, SDM Contributor
---
Have a great family-friendly outdoor restaurant you want to recommend? Email [email protected] and tell us why you love it and please include the restaurant name and website. We will do our best to get it added!
---
Date Nights (Kids not recommended)
---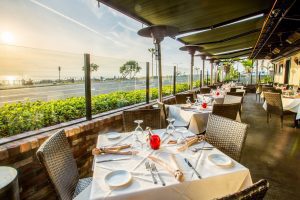 Vigilucci's
3878 Carlsbad Blvd, Carlsbad, CA
Where families are raised in kitchens and food is a centerpiece of the culture. Restaurateur Roberto Vigilucci is passionate about food. The Carlsbad resident hails from Milano, Italy, where families are raised in the kitchen, and food is a centerpiece of the culture.
"Great happy hour spot and probably one of our favorite date night outings. "They've also given up part of their parking lot for a high top table with an ocean view!" ~Laura Demuth, SDM Contributor
---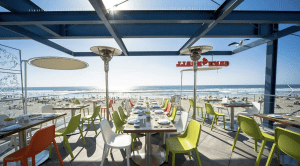 Cannonball
3105 Ocean Front Walk, San Diego, CA
Besides the delicious California cuisine Pacific Rim influences and sushi, this oceanfront restaurant is also serving up the best view in San Diego!
"Cannonball is SO much fun. They have great sushi – definitely try the lobster roll. But they also have American food mixed in their menu to appeal to everyone. Great view, fire pits, craft cocktails & beer. You can't go wrong for a date night or mom's night out here." ~Niki, Owner SDM
---
Have a great date night spot that has an incredible patio? Email info @sandiegomoms.com and tell us why you love it and please include the restaurant name and website. We will do our best to get it added to our family-friendly list of outdoor dining options in San Diego!
Read more here about how local hotels are also changing policies during the COVID-19 pandemic. To read more helpful articles, head over to our website!