Whether you are a super fan or just getting into Supercross, FanFest is an immersive experience perfect for everyone. It is a giant fan party across the street from Petco Park before the AMA Supercross Main Event Championship.
FanFest gives fans access to an insider's look at products, the opportunity to meet with riders and teams, photo ops and autographs, activities, and virtual reality exhibits. Basically, a super fun party with fans and everyone in the motorcross industry.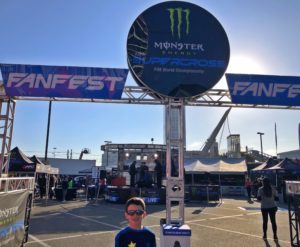 Truth be told, I knew what Monster Supercross was but had never been. So I wasn't sure what to expect and I really had no idea what to expect from FanFest. There were tons of sponsor booths, Yamaha, Honda, Kawasaki, Fox, and more. Some of the booths had photo opportunities, bikes like the riders use to climb up on, activities, and tons of info about supercross.
My kiddo loved the virtual reality exhibit. How could you not want to climb up on a bike and be a "real" rider?! It was a super popular attraction. We also loved seeing and taking pictures with the Monster Supercross Cup. After pretending to ride bikes all day, a trophy was a great way to finish it.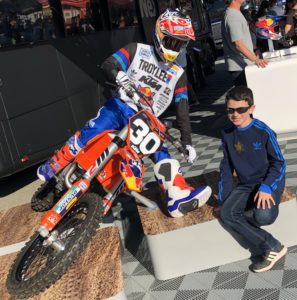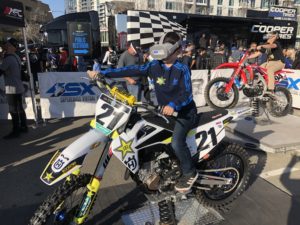 While we were at FanFest, we found out that Supercross supports St Jude's Children's Research Hospital with the "This Shirt Saves Lives Campaign." It is a text to donate campaign fans can donate and receive the exclusive shirt with the supercross logo on the back. Over the past three seasons, Supercross has raised over $300,000 for St. Jude's. How can you not love them even more? I am a mom who loves when brands use their celebrity status to help others in need.
My kiddo and I had a blast the entire day! We were so glad that we were able to learn more about Supercross at the FanFest. The teams, the riders, and the sponsors were so generous sharing their stories and knowledge. It was all right that we went in knowing very little. Now we are fans and have the gear to prove it. If you have the chance to attend, be sure to do it before the main event. You won't be sorry.