With Harvestly.co servicing San Diego, filling your fridge with farm fresh, locally sourced foods just got a whole lot easier! Harvestly.co is a Cal Poly startup that delivers the Farmer's Market to your front door!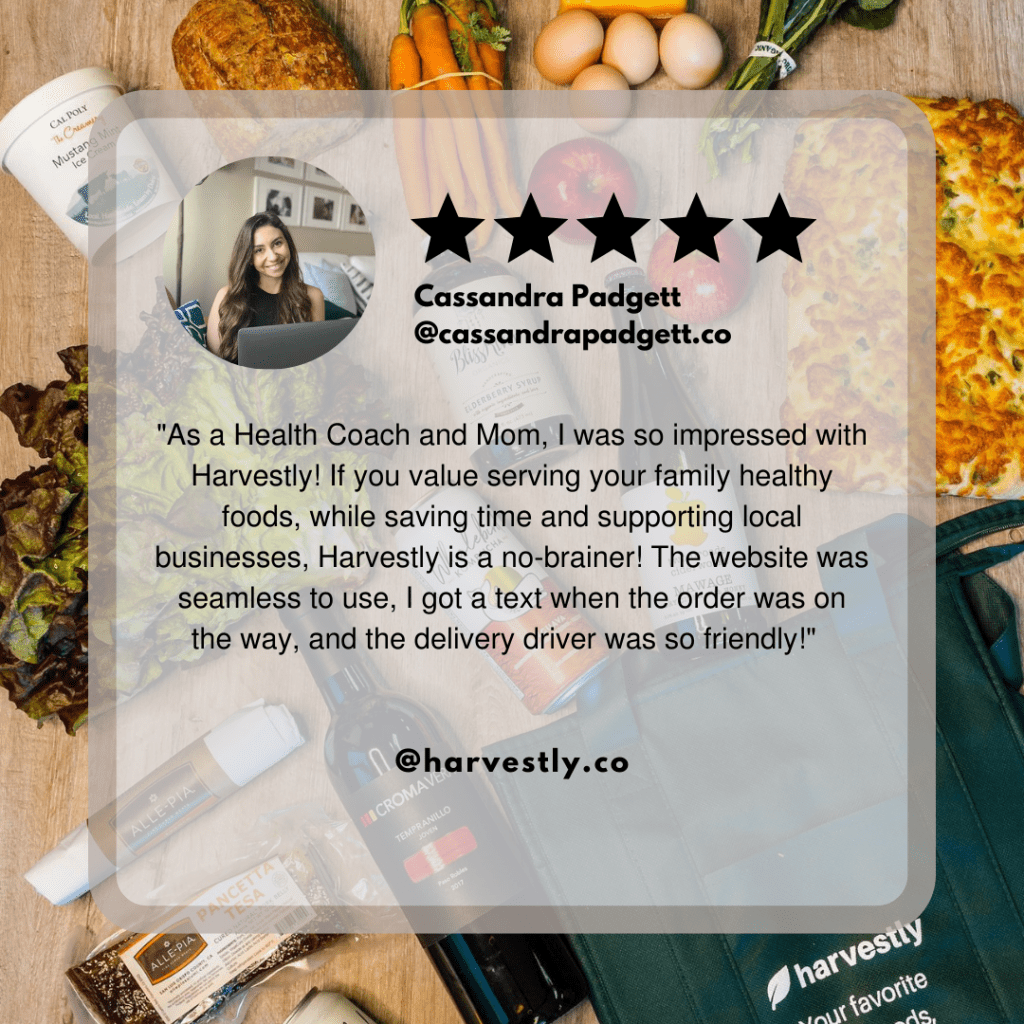 When you order through Harvestly.co you will save time, eat fresh, support local farmers and makers, and feel like a SUPER MOM.
Whether you are looking for ways to support local businesses, ensure your family is eating healthy, farm fresh foods or both – here are FIVE reasons moms are loving Harvestly.co!
1. Local Farm Fresh Food Delivered to Your Doorstep
Shop from your local food artisans and farmers, all in one place. Every product is made fresh for you within 48 hours of delivery and travels no more than 30 miles to your door.
2. Eat Fresh & Save Time
The health and well-being of your family is a top priority. Harvestly.co takes the time factor out of the equation when it comes to making sure you include fresh local foods in your home.
Plus, they also have prepared meals that are always good to have on hand when you are short on time.
3. Easy Ordering & Hassle-free Home Delivery
Here is how it works:
Pick your delivery day then shop products that are produced in your local market and place your order online.
Your goods are harvested, baked, or prepared fresh by your local vendors, and then collected and delivered together.
On your selected delivery day, you will get a text when your Harvestly driver is on their way. You also have the ability to track delivery drivers location or you can also select a local pick up option if you prefer.
Enjoy the amazing local products that were just delivered to your door.
4. Support Local Businesses
Harvestly also agrees that it is about supporting your community and the majority of the purchase goes to the farmers and makers.
5. Simple and Unlimited Earning Referral Program
Mamas, I know you LOVE to share products or services that make your life easier. Trust me, when you try Harvestly.co you are going to want to share it and they reward you in Harvestly.co credits for doing so!
Top referrers are earning $100s per week and all you have to do is share a product you love, no brainer right? Plus, there is NO LIMIT to how much you can earn.
Ready to have the Farmer's Market delivered to your door? Sign up today!