Biocell Skin is liquid collagen combined WITH Hyaluronic acid in an easy-to-take dose!
Collagen is what provides the structural framework for the tissue of your body (thick skin, joint cartilage, etc.) and is responsible for the skin's firmness and resilience.
Hyaluronic acid is what gives our cells the ability to retain moisture and to lubricate movable parts of the body, such as joints and muscles. It's known as NATURE'S MOISTURIZER!
The loss of collagen + Hyaluronic acid that leads to sagging, dry skin, fine lines and wrinkles=the signs of aging. Another sign of aging is aching joints.
Biocell has many health benefits that work from the inside out, including:
— Reducing wrinkles*
— Decreasing dryness
— Improving skin's hydration
— Increasing skin's collagen content*
— Improving joint mobility & lubrication
All products formulated with our exclusive Collagen/HA Matrix® Technology support joint and muscle fitness, connective tissue health, restore youthful skin, and support healthy hair, nails, gums and eyes.*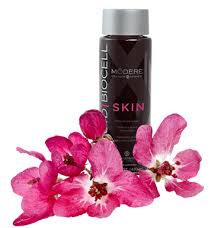 Which product did you review? Biocell Skin
Would you recommend to a friend? Yes
Tell us about your experience with this product or service.
It was easy to take twice a day. The taste wasn't unpleasant. In the short time I've been taking Biocell Skin I've noticed a growth in my lashes and a bit of smoothing in my face.
Were there any issues with the product that you encountered?
No issues that I encountered.
Please provide a positive quote about the product.
I enjoyed taking Biocell Skin and loved the improvement I've seen in my face and hair.
Any tips or recommendations for people who purchase the product or service?
Take your dose with a meal if you have a sensitive stomach. And it tastes better cold (easy since you store it in the fridge after opening).
On a Scale of 1-10 (1 being worst / 10 being best) what would you rate this product? 8
What do you like best about it?
I think if I was taking it longterm I would see even more improvement in hair growth and health. And I'm all about my face staying smooth and hydrated. I think Biocell Skin works for that.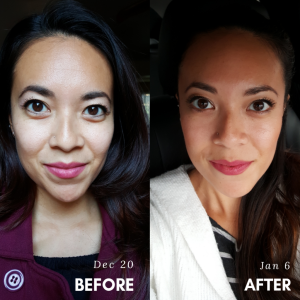 REVIEWER: Maria Tavares
Available as a single bottle or a 2-pack.
If you're a first time customer, you will get $10 off your first order.

Connect with Janelle Fischbeck of Modere
Website
Facebook
Instagram
*This post may contain affiliate links