"The caramels have the perfect amount of flavor, without it being overwhelming, and are simply delightful. You might just end up eating an entire bag in one sitting!" – Bri Roberts, San Diego Moms Blog Contributor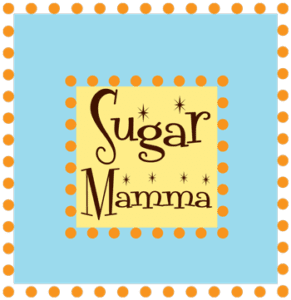 Sugar Mamma Caramels are made to order using only the highest quality ingredients with no additives or preservatives. All of our caramels are made in small batches, entirely hand-crafted in our kitchen in San Diego, California.
Buttery, creamy, soft, and luscious… each bite of Sugar Mamma Caramel is a gift made with love.
Founder, Nancy Flint (known as "Mamma Flint" to her local fans) lives in San Diego with her husband Michael and their 2 precious daughters.

Connect with Sugar Mamma Caramels
Website
Facebook
Instagram
Which product did you review? Sugar Mamma Pumpkin Spice Caramels
Price of Product? $7.99 for a 3.5 oz bag (which contains approximately 12 pieces)
Would you recommend these to a friend? Yes
How old are your children that tasted the caramels? 3 years old and 1 year old
Tell us about your experience with this product: The caramels come packaged in a clear bag, and are individually wrapped which is perfect for gifting and/or sharing! The fact that they were individually wrapped also came in handy when my one-year-old ran in and made a grab-for-all with grimy, sand-covered hands. The caramels stayed clean and protected so the rest of us could still enjoy them. We tried the pumpkin spice flavor, which was universally liked by everyone, including my husband and two toddlers.
Were there any issues with the product that you encountered? No
Any tips or recommendations for people who purchase the product? You can't go wrong with any of the flavors! Family favorites include the sea salt and chocolate caramels, while my husband and I are also partial to the beer and pretzel caramel flavor. To make it easier for younger ones to eat, we cut up the caramels into tiny pieces for our one-year-old, and in half for our 3-year-old.
On a Scale of 1-10 (1 being worst / 10 being best) what would you rate this product? 10
Overall, how easy to use do you find it? They come in the cutest packaging, and I love that the caramels are individually wrapped. This makes them easy to grab one (or a few) to snack on, and they make a perfect gift.
What do you like best about them? I love the selection of flavors. They are all delicious, and the seasonal offerings including the pumpkin spice and pecan flavors (both available until January) are perfect for the holidays. I especially love that they are homemade locally. Although we try to limit the sweets that our toddlers consume, the fact that these have no additives or preservatives make me feel not guilty about giving them one here and there.
More about our SDMB Approved Reviewer:
Name: Bri Roberts
Side Hustle: Owner of Adalynn Gray Photography
Special Niches: Photography, Art, Reading, Running, Mom of Two, Bilingual Mom