"This soup is my new obsession! It was so good and I love that it's nondairy with high-quality ingredients. Even my 11-month-old baby loved it!" – Deanne Goodman Gustafson, San Diego Moms Blog Contributor

"It's quick, yummy and filling! Healthy too and the expiration date isn't crazy fast either, always a plus for having backups in the freezer." – Felicia, San Diego Moms Blog Contributor

"The Cobblestone soup hits just the spot on a cool evening! So creamy, filling, and delicious!" – Mary Susy, San Diego Moms Blog Contributor

"Cobblestone soups are a staple in my house. Even though we aren't vegan, I love them as a base to add more veggies and proteins for either a more hearty soup or as a sauce over rice or potatoes." – Lori, San Diego Moms Blog Contributor

Soup is one of the original wellness foods. But for so many years it has been compromised by excessive sodium, preservatives, and of course all of those cans.
The Cobblestone mission is simple: bring back the restorative powers to the soup bowl (or the cup, if you prefer), the way it was originally intended. And do it with fresh, organic, plant-based ingredients.
Nothing is better than 'fresh', which is why every possible Cobblestone ingredient is sourced locally to San Diego and organic. Each vegetable is picked and used at just the right time to ensure every bowl is nutrient-rich and delicious.
And of course all Cobblestone Soups are VEGAN and made with NO GLUTEN, DAIRY, SOY, GMOs, ADDED SUGAR, OIL and MSG.
We take all of this goodness and craft it in small kettle batches for you to enjoy.
Where do you find it?
Order online or pick it up in San Diego County at your local Jimbo's.
Would you recommend to a friend?
YES!!!!!
How old are the children that used the product or service?
Ages 11 months and up….
Tell us about your experience:
The Contributing Writers at San Diego Moms Blog met up recently at Kombucha on Tap for their writers meeting and enjoyed Kombucha tastings along with Cobblestone's Corn Chowder. Everyone at the meeting loved both the Kombucha and the soup, especially the vegans among us!
On a Scale of 1-10 (1 being worst / 10 being best) what would you rate this product?
10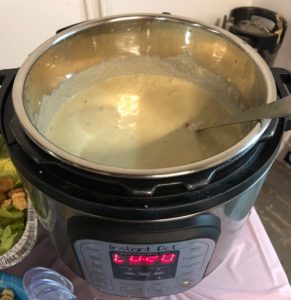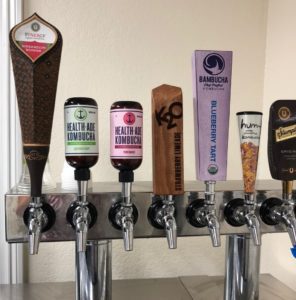 Reviewed by:
San Diego Moms Blog Contributing Writers Mary, Felicia, Deanne and Lori.