When my family and I get invited to birthdays or parties, I can't help but feel some sort of dread. The dread of having to helicopter my 18-month-old while he explores and gets into things that are enticing to his little eyes. He's at the age where I have to shadow him in a new environment because we are not in our gated family room, where he is safe from hard surfaces and little knickknacks that look yummy. I'm already exhausted thinking about it!
Hearing that Sip and Sweets with Santa would have an area for toddlers was icing on the cake. I was so excited that my new toddler would have something for him while my older kids enjoyed the other activities. I was in awe of the enclosed area with so many fun pieces of equipment and toys that were perfect for my Marcus at his age. A lot of the SoftZone equipment is what Marcus uses at his physical therapy appointments. Not only was he having a blast exploring and climbing, but he was doing his homework from PT to help work and strengthen his muscles!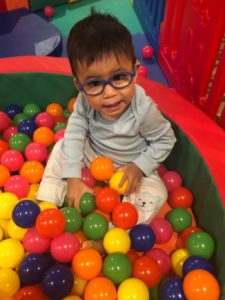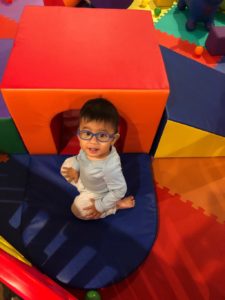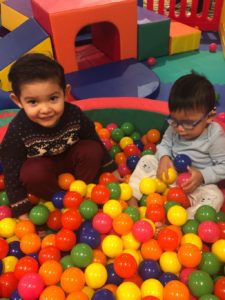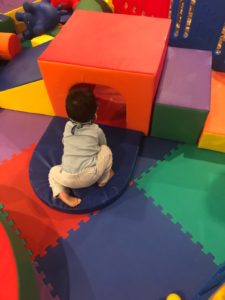 Marcus made some friends, and he also got to exercise his independence by exploring in the safe SoftZone play area. It was very cute watching him and the other toddlers enjoy the ball pit, going through the tunnels and climbing the soft climbers. While Marcus played with his toddler friends, I got to hang back a little and enjoy talking to other mamas, knowing that he was safe and everything that he got into was clean and safe.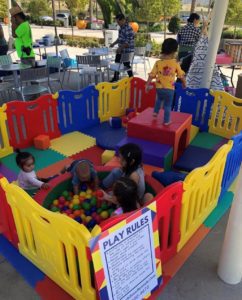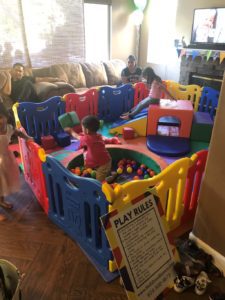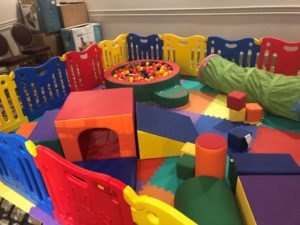 What a great idea to be able to rent the SoftZone Play Rental and not worry about buying and hauling all the equipment ourselves! That's where BabyQuip with Quality Providers Melanie and Kellen Alca come in! Through BabyQuip, Melanie and Kellen are the only quality providers in San Diego to have the SoftZone available. They are very accommodating because they have a mini-sized "zone" and a larger one at around 9×12 square feet for rental.
After booking with Melanie and Kellen and the date of the event arrives, they will come and set everything up for you in no time. I really appreciate that after setting up, they give the equipment another wipe down before the toddlers come in to play and explore. I noticed that all of the equipment was very clean and in great condition. I saw no rips, no discoloration, and no sagging of any of the soft climbers, ball pit, ramps, and blocks. I wouldn't let my little guy in if I wasn't comfortable with the cleanliness and the condition of the equipment so trust me, everything looked new and smelled clean!
What an awesome rental to have at birthdays, parties, and even weddings to keep the kids entertained. SoftZone Play Rental is perfect for toddlers 3 years old and under. I can see groups renting it for a big playdate, whether indoors or outside in our beautiful San Diego weather.

Friends, we have a 25% off promo for you! Just mention that you saw the promo on San Diego Moms Blog when you request a booking date with BabyQuip QP Melanie and Kellen Alca. Trust me mamas, you'll make the toddlers in your parties happy! Happy toddlers = happy mamas.