Are you a football fan and hosting for the Big Game this weekend? Hosting parties is always the highlight of my week but the shopping is a task I dread. I consider myself a savvy shopper but that also means researching deals, shopping in multiple stores, and struggling with the crowds to prep for a big day!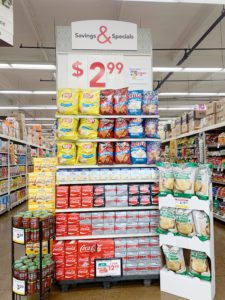 Since I started shopping at Smart and Final, it has been a saving grace when I'm looking to save time by going to ONE store and saving money. Whether you're team family size or team club size, you will always win by getting savings at EVERY size. At Smart and Final, you can buy what you want at the size you need for one great price!
Are you overwhelmed with all that you have to do? Got laundry to catch up on? Dishes piled up? Dusting you need to do? Adding the task of grocery shopping may seem like the last straw. Smart and Final offers a delivery option so you can check shopping off the list and you don't need to waste time and money at crowded membership warehouses.
Check out there
website
for the best Big Game munchies and recipes in the Red Zone.
Feeling inspired? Here's a
Delish recipe
for 7-layer dip. All ingredients can be found at Smart & Final!
Ingredients:
1
(16-oz.) can refried beans
1
(16-oz.) jar chunky tomato salsa
1 c.
shredded Monterey jack
1/2 c.
quartered grape tomatoes
1/4 c.
sliced black olives
Directions:
Spread refried beans in an even layer in the bottom of your serving dish. If making from scratch, prepare guacamole and spread in an even layer on top of the bean layer. Top with a layer of salsa. In a medium bowl, stir together sour cream, taco seasoning, and lime juice. Spread in an even layer on top of the salsa.
Sprinkle Monterey jack and cheddar in an even layer over the sour cream. Top with shredded lettuce, tomatoes, and black olives.