Unleash a boost of creative energy as we Celebrate National Children's Craft Day! By opening children's eyes to the world of crafts, we spark their imagination, and from there, the possibilities are endless.
Crafting can give children a sense of accomplishment as well as help build their self-esteem. As with adults, crafting reduces stress in children, too. It also provides an opportunity for children to interact with others, learn something new, and have fun without electronics or television. When stimulating a child's creativity, we encourage their curiosity and use of tactile skills as well. Checkout these fun St. Patrick's Day Themed Crafts from our crafting queen, Babe + Bud:
Create and Color Your Own Leprechaun and Coloring Page
This one is self-explanatory, but kids can Babe + Bud's St. Patty's Day coloring page or create their own leprechaun by coloring the leprechaun on the page, drawing in his face and naming him!
Design Your own Shamrock Banner + Handheld Flag
Adult supervision /assistance may be required due to use of scissors for cutting.
For the shamrock banner, first cut out each shamrock; then, using a hole puncher or sharp scissors, punch a hole through each marked circle. Lastly, find some string and thread each shamrock though the string and hang somewhere fun!
For the handheld flag, first cut out the flag as instructed on the banner sheet. Then use a paper straw, wooden dowel or other similar object and attach the flag with tape Or glue. Finish the banner by embellishing with foam stickers, pompoms and ribbon!
Leprechaun Trap!
Build your own leprechaun trap using items around the house and Babe + Bud's leprechaun trap kit!
Kids may need help with cutting depending on their ages
Start by cutting out all the pieces for the trap. Parents, be careful to remove the leprechaun footprints, note from the leprechaun and leprechaun footprints before kids start cutting.
Find something around the house that can be used to create a little house/trap…be creative! Cut a paper bag, a cardboard box or whatever else you can dream up! Then embellish with our accessories that you cut out.
On St. Patty's day, be sure to set out the letter, footprints and leprechaun note and show the kids that the leprechaun visited!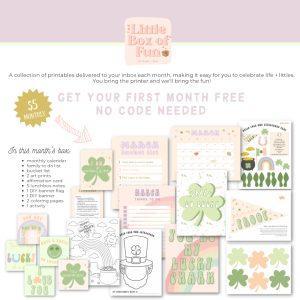 All of these items can be found in the
March Little Box of Fun
, along with other printables to make each month fun and memorable for families. First month is free and $5 monthly thereafter.
Subscribe to The Little Box of Fun and get all the creativity delivered to your inbox monthly. You bring the printer, we'll bring the fun!
Follow on socials: @babeandbud