Easter dinner has always been one of my favorites as a child. Now, as a mom, being able to bring the same joy to my daughter is very fulfilling!
Although joyous, planning, preparing and cooking can be a tad overwhelming. Thankfully, Smart & Final has everything you need to prepare the most amazing Easter dinner yet, and let's be honest—making just one trip is a dream come true!
I bet you are thinking: "Really? "One trip and that's it" isn't possible." But it is!
Smart & Final has all the traditional grocery offerings like farm-fresh produce, fresh meat, frozen foods, dairy, deli, grocery basics, and natural and organic options, PLUS everything you need to plan for an event or family gathering. They also have a great selection of plates, serving dishes, pots, pans, serving utensils, and of course, a ton of choices when it comes to cleaning up Easter dinner and food storage for leftovers!
Easter Made Easy
Smart & Final proudly offers two in-house brands: First Street and Sun Harvest (organic). With either, you'll get the best quality at a great price, every day.
Our family always had ham on Easter dinner. What I love most about ham is that like turkey it makes great leftovers for breakfast, lunch, and dinner! Smart & Final also has some incredible recipes to look through for inspiration! Check them out here.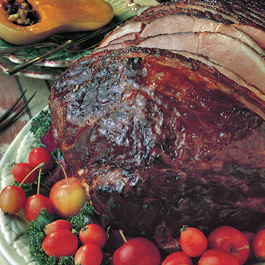 MAIN DISH
I love a brown sugar glaze on my ham! So pick up your First Street Hickory Smoked Half Ham (16 ounces) from Smart & Final and check out this recipe for a simple glaze that your family will LOVE! They also feature a honey apricot ham recipe on the website that I might have to give a try this year!
And of course, all the other ingredients needed to glaze your ham can be found at Smart & Final.
APPETIZERS
SIDES
When I think about my mom's cheesy potatoes with corn flakes dish, it brings back SO many memories! PLUS it is SO simple to make. Pick up some frozen hash brown potatoes, sour cream, butter, shredded cheese, corn flakes and one can of cream of chicken soup (yes that's it!) and you have a side dish that everyone will be begging for the recipe.
The full recipe can be found here.
Other ideas:
Corn casserole
Cream green beans
Bacon-wrapped asparagus
DESSERTS
Strawberry shortcake is one of my favorite desserts and it pairs well with both Easter & spring! Check out this recipe here.
Other ideas:
Apple crisp
Peach cobbler
Cheesecake
We would love to hear some of your favorite Easter dishes and recipes! Drop them in the comments. Head here to find the closest Smart and Final to you. And click to read more about how the grocery chain keeps you prepped for any holiday.