School's Out For Summer!
The 2020-2021 school year is wrapping up, and summer in San Diego is right around the corner! Is your child signed up for summer camp yet? And have you seen our awesome Summer Camp Guide? Mission Bay Sportcenter is highlighted under our Sports Camps section and is the perfect summer camp for your kids!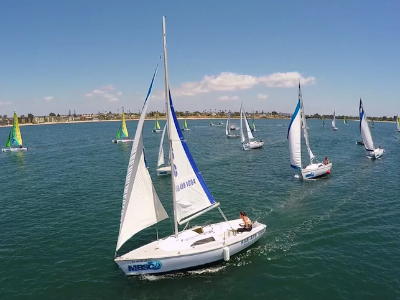 Mission Bay Sportcenter has been San Diego's premier water sports facility for the past 40 years, offering families the chance to get out in the water and have some fun.

There is no better way to enjoy San Diego and our wealth of sunshine than out on the water sailing, paddle boarding, and kayaking. The fun doesn't stop there…
Did you know that Mission Bay Sportcenter has summer camps available for kids ages 6-16?
Their summer classes introduce children to the world of water sports through sailing, kayaking, paddle boarding, catamaran sailing, and beach activities. Above all, beach awareness and water safety are taught and stressed throughout the week. Because their summer camps maintain a low child-to-instructor ratio, children will receive hands-on experience in a safe and fun environment!
Make sure you hurry. Their summer camp classes are currently on sale and there is limited space available!!

Let your kids get out of the house, away from their screens, and enjoy their summer vacation with Mission Bay Sportcenter.