I was asked if I wanted to review a new kit to test your vitamin D levels that also included the vitamins. As someone who was low in vitamin D during both my pregnancies, I was very interested in not only knowing my current vitamin D levels but also seeing how it all worked. Before starting the test, I took vitamin D gummies and a daily multivitamin.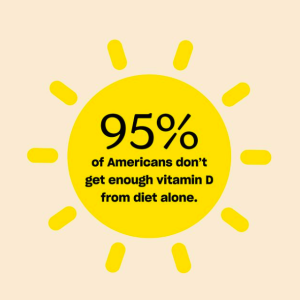 Recent research has shown vitamin D is incredibly important for immunity, especially during the COVID-19 pandemic. It is estimated that 95% of Americans do not get enough vitamin D from food alone. That not only affects one's immunity but also bone health. Scientific studies have shown vitamin D deficiency, as early as the first trimester of pregnancy, is associated with an increased risk for gestational diabetes.
The d.velopTM diagnostic kit with their vitamin D formula arrived in the mail for me to test out. It claims to be a 3x faster-absorbing vitamin d solution, if that was true, I'd be very impressed! The maker of the kit, Hologram Sciences, was founded by Ian Brady who started the company after his wife got gestational diabetes for the third time.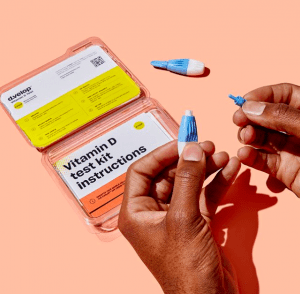 With the kit in hand, it was time to do the part I dread the most, prick my finger to get a few droplets of blood. It doesn't hurt, but I'm just really not into blood or needles. That was the hardest part of the whole ordeal, everything else was simple. You download d.velop's free app, input info about yourself, and it gives you an overall health score. From there you can track nutritional goals, sleep, activity, and more. You also have access to a coaching team that gets back to you very quickly with any questions you may have. You also see your lab test results on the app.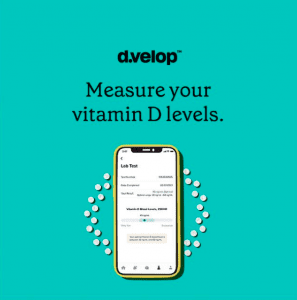 After having my husband collect my blood, I mailed it to their lab in a pre-paid envelope. For the next two weeks, I'd take their vitamin D, and then at the two-week mark, I'd take the second finger prick test and mail back the results. It took almost two weeks to get the first test results. I was worried my test got lost. The good news is, my results were in the optimal range. I just wish that turnaround time would have been faster. I took the second test expecting it also to take about two weeks, and it did.
The second test showed my level of vitamin D more than doubled! This was shocking, in a good way! But it had also boosted my level to the very high range, near excessive. The coaching team told me to scale back from 2 pills a day to 1 and not have vitamin D in my daily multivitamin while taking d.velop.
What I loved:
Learning my vitamin D levels and doing the test from home

Their vitamin D formula is powerful and it works!!

The coaching team on the app gets back to you very fast
What I didn't love:
Having to prick my finger twice (although that is really not their fault, it's just not my favorite thing)

How hard the tiny pills are to pop out of the packaging

How long you have to wait to get results
Overall, I think this is an amazing at-home test and perfect for anyone wanting to boost their vitamin D levels within a month. To learn more go to: https://dvelopimmunity.com/
I was given a free kit for this review. Photos courtesy d.velop.