Did anyone else get an Instant Pot this holiday season? Amazon had a great Black Friday deal on Instant Pots and I bought one for my family. So far, we have gotten so much use out of it. An Instant Pot is an amazing little pressure cooker that is really perfect for busy moms. I can make homemade mac and cheese for my kids in under 10 minutes, they love it!
As the new year has started, like many moms, I'm trying to eat a little healthier and am trying the Whole30 again. I loved the Whole30 the first time I tried it and found my body felt so much healthier when I cut out all the processed foods I had come to rely on. I will be in the SDMB Whole30 group starting now! I did have one huge issue with the Whole30- it took SO much time to prep the food! My husband would need to watch the kids for a few hours on the weekends so I could prep and chop the food for the week. We ate a lot of bone broth the first time we did this program, and making it was a huge time suck for me. I would literally cook this broth ALL day on the stove top, and now I can get this done in less than 2 hours in my Instant Pot. Bone broth is a little different than regular broth/stock. When cooked correctly, it will gel when you cool it. Bone broth is supposedly full of great minerals and amino acids, and I find it to be very tasty!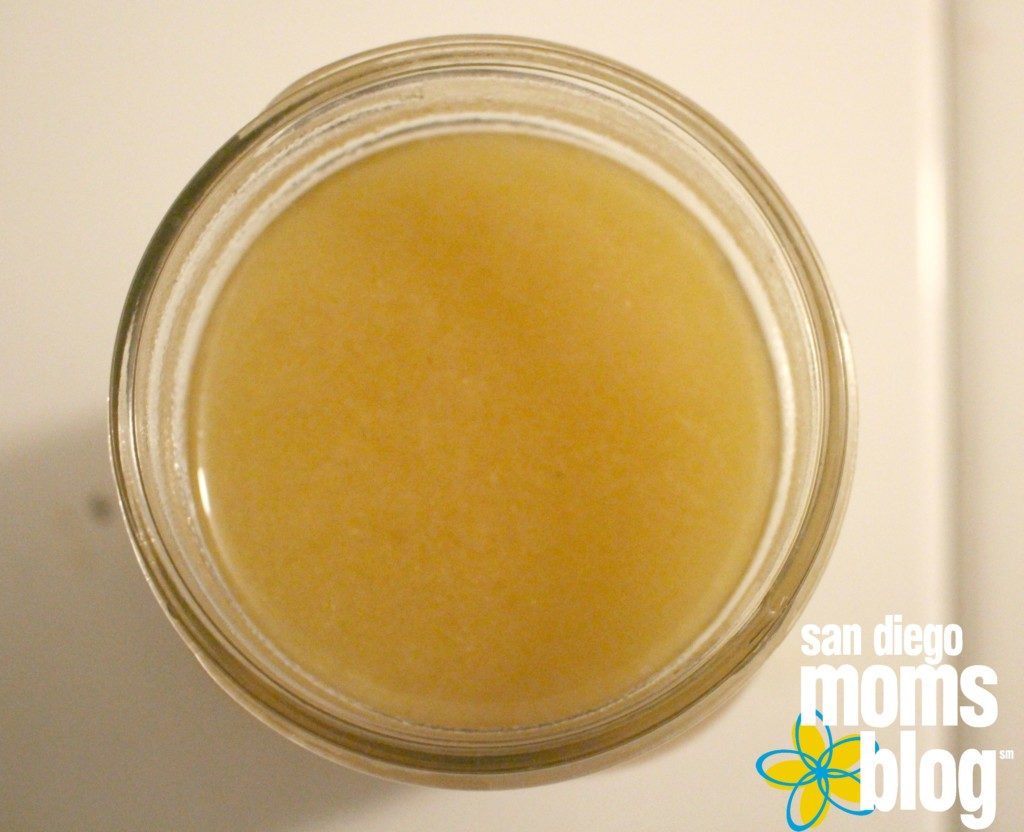 Here's how I made my bone broth, it was so easy!
First I put as many chicken and turkey bones into my Instant Pot as possible, while keeping it under the Max Fill line.
Next, I tossed in one large carrot, one stalk of celery and half a yellow onion before covering everything with water.
I put the lid on and made sure the knob on the top was set to "steaming" and set the Instant Pot to 90 minutes of high pressure on manual.
Then, I sat down and read a book (I'm getting ready for the SDMB book club!). After the timer went off, I let it naturally release the pressure which took about 30 minutes.
I opened the lid and let the bone broth cool for a few minutes before I strained it all into mason jars using cheese cloth. I put the bone broth aside to cool and eventually put all of the bone broth in my freezer to use later. Here's the best part– I was able to do a second batch after this! I covered the same bones with water and set the Instant Pot to 90 minutes on high pressure one more time. The second batch was just as beautiful! I've found you can do 2-3 batches with chicken or turkey bones. Once the bones start to crumble I tend to toss them.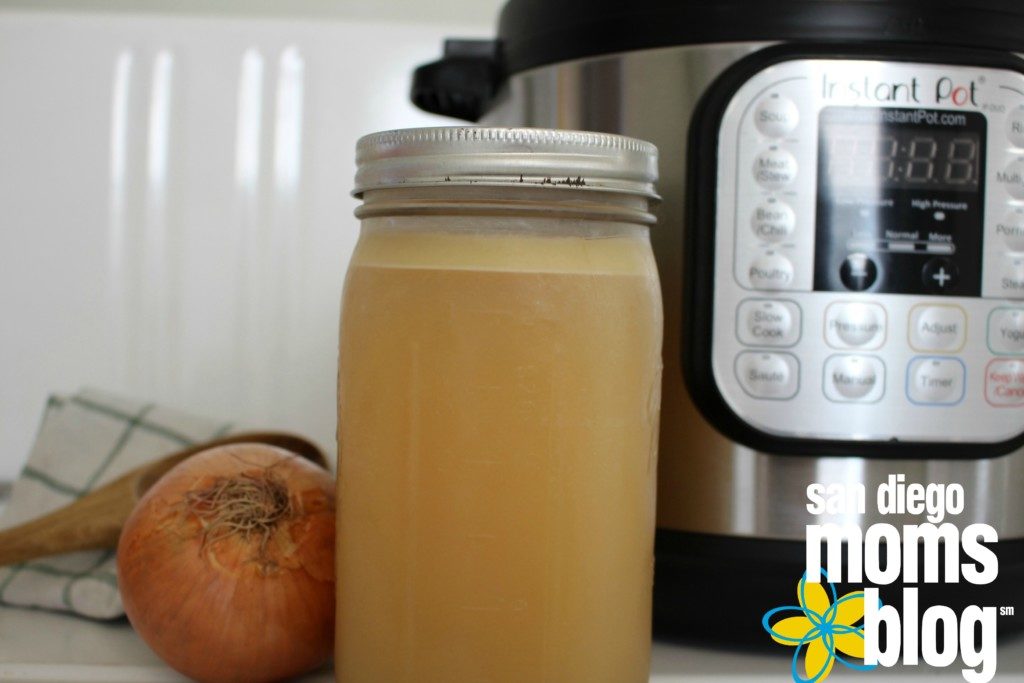 I've made quite a few batches of bone broth now and my freezer is full! Here are a few quick tips I learned:
–Keep the spices to a minimum when pressure cooking. When making bone broth you are using a high amount of pressure for a long time and some flavors come out bitter (especially garlic!) so plan on seasoning your broth after it has cooked.
–Use cooked bones. I used leftover chicken and turkey bones that I saved from the holidays. The bones must be cooked before you start pressure cooking them. If your bones aren't cooked, just roast them in the oven for a half hour or so at 350° F.
–Scrape the fat. After you cool your bone broth, you will have a layer of fat that rises to the top. I find my bone broth tastes better if I scrape off the fat and discard it. My dogs usually get some as a special treat on top of their kibble!
Has anyone else made bone broth this year? Do you have any other tips or tricks to add?