Last year I remember driving around town—getting my bearings in San Diego, since we were new to this city—when the most beautiful sign I've probably ever seen caught my eye. It was so amazing that I made a quick u-turn and drove back around to make sure I read it right. Indeed, I did. It said "25 Avocados for $5." That's crazy, right? TWENTY-FIVE avocados for just five bucks! As a self-proclaimed avocado aficionado, I didn't hesitate to pull out a crisp $5 bill from my wallet and picked up some California-grown beauties.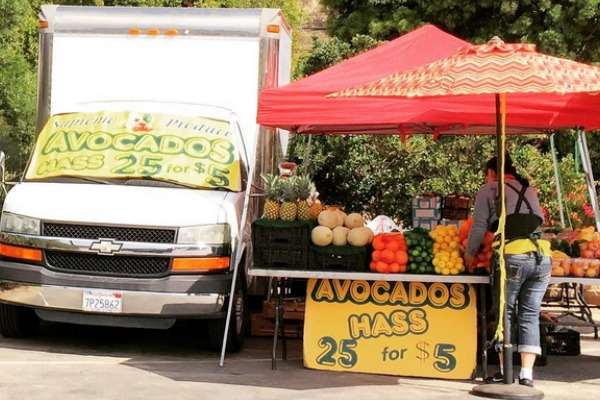 But then I got home and my husband looked at me like I was crazy. "Twenty-five avocados? I sure hope you know what you're going to do with all of those," he told me while laughing. Just to make a point, I set out to find 25 things to do with avocados, and low and behold, I did!
I'm sharing this list for you just in case you happen to run into an avo-gold mine somewhere around town like I did last year. Sadly, the spot I found them last year, hasn't popped up again…yet. I'm still holding out hope.
25 Things to do with Avocados
1. Spread it on toast.
I love it with some hot sauce (or salsa), salt & pepper, and a sliced hard boiled egg on top for breakfast, but this Mexican Grilled Corn Avocado Toast looks perfect for a summer night.
2. Turn it into a sauce.
We can't get enough of this Shrimp and Avocado Pasta, although I definitely always double or triple the sauce.
3. Put it in a smoothie.
By now you've probably heard all about green smoothies, so throw one ripened green avocado into your next smoothie—sans the pit, of course—and experience an extra creamy, full of good-for-you-fats, drink.
4. Make guacamole.
Okay, this one is a given, but you can't go wrong. Here's my foolproof guac recipe: two or three ripe avocados, some salt and pepper to taste, and—the secret ingredient—a few spoonfuls of your favorite salsa.
5. Put it in a burrito
French fries and asada may be the star of the California burrito, but you know what else is in there? Guac. Put more avocados in your burritos to give it that smooth, cool flavor.
6. Plant it
Save those pits and grow your own avocado tree. Okay, you may not see fruit for up to 15 years, but maybe you'll be one of the lucky ones and can start picking your own avocados after just a few years.
7. Make a dressing
We all know how great chunks of avocado are in our salad, but now you can drizzle it over your greens, too. Make a quick avocado dressing to jazz up your next salad.
8. Create a Foot Scrub
Are you feet in need of a little TLC? Make this DIY Avocado Foot Scrub, and let the powers of the avocado work its magic.
9. Grill it
Bring out extra flavor when you halve your avocados, put some olive oil on them, and then toss them on the grill. Go the extra mile, and stuff it—caprese style.
10. Bake in it
Eggs and avocados are the adult version of peanut butter and jelly. Put together into a baked version is basically perfect harmony. Make it. Eat it. Love it.
11. Turn it into a soup
Soup in the summer? This spin on traditional gazpacho uses avocados to make it smooth and creamy, plus all the extra veggies will help keep you full the whole day.
12. Make ice cream
'Tis the season for ice cream, and if you have extra avocados hanging around and an ice cream maker handy, then you've gotta try Alton Brown's avocado ice cream. It's creamy, flavorful, and the most gorgeous shade of green you've ever seen for ice cream.
13. Make a face mask
Those good-for-you fats packed inside avocados are also excellent for your tired skin. Have an avocado facial, and rehydrate your gorgeous skin. (Just don't blame us if you end up wanting to eat your face after.)
14. Bake "fries"
Have you ever tried crispy and crunchy avocados? It takes our favorite fruit to a whole new level; the textures alone will leave you pining for more. Take it one step further and turn those "fries" into a taco, and prepare to blow your taste buds out of the water.
15. Make "chocolate" pudding
Did you know that chocolate and avocado are basically BFFs? True story. Check out this chocolate avocado pudding recipe, and you'll fall in love with the pair.
16. Create Hummus
This classic dip just got a makeover with a California (avocado) twist.
17. Swap it for mayo
Avocados are one of those healthy fats, and since it's so creamy and delicious, skip the mayo and spread some avo on your bread next time.
18. Use on fish tacos crema
Fish tacos are to San Diego like coffee is to Seattle. If fish tacos are your jam, take them up a notch with homemade avocado crema.
19. Bake Some Bread
Skip the shortening, and add in avocado for this avocado banana bread. They like to call it the Avocanana Bread; I like to call it Delicious.
20. Bake a cake
Now that we know we can bake with avocados, it's time to bake a cake. But not just any old cake: an Avocado Pound Cake. Invite us over when you make this one!
21. Make a BLAT
You can't get more traditional than a good ol' bacon, lettuce, and tomato sandwich, but add a little bit of avocado in there, and your BLT becomes a BLAT, which means it's not only more fun to say, but it's way tastier, too.
22. Freeze 'em
This dairy-free sweet treat will be the highlight of any kids (or grown ups) afternoon on a hot summer day.
23. Get Silky Hair
Avocado in your hair? Heck yes…it makes it silky and strong, and you don't have to spend dozens of dollars on it from a salon. Here's the "recipe."
24. Have an Adult Beverage
Now you can eat your avocado, and drink it, too….in a frozen margarita.
25. Eat it raw
You almost thought I forgot about this, right? However you slice it, or even if you eat it out of its skin with a spoon, avocados are perfect just as they are. Sprinkle a little salt if you're feeling a little sassy, and enjoy the simple delicacy of a fresh, ripe avocado.
Did I miss anything? Share your favorite ways to use avocado in the comments!