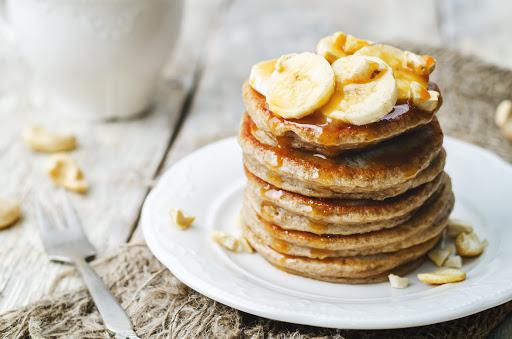 We don't normally associate pancakes with being a health food. In fact, pancakes are generally a weekend treat filled with carbohydrates and smothered in butter and sugary syrup. The smell of them cooking on a hot griddle is intoxicating.
Pancakes do not have to be lacking in nutrients. With the new wave of popular healthy diets, our senses are being awakened to foods that smell different, have more texture, and offer us things like dietary fiber, protein, and good fats.
With this in mind, healthy pancakes do exist in awesome packages or you can make some from scratch that may get your attention. Use organic and pastured products whenever possible.
Whole Grain Pancakes
This recipe calls for whole grain flour. Whole grains supply us with minerals, B vitamins, dietary fiber, and protein. They blow white flour away in nutritional value. Use the buckwheat flour for a gluten free recipe version of easy healthy pancakes.
Ingredients
2 Cups buckwheat or whole wheat flour
2 TBS vanilla protein powder (optional)
2 tsps aluminum free baking powder
1/2 tsp baking soda
1/2 tsp sea salt
2 Whole free range eggs
1/2 Cup unsweetened applesauce
1 1/4 Cups unsweetened almond milk (use vanilla flavored if omitting the protein powder)
2 TBS pure maple syrup
2 TBS unsalted cultured or free range butter, melted
Coconut oil or grass fed butter for cooking
Directions
1. In a large mixing bowl, whisk together the flour, baking powder, baking soda and sea salt.
2. In another bowl, combine the eggs, applesauce, almond milk, and maple syrup. Whisk the wet ingredients until smooth and frothy. Then, slowly whisk in the melted butter so as not to scramble the eggs.
3. Pour the wet ingredients into the dry and whisk until just mixed but still a little lumpy. Set this aside to rest for at least 5 minutes.
4. Heat a griddle or iron skillet over medium heat. When the pan is hot, coat it with some coconut oil or butter.
5. Ladle 1/4 cupfuls of batter onto the heated surface. Cook until air bubbles begin to form, about 2 to 3 minutes. Flip the pancakes and cook another 2 minutes or until golden brown.
6. Serve warm with fresh fruit slices and pure maple syrup.
Flourless Pancakes
Now we are venturing into outside-the-box pancake territory. These healthy pancakes have no grains. They are perfect for those who are on a low-carb, Paleolithic, or GAPS diet. The recipe calls for bananas, but you can substitute avocados or cooked winter squash if you are adventurous. Just add a little pure maple syrup or stevia to the mash if using avocados.
Ingredients
4 Very ripe bananas, approximately 14 ounces
4 Whole free range eggs
1/2 tsp baking powder
1/2 tsp ground cinnamon
Pinch of sea salt
Coconut oil or grass fed butter for cooking
Pure maple syrup for serving
Directions
1. In a large bowl, mash the bananas with a fork or potato masher. They can be lumpy.
2. In another bowl, whisk together the eggs, baking powder, cinnamon, and sea salt.
3. Pour egg mixture into mashed bananas and stir to combine.
4. Heat a griddle or skillet on medium-low until hot. Add fat and fry pancakes in small batches for approximately 90 seconds per side.
5. Serve warm with pure maple syrup.
Pancakes invoke really great childhood memories for most of us. Unfortunately, this breakfast staple of our youth was not a terribly healthy option. The recipes here for easy healthy pancakes may seem a bit unusual for some home cooks. If you love pancakes, but are trying to make more nutritious food choices, give these healthy pancakes a try.
About the author
Paisley Hansen is a freelance writer and expert in health, fitness, beauty and fashion. When she isn't writing she can usually be found reading a good book or hitting the gym.