1919
If you're anything like me, you dread Sunday night meal prep and planning for the upcoming week.
The time I spend thinking about which meals to prepare for the week ahead can be overwhelming. I try to make dishes that are creative, interesting, and nutritious—all in the hopes that my daughter will want to eat it. I confess: I'm not the greatest of cooks. Then add on being a busy working mom, and I just don't have the time or patience to come up with something NEW and HEALTHY all the time.
I've always dreamt about how I would spend my money if I won the lottery. It wouldn't be a car or a closet full of new clothes (although that would be nice). What I would love is a personal live-in chef!
Although I haven't won millions (yet), I did hit the lottery when I was introduced to Pocket Chefs!
Pocket Chefs is a meal service company that does just that — fulfill my fantasy of an on-demand chef (without the live-in part, of course) who will cater to my daughter and I, and what we want to eat. PLUS I am saving both time and money with their innovative services, which are the PERFECT solution for busy families like ours.
Pocket Chefs takes the edge out of weekly cooking, giving you back your time (and sanity), plus meals your family will love. So if living a healthier life, managing your time better, and saving money are on your New Year Resolution list, Pocket Chefs provides the solution for ALL THREE!
Step #1: I signed up online and reserved the date/time I wanted the chef to come.
Step #2: I scheduled a time to speak with their ServSafe Chef to discuss what we like, what we don't, and any dietary issues we have. Chef Victor made the whole process very easy and he was very welcoming. We tossed around Mexican and Italian themes, dietary restrictions, other items both my daughter and I like, and other general getting-to-know-each-other food knowledge. In the end, we agreed on a simple three-meal plan for the upcoming week.
The Pocket Chefs Menu
Breakfast: Vegetarian Egg Frittata with Avocado
Lunch: Herbed Ranch Cobb Salad
Dinner: Mexican Fried Rice with Chicken
Sides/Veggies: Broccoli and Brussel Sprouts in a Balsamic Glaze
Step #3: Go shopping. Chef Victor prepared a shopping list for me. If you are like me, I always buy things that I don't need and often buy too much and things go bad. So this was a HUGE value for me.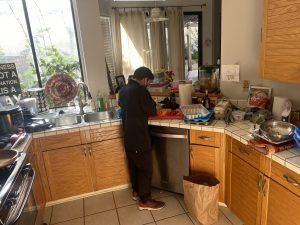 Step #4: Organize the groceries you bought so that they are in one area of your fridge or
pantry, set out your Tupperware, open the door, and sit back and relax as a professional chef cooks a week's worth of meals right in your kitchen. He arrived at my home with a mask on and with all the necessary equipment to cook and remained contactless to ensure our safety. And the best part: we continued to play while he cleaned up and left our kitchen spotless!
Step #5: ENJOY delicious food and the extra time with your family!
Ready to join the Pocket Chefs waitlist and reclaim your family time?
Be one of the first families in San Diego to get matched with an experienced ServSafe Chef who will arrive at your home to prep and cook a week's worth of meals. Join the waitlist today!
Sign up now and take advantage of their New Year offer! First sign-ups of the year will receive $50 off their first single session and a $100 off their first month.
With your health and safety in mind, Pocket Chefs provides their services in a safe and socially distant manor and they also offer contactless service options available depending on the comfort level of your family. CLICK HERE to view their full safety and prevention plan.