If you're anything like me and my family, you're staying home this New Year's Eve. We'll find a good cartoon countdown video somewhere, put out lots of yummy desserts and chips and dip, and celebrate—just the four of us. That's why I wanted to put together a list of 6 awesome homemade cocktails (and a couple of mocktails for the kids or those who abstain!)
These do not require a bartender's license or expertise in mixology. If you have a shaker, great, but it isn't required. A little elbow grease and some ice should do the trick. So, put on your party hats and grab a Cosmo before you jump into that conga line going around the coffee table!
Top 6 Homemade Cocktails!
#1: Bicicletta Spritz
Use up some of your lovely dry white wine with this delicate spritz recipe. Loved by ladies and gents alike!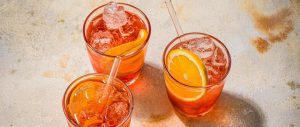 Ingredients
orange

1, cut into wheels

dry white wine (a light Italian variety such as pinot grigio or gavi)

3 tbsp

Campari

3 tbsp

soda water
For each drink, fill a glass with ice and an orange wheel. Add the wine and Campari, stir, then top up with a splash of soda.
#2: Whiskey Sour
You won't believe how simple a whiskey sour is to make as a homemade cocktail. You can shake the ingredients in a cocktail shaker with ice, or just stir in a glass!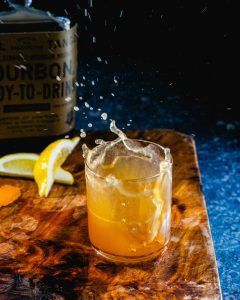 Ingredients
Bourbon whiskey: as high-quality as possible (you can use any whiskey, but we prefer the flavor of bourbon)
Lemon juice
Maple syrup or simple syrup
Garnish of orange peel and cocktail cherry
Make the whiskey sour mix for 8 people: Mix 1 cup lemon juice plus 3/4 cup pure maple syrup. Then to make a single drink, measure out 3 1/2 tablespoons of the mix with 4 tablespoons whiskey. Add ice and garnish.
#3: White Russian
With a White Russian, the cardinal rule is always the same: Pick a GOOD vodka!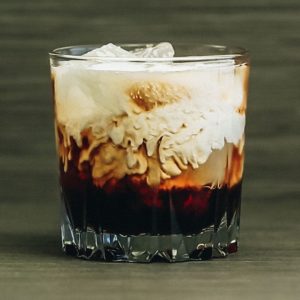 Ingredients
2 ounces vodka
1 ounce Kahlúa
1 splash heavy cream
All you need to do is add the first two ingredients to a glass over ice and then stir in the heavy cream. Don't use milk—it'll end up too watery. You're going for decadent and fancy! Pro tip: Try mixing things up with a horchata cream for a particularly epic punch.
#4: Strawberry Orange Ginger Fizz
I promised y'all some mocktails, so here is a great one from A Calculated Whisk; it does take a little extra elbow grease but it's a lovely family recipe for a small party. Decorate with colorful umbrellas and sprigs of fragrant rosemary.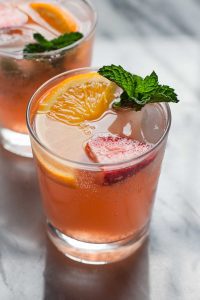 For the Syrup (6-8 Drinks):
8 ounces strawberries, hulled and quartered
3 inches of fresh ginger, peeled and sliced
Three 3-inch strips of orange peel, removed with a vegetable peeler
1/3 cup honey
1/4 cup fresh-squeezed orange juice
1/4 cup water
Pinch of sea salt
Drink Recipe:
2-3 tablespoons strawberry orange ginger syrup
6 ounces sparkling water and/or champagne
2 ice cubes
Half an orange slice, half a hulled strawberry, and a sprig of mint, for serving
Don't like strawberries or ginger? Try raspberries and lemon, or lime and blackberries! With this one, you can let your creativity shine.
#5: Frozen Peach Bellini Mocktail
This mocktail is even simpler, especially if you plan ahead and grab a bag of frozen peaches. If your kids are anything like mine, they will love helping out with the blender and tasting their "hard work."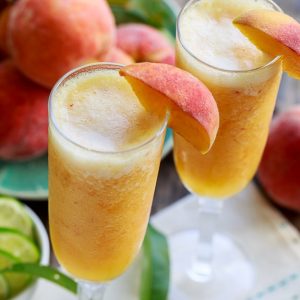 Ingredients:
2 ripe peaches, peeled, sliced, and frozen
Sparkling Martinelli's
Agave syrup
Juice of 1 lime
Instructions:
Place sliced peaches in the freezer for 1 hour.

Combine peaches, 1 cup sparkling apple juice, agave, and lime juice in a blender and blend until smooth.

Pour into 2 glasses and add about 1/2 inch of additional sparkling apple juice.
#6: Cuba Libre
I had to include this one because it is my husband's favorite cocktail of all time, and it really hits the spot after a long day when you're ALSO trying to make it 'til midnight!! And yes, a good rum makes ALL the difference.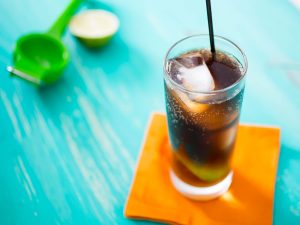 Ingredients:
1 lime
2 ounces dark or anejo rum
Coca-Cola
Instructions:
Squeeze a lime into a glass.
Drop half the spent lime shell into the glass and muddle the oils into the lime juice.
Add ice and rum. Top with cola and stir briefly.
Not a Fan of Homemade Cocktails?
Not a cocktail/liquor person? That is totally OK! You can also "Wine Down" with San Diego Moms Owner Niki Jones, who can help you select your favorite organic clean-crafted wines from Scout & Cellar.
Oh—and HAPPY NEW YEAR! XoXo
Photo by Ash Edmonds on Unsplash